Season 2019-2020
The Government Inspector
Adapted by Jeffrey Hatcher from the original by Nikolai Gogol
Directed by Mitchell Thomas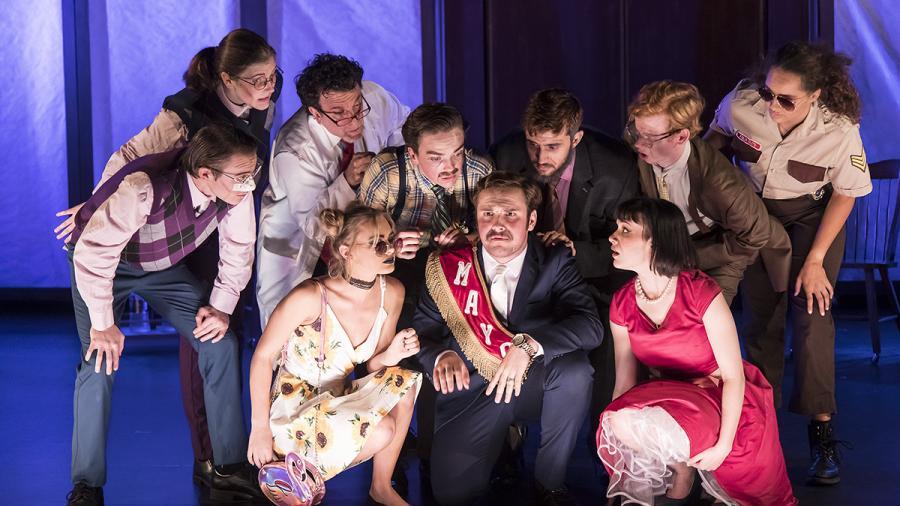 October 18, 19, 24, 25, 26 in Porter Theatre @ 7:30 pm
When the locals in a small Russian hamlet learn that an undercover government inspector is coming for a surprise visit, a case of mistaken identity sends the whole village spiraling into a world of panic and greed.  One part farce, one part slapstick, with a dash of musical theatre - this frothy and wildly satirical adaptation exposes bureaucratic corruption with biting hilarity. General admission $15, Students and Seniors $10. 
Everyman
Translated by Mark J. Castello, Directed by Cierra Denning '20
December 7 and 8, 7 PM in the Black Box (Westmont)
Everyman's life is at an end, and though Death has given them time to prepare for their reckoning, it may strike at any second. What would you call upon to walk with you into judgment?
Free Admission 
Love and Information
Written by Caryl Churchill, Directed by Guest Artist Nita June Davanzo             
January 30 – February 2 @ 7:30 PM Black Box (Westmont)
NEW***Matinees now available Saturday, February 1 at 2 pm and Sunday, February 2 at 2 pm . 
A kaleidoscopic play exploring contemporary issues about knowledge, technology and communication, and our capacity for love.  Mature content. General Admission $15, Students and Seniors $10.
The Spring Opera(s) 
Cambiale di Matrimonio
Music by Gioachino Rossini, Libretto by Gaetano Rossi
Gianni Schicchi
Music by Giacomo Puccini, Libretto by Giovacchino Forzano
Musical Direction by Michael Shasberger and Staged by John Blondell
February 28, March 1 and 3 at 7pm @ The New Vic Theater
The Music and Theatre Departments conspire to join forces in what has quickly become a Westmont tradition – The Spring Opera.  Actually, this year it is TWO Spring operas – a delightful double bill of Giaochino Rossini's Cambiale di Matrimonio and Giacomo Puccini's Gianni Schicchi.  Love and Marriage meet Wills and Contracts when we pair these marvelous short operas by two of Italy's most famous composers.  Oh, and there's at least one dead body. What a romp! General Admission $20, Students and Seniors $15. All ticket purchases through The New Vic Theater.  
Nomad (a film)
Written and Directed by Lyndall Stephenson '20
Tori, a young homeless woman who has just arrived in Santa Barbara, meets an older homeless woman who takes her in and offers her companionship. Date TBD -this spring 2020 in Porter Theatre. Mature Content. Free admission.
Our Season to Bloom
Written and Directed by Abigail Pryor '20
Music Composed by Sarah Hooker and Jared Clarke
April 16-19 at the Westmont Fringe Festival (more info to come!)
A new musical that glimpses into the lives of four interconnected people throughout a season of change. A story about dreams and our relationships with one another. Starring Ben Thomas '20.
Effective March 20, 2020, performances for Fringe Festival have been cancelled due to restrictions related to Covid-19. 
Fringe Festival 
April 16-19 everywhere on Westmont campus and at CAW downtown
Daily and All Festival passes available Tickets here! Times to be determined.
Our annual spring festival of original work completely written, performed, choreographed, directed, designed, and produced by Westmont students and alums! We've got everything--films, plays, poetry, music, improv, and more! Come see what the Westmont creatives produce this year!
www.westmont.edu/boxoffice for tickets and information