Brendan Murdock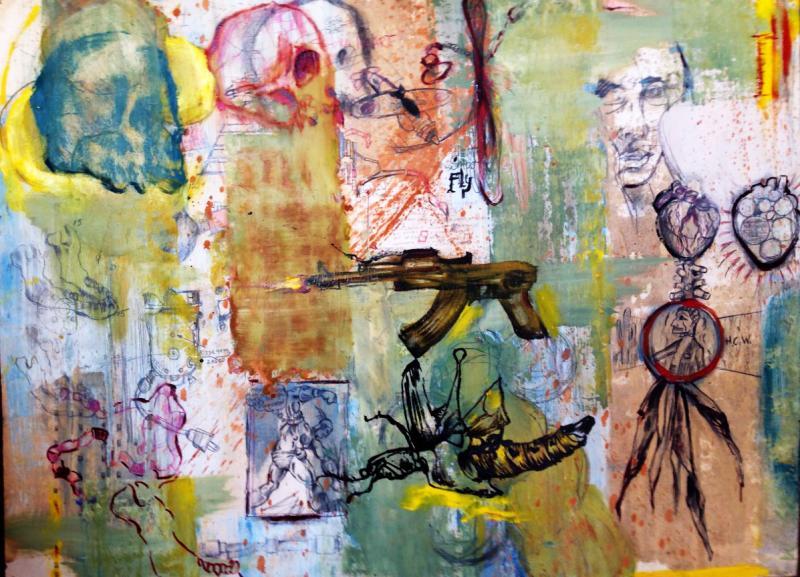 Brendan Murdock
See America First
Oil, oil stick, pencil, ink on paper
2020-2021
22"x30"
$2,500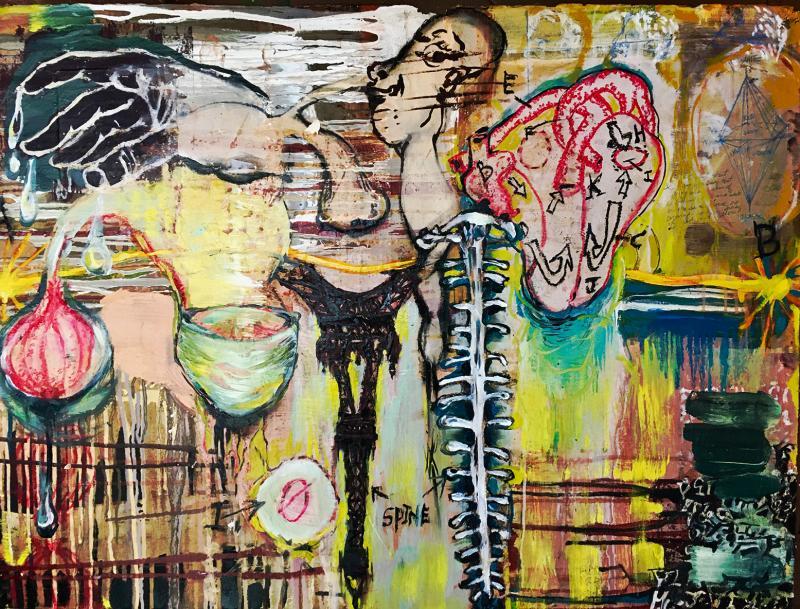 Brendan Murdock
Wittgenstein's Line
Oil, pencil on paper
2020
22"x30"
$2,500
Email museum@westmont.edu for purchasing inquiries
Artist Statement
The theme' At the Edges, couldn't be more appropriate for the work I do. The artists I work with share a safe environment in which emotions are explored, political work is encouraged, and collaboration is naturally galvanized. Some artists choose to work through mental challenges, issues of addiction, and legal troubles. I'm also a certified Addiction Disorders Counselor and consider the art room better than any other group which I facilitate. I believe we will all be more empathetic to these otherwise marginalized individuals (as predominantly seen through the larger social lens) as we come out of the current pandemic. Isolation and fear have affected all of us. I listen to shared experiences of both mental distress and escape through substances. 

My work is informed by and in reaction to the artists I work with. The pieces are unconsciously influenced by the artwork of my clients/students as well as directly approached through an investigation of their work with sketches I am constantly doing during the time spent together. I also bring ongoing work from my studio and encourage them to directly collaborate with me. It may just be a line they turn on my canvas or the contribution of a theme or character revisited. The work on the wall is in reaction to art I collect from a myriad of artists representing the most diverse demographic I have ever taught. The loss of shared studio time over the last 16 months is unfortunate, both for them and myself. It has given me greater appreciation for them as artists, individuals, and the creative alchemy they inspire in my own work.
 
Artist Bio
Brendan Murdock is an artist and art historian who currently works with and teaches individuals who have somehow been impacted by trauma: mental, physical, and circumstantial. Most of his students or clients are adversely affected by a diagnosis. This is not to say that they are at all defined by such. Aside from private clients, he facilitates transformation through art at the Mental Wellness Center in Santa Barbara. He participates adjunctly with the William James Association, an organization serving both the incarcerated and previously incarcerated. 
A former Professor of art, art history, and graphic design, he is now much more humbled by the talent he continues to discover in his students' work. He does not consider them to be outliers in the art world. We have come a long way from the art of the insane coined by Hans Prinzhorn, he says, but still, given the current curatorial excitement concerning untrained artists, though the work they produce is far superior to any student I had as a professor, they are still undervalued. Brendan's own art is influenced by the community he serves in a way that is both humbling and gratifying.