DaoZi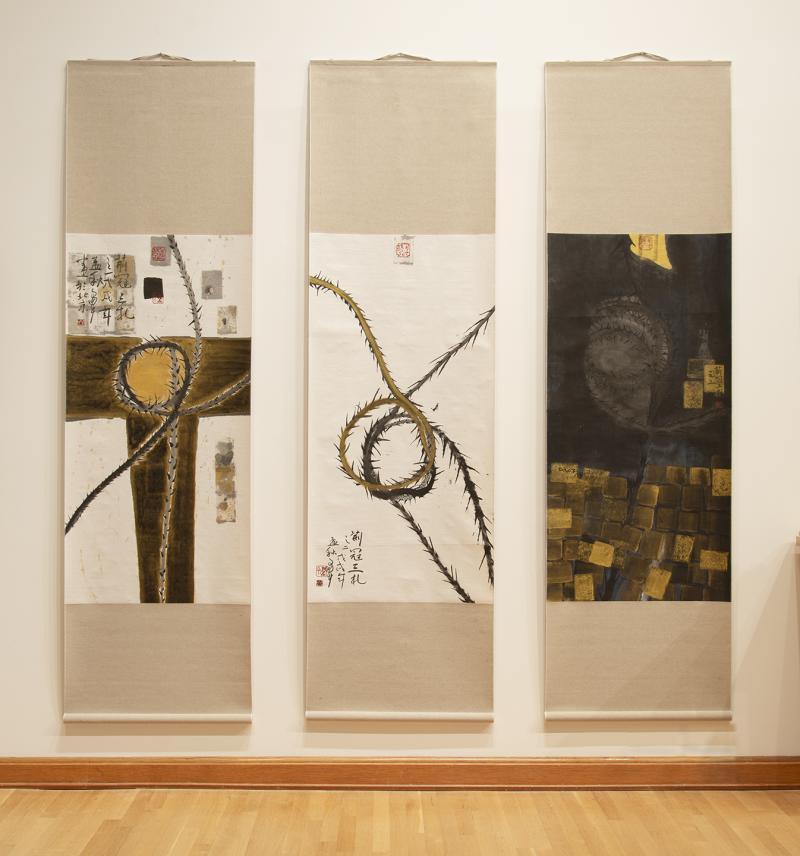 The Crown of Thorns 
Ink and gold on paper
2018
140 x 70 cm each 
From the summer of 2017 till the autumn of 2018, I was making art on the themes of martyrdom, suffering, salvation and hope.

Speaking of and faithfully painting out this great trial and gift from God is the freedom of a clear conscience, and why art is higher than reality and even philosophy. But lies, indifference, and irresponsible chatter are all signs of being enslaved, being the "vanity of vanities." On the spiritual journey, we should not fall into despair either because of persecution from the world or our own faults and sins, for the passing of time is not enclosed.
 
The Crown of Thorns takes the form of an altar triptych. Thorns, as a natural growth, a functional material, and then a sacred object, contain the mystery of the theology of suffering. It is wild and disorderly as a natural growth, corroding and shady as a functional material, but ever since it was raised to the cross, it became a witness to the Incarnation of the Word, and an existence that symbolizes order, wisdom, and glory.
 
I am striving to picture this precious love of God and the wounds of Christ, for which I endeavored to use the most economical ink by one brush stroke to paint the crown, so that every thorn on it contributes to the expression of my intention, and carries the weight of my consciousness and reasoning. —DaoZi
 
A highly esteemed critic, poet, and painter, DaoZi works in a style he calls Saintism Ink-Wash Painting that combines traditional Chinese ink painting techniques and materials with themes infused with his Christian faith in a distinctly contemporary mode in the interest of developing a truly indigenous Chinese Christian art.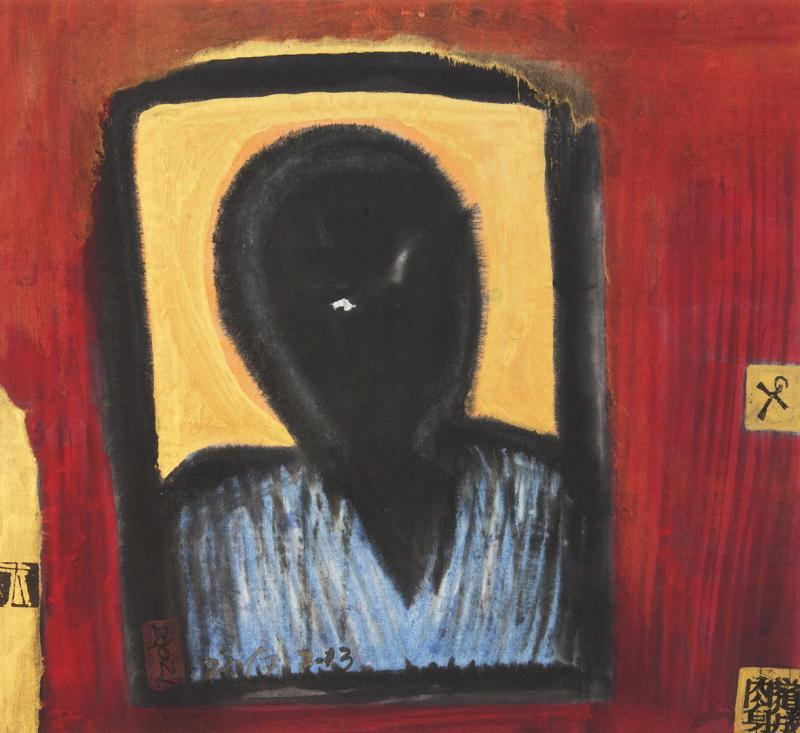 The Portrait of a Deceased Thinker 
Ink on paper
2017
60 x 55 cm  

Portrait of a Deceased Thinker belongs to a series of works for the Mercy exhibition, where the subject is painted in the guise of an icon or saint. Blue is the color of prison uniforms in China.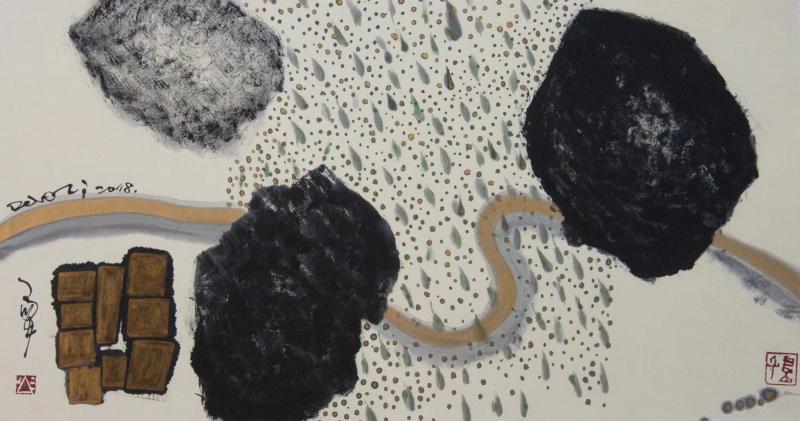 The Blessing of Autumn Rain 
Ink on paper
2018
52 x 97 cm  

The Blessing of Autumn Rain represents rain in a land plagued by hard rocks and drought. It also refers to pressures experienced by Chinese churches in recent years.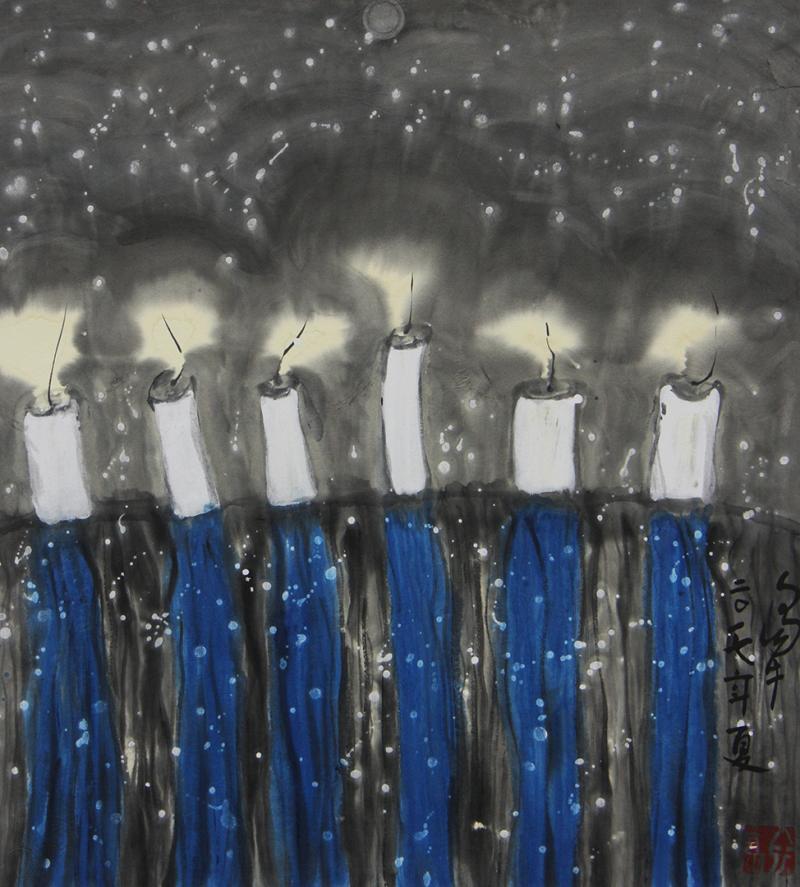 The Light in the Darkness 
Ink on paper
2018
54 x 48.5 cm  
---
About the Artist
A poet, art critic, and painter. Also named Wang Min, DaoZi was born in Qingdao in 1956, and graduated from Northwestern University and Beijing Normal University successively. He was deputy editor-in-chief of Chang An, a monthly journal organized by Xi'an Association of Literature and Arts, and a professor and chairman of the Department of Fine Art of Sichuan Fine Arts Institute, as well as vice president of Chongqing Literature and Arts Critics Association. DaoZi is currently a professor and supervisor of doctoral candidates in the School of Art at Tsinghua University, and is also a visiting professor at the Chinese University of Hong Kong and a member of the International Aesthetics Association. His research interests and creative practices include art criticism, history, and theory of modern art, Christian art research, poetry writing, and Chinese ink and wash art creation.