Lori Call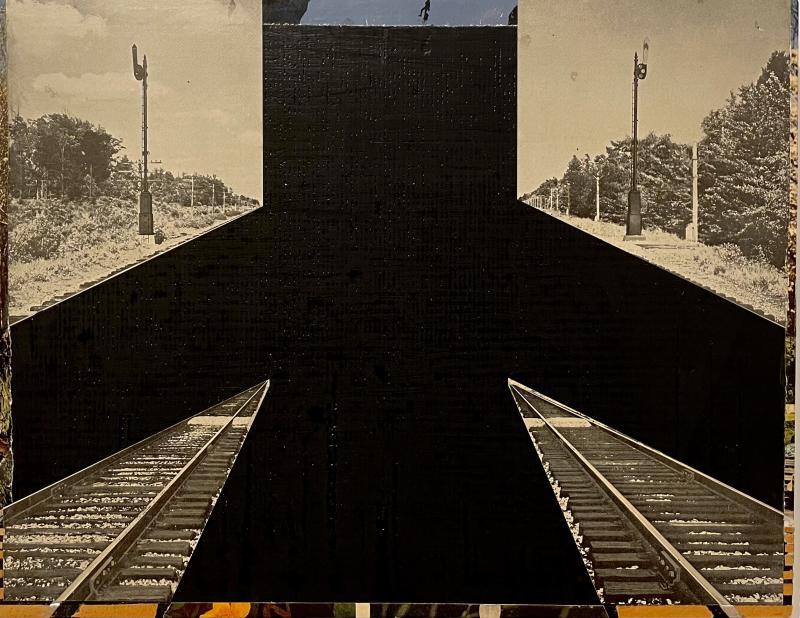 Lori Call
Continuing the Story at the Edges
Collage
2021
11"x14"x1.5"
$185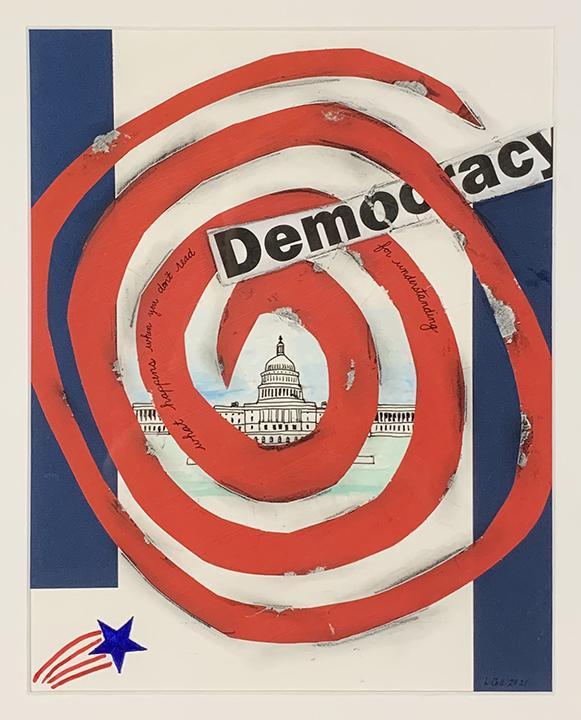 Lori Call
Misguided
Mixed media
2021
23"x19"
$245
Email museum@westmont.edu for purchasing inquiries
Artist Statement
Getting to the point of identifying myself as an artist has been a lifelong journey. 
Growing up, I thought that you had to have an innate talent to draw or paint whatever you wanted to be considered an artist. I could do neither, and had neither the foresight nor temperament to try to develop these abilities. Yet, I always had burning desire to be an artist. Looking back on it now, I pursued just about every other artistic expression that captured my interests - played piano, sang, wrote poetry, acted, and engaged in multiple crafts, including sewing, quilting, embroidery, doodling, and jewelry-making. When it came time to choose a major in college, I defaulted to what I loved most at that time: Musical Theatre. 
After college and coming to terms that making a living in the theatre was not the life-style I wanted, I sought careers that I perceived to be more stable (as a paralegal and fundraiser in nonprofits and higher education). While these developed my intellectual side and had creative elements, I found that unless I was engaging in some kind of artistic outlet, I literally was not happy. So, I wrote and directed dramas for worship services, delved more deeply into quilting, took up playing the ukulele (still not very well), stained glass making and creative writing, and, finally dipped my toes into 
drawing and painting. But what seems to have stuck in the past few years, integrating both my creative and intellectual sides, is collage and assemblage. 
I love to explore and learn new things. I have always idolized the so-called Renaissance person. I resonate with the idea of seeking to understand how things work and then love to find the commonalities of those perspectives applied in other situations and forms. I tend toward unearthing fundamentals upon which to construct and communicate new thoughts and tangible items. Through collage and assemblage, I like to deconstruct and reconstruct, often with a twist. 
I am often accused of being too literal, and my art sometimes reflects that. Some of my favorite work is in reimagining and re-presenting common phrases and terms in visual form. My work in toto is extremely eclectic. I am drawn to vintage items and images, but also love strong graphic images. 
Ultimately, I feel compelled to create, as I believe my Creator intended, equipping me with curiosity, skills, ideas, and an enormous amount of passion.
 
Artist Bio
Communication in the creative arts is at my core. I am happiest and most fulfilled when engaging in music, drama, visual arts and crafts or writing. Though not formally trained as a visual artist, five years ago I started taking a collage class with Susan Tibbles through Santa Barbara Adult Education and was hooked! Since then, I've expanded into assemblage and mixed media as well, continuing to expand my perspective and experimentation under Susan's tutelage. Since 2015, my work has been accepted into two dozen local art exhibits and galleries, and in 2019, I earned membership in the Santa Barbara Art Association.