Westmont Ridley-Tree Museum of Art Remembering Christo
Christo was the artist who stretched an opalescent fence across Sonoma County (1976), wrapped the Pont Neuf in Paris (1985), created pink lily pads out of Islands in Miami's Biscayne Bay (1983), and placed thousands of umbrellas in California and Japan (1991). We lost Jeanne-Claude in 2009; Cristo passed away this week at the age of 84. He partnered with his wife on monumental projects and together they were known simply as Christo and Jean-Claude. They changed the way we all experience art in immeasurable ways.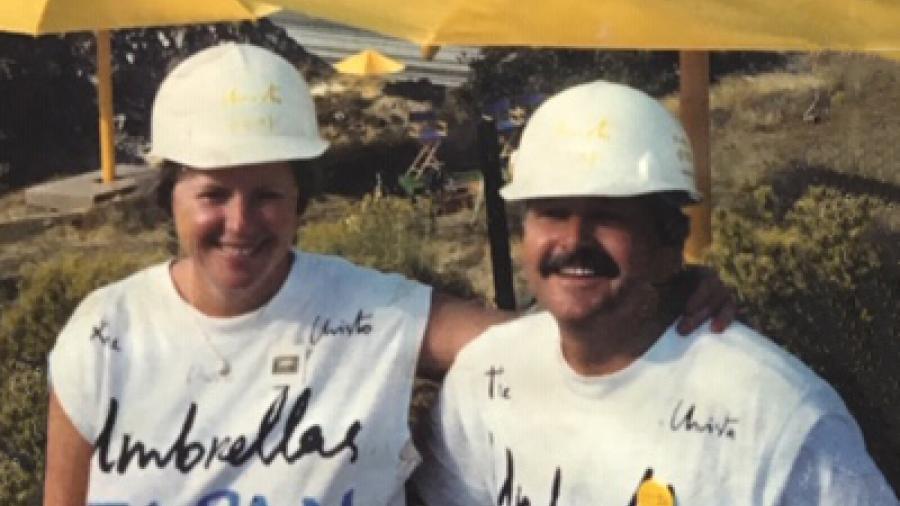 My wife, Barbara, and I had the opportunity of getting to know them both. It began with students in a Principles of Art class in 1983. Their idea was to wrap a dilapidated building on the Westmont Campus to call attention to fundraising so that we could turn it into an Art Center. We went straight to the artists, making a telephone call to the New York-based artist, Christo, asking if he would work with us. I knew immediately that we had made two new friends in Christo and Jeanne-Claude. We ended up not wrapping our building on the advice of Jeanne-Claude. But, Barbara and I attended a lecture by Christo at UCSB, and had the opportunity to sign up to work on a team for one of their large projects. That project was titled: The Umbrellas. Yellow umbrellas were placed near Tejon Pass between Los Angeles and Kern Counties, and in Japan, there was an 18-mile stretch of blue umbrellas. We became part of a team with Tom Larson, adjunct professor of art history and Jeremy Kamm, a Westmont College art student. We committed to a week of work and became part of the art team of enthusiastic, hard-working artists installing the nearly twenty-foot-tall octagonal umbrellas that opened up to just over 28 feet. Christo and Jeanne-Claude's plan was a carefully mixed concept of theatre, art, architecture and environmental planning. The intention was to compare Eastern and Western concepts of landscape and the environment. 
Our experience of working on The Umbrellas was both the educational highlight and most creative adventure of my career. Barbara and I became great fans of Christo and Jeanne-Claude and followed all of their projects. In 2005, we made a special trip to New York City to experience The Gates in Central Park. I will always remember this creative couple who influenced my thinking in a most positive and creative way. 
Christo and Jeanne-Claude created many dramatic and beautiful projects and how lucky we were to become participants in one of them. These projects represent not only years of efforts in the artists' lives, but also years of teamwork. The projects involved politicians and business people, as well as permits, materials, photographers, machinery, and teams of workers. Christo and Jeanne-Claude never wrote grants or took corporate money. It was important that they have complete artistic freedom. Their visual dreams opened up significant dialogues with intense communal energy. 
-R. Anthony Askew