Sara Yerkes
Sara Yerkes
Succulents
Collodion wet plate, silver gelatin print
2021
16"x20"
$800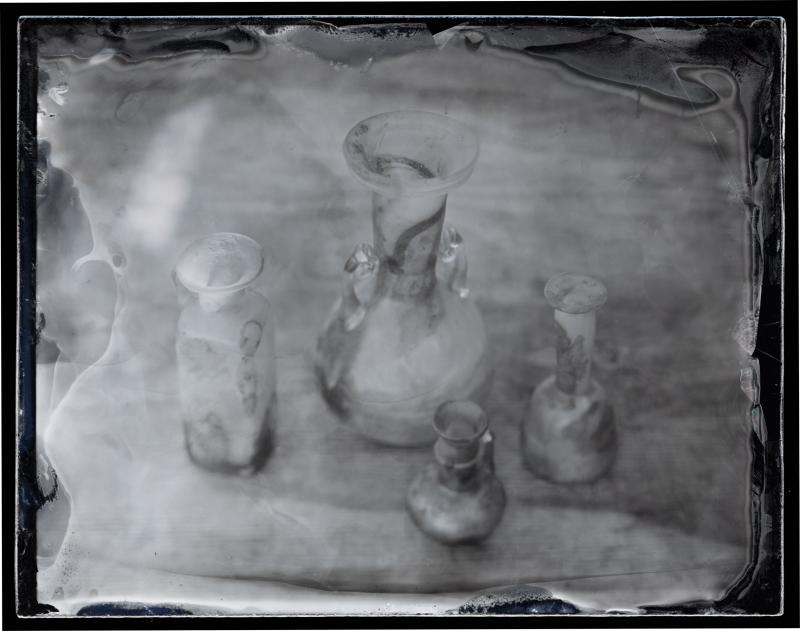 Sara Yerkes
Roman Bottles
Collodion wet plate, silver gelatin print
2021
16"x20"
$800
Email museum@westmont.edu for purchasing inquiries
Artist Statement
I fell in love with black and white photography after taking my first darkroom class. Composition in black and white was instantly reduced or simplified to tones and shapes. For me this process helped to transform an everyday object or scene into a work of art. Since then I've always wanted to Make an image, rather than merely Take an image. A further step in transforming the natural world was to shoot moving objects with a long exposure. Materials become diaphanous. The film captures what the eye does not see. It also abstracts the subject. 

Next, I began to work with an alternative darkroom process, Lith printing. Depending on the paper used, Lith printing can produce a softer, warmer image, with added texture. It has allowed me to express my emotional response to a subject, rather than strictly how the camera records it. 
Presently my interest in emotive processes has led me to an early development in photography: Collodion Wet Plate. I have always admired the irregularities and imperfections of it, because working with the wet collodion is highly conducive to error. But, like Sally Mann, an esteemed collodion photographer, and my inspiration, I try to make myself available to the Angel of Uncertainty, the angel responsible for those flaws that erupt and conveniently contribute to an interesting picture. As a result, I consider my adventure with Collodion Wet Plate a cooperative activity, a collaboration.
 
Artist Bio
I am a Santa Barbara-based photographer who focused primarily on art and languages as an undergraduate, graduating with a B.A. from the University of Nebraska. My work in photography began with my first experience of developing black and white film in a darkroom, which motivated me to construct my own darkroom immediately. Later in life, I began a graduate program in art history at the University of Washington. My studies focused on Roman art and resulted in an excavation in Tuscany and extensive travels throughout image-rich Italy. My four plus years studying ancient art heightened my enthusiasm for the variations of tone and texture over time on artifacts, architecture, and pavements. 
After shooting for many years in color, due to the difficulty of carrying more than one film camera while traveling, I eventually returned to B&W film, using a medium format camera and tripod, and printing in the darkroom, all of which I find more satisfying and conducive to a reflective process. 
I have now begun to experiment with one of the earliest photographic processes: Collodion Wet Plate. The results can contain errors and mutations that contribute to the image, the same way that time can contribute to the beauty of an artifact, uncovered after centuries or millennia.