Evelyn Thoen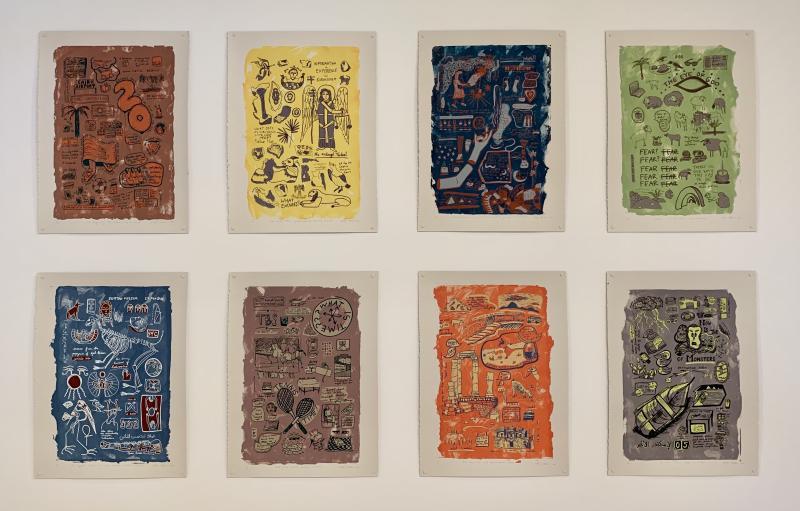 EVELYN THOEN
Prints From The Cairo Sketchbooks
The Beginning (05 Iskander is my new home)
The Coptic Museum (present mysticism and pieces of rock)
Mall/Muqattam (City Stars Mall is hellish but garbage city holds heaven)
Anafora (I felt God walking one step behind me)
The Egyptian Museum (a chaotic collection of ancient artifacts)
AUC (The American University in Cairo)
Four Day (our most glorious vacation in Jordan) 
The End (leaving Egypt in a hurry)
Screen print, 1/7
$200 each*
**$1,500 for set of 8 (1st edition of each work)
Memory remains with us even when our physical surroundings change. Over the course of a semester abroad in Cairo, Egypt, I kept a sketchbook of things I wanted to remember. These observations, thoughts, and snippets of conversation became a visual journal. My experiences in Cairo were challenging, chaotic, and beautiful, just like the city. Through this series of hand-pulled screen prints, I have extended the life of my recorded thoughts and drawings, inviting the viewer to consider the stories behind each word or image. The crowded compositions mirror the kaleidoscopic nature of one of the largest cities in the world.
 
I chose the medium of screen printing as it allowed me to create multiple, colorful copies for each edition at a larger scale, while retaining the integrity of my original hand-drawn imagery and handwriting. The first layer of each piece is a monoprint, while the other two layers are printed from hand-drawn stencils.
-Evelyn Thoen
 
Hear From The Artist!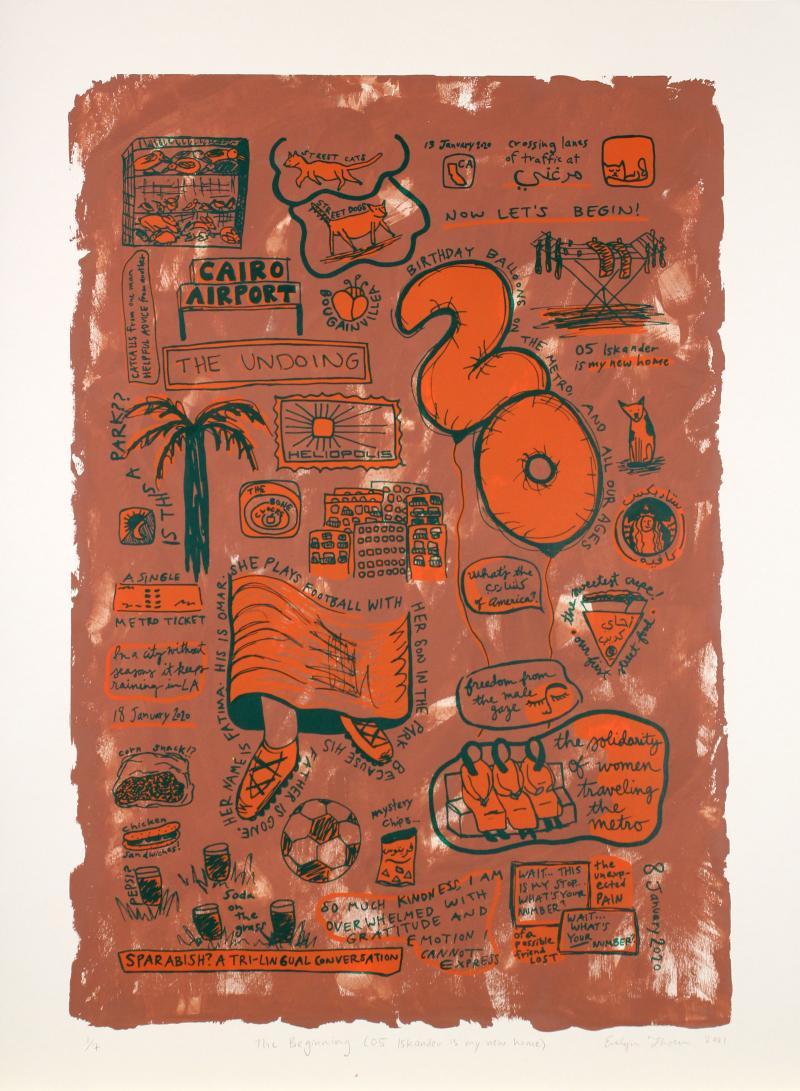 The Beginning (05 Iskander is my new home)
Screen print, 1/7
22" x 30"
$200*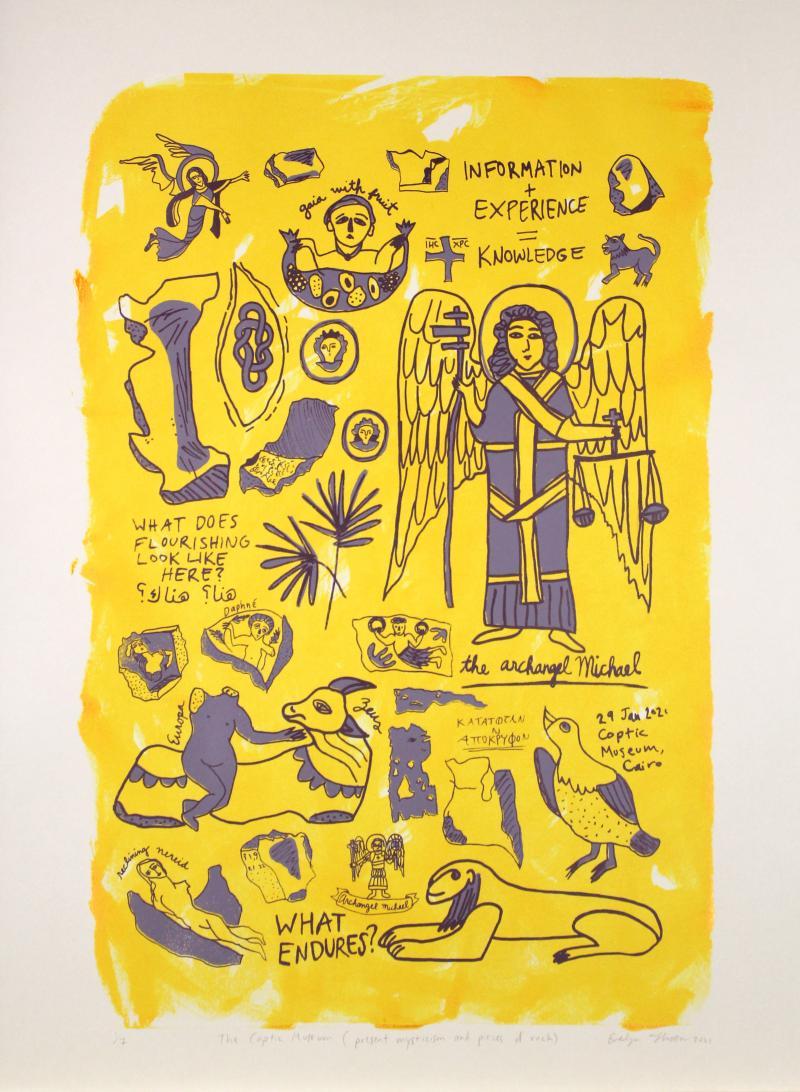 The Coptic Museum (present mysticism and pieces of rock)
Screen print, 1/7
22" x 30"
$200*
Mall/Muqattam (City Stars Mall is hellish but garbage city holds heaven)
Screen print, 1/7
22" x 30"
$200*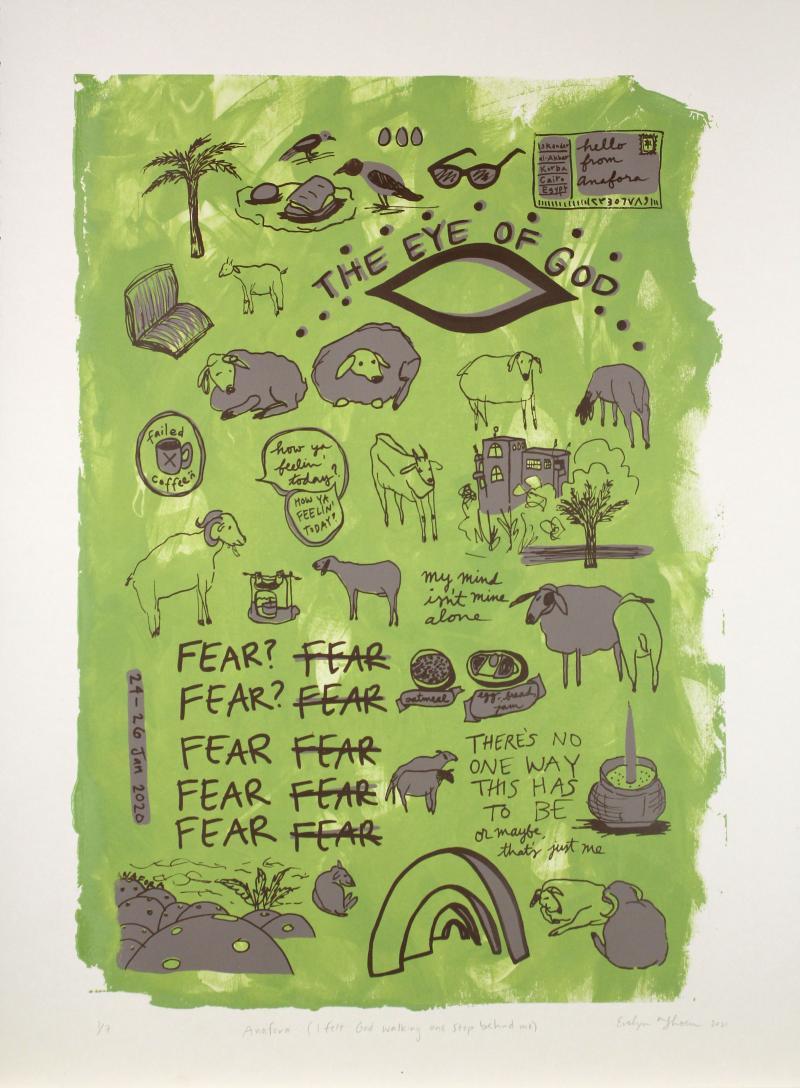 Anafora (I felt God walking one step behind me)
Screen print, 1/7
22" x 30"
$200*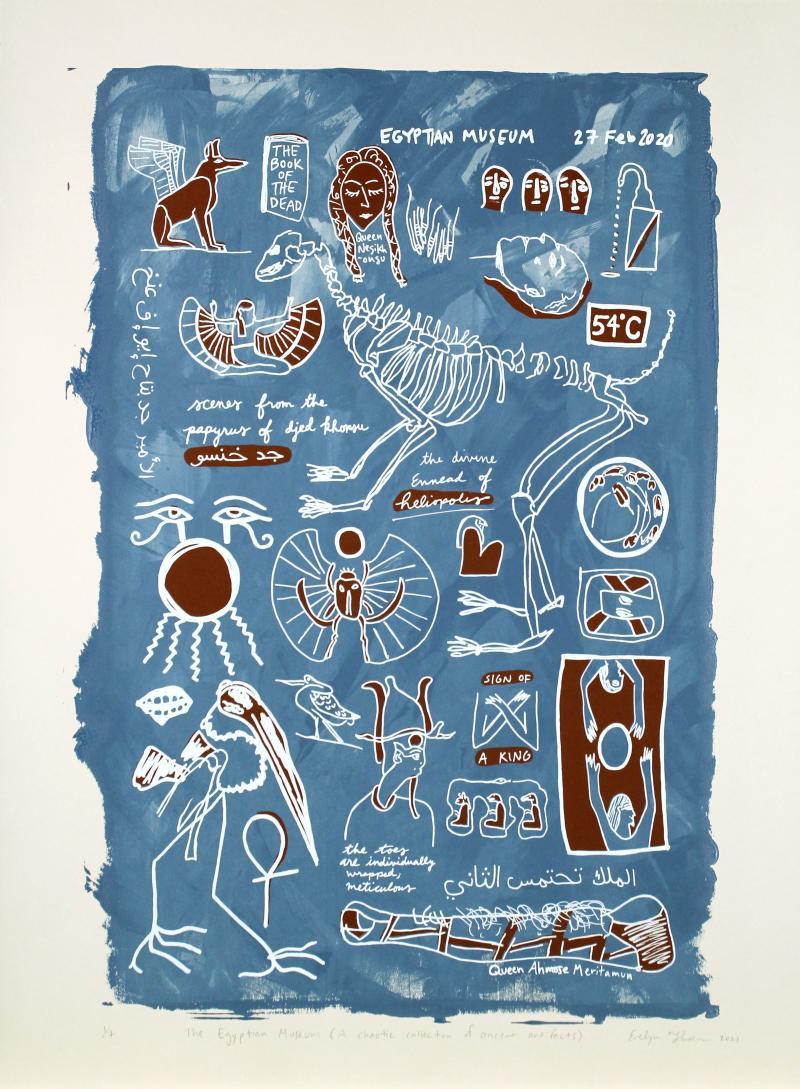 The Egyptian Museum (a chaotic collection of ancient artifacts)
Screen print, 1/7
22" x 30"
$200*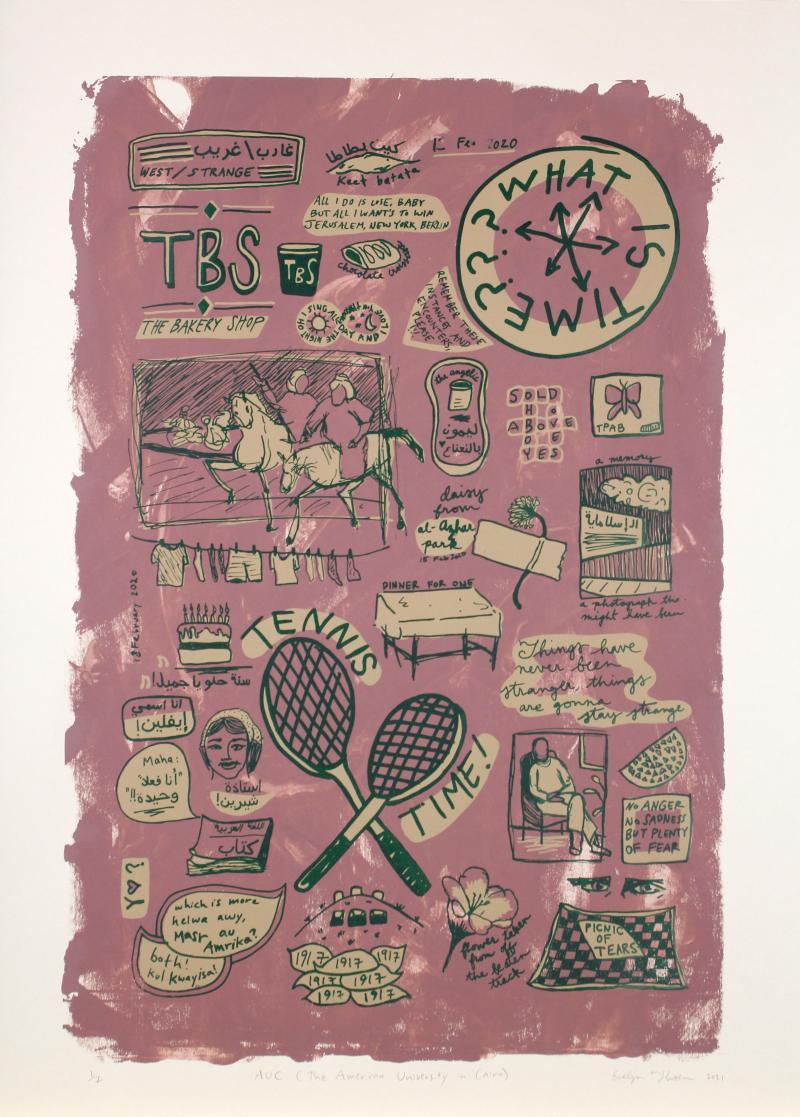 AUC (The American University in Cairo)
Screen print, 1/7
22" x 30"
$200*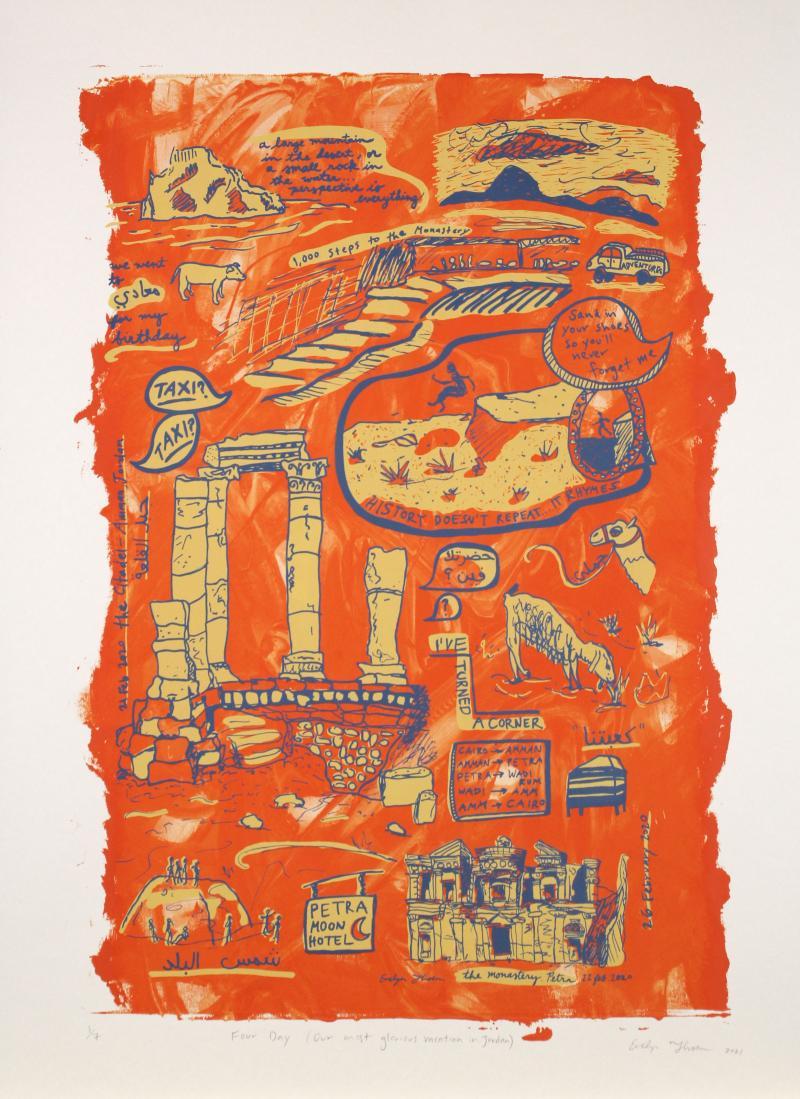 Four Day (our most glorious vacation in Jordan) 
Screen print, 1/7
22" x 30"
$200*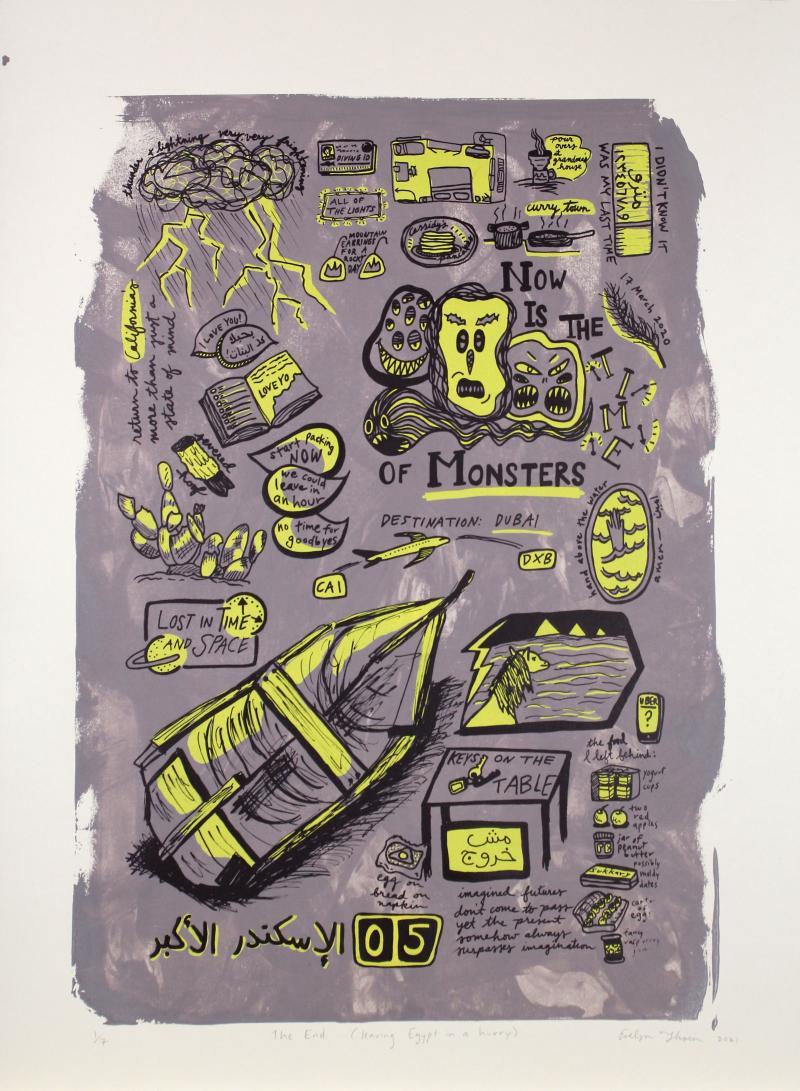 The End (leaving Egypt in a hurry)
Screen print, 1/7
22" x 30"
$200*
*$1,500 for set of 8 (1st edition of each work)