Kimberly Hahn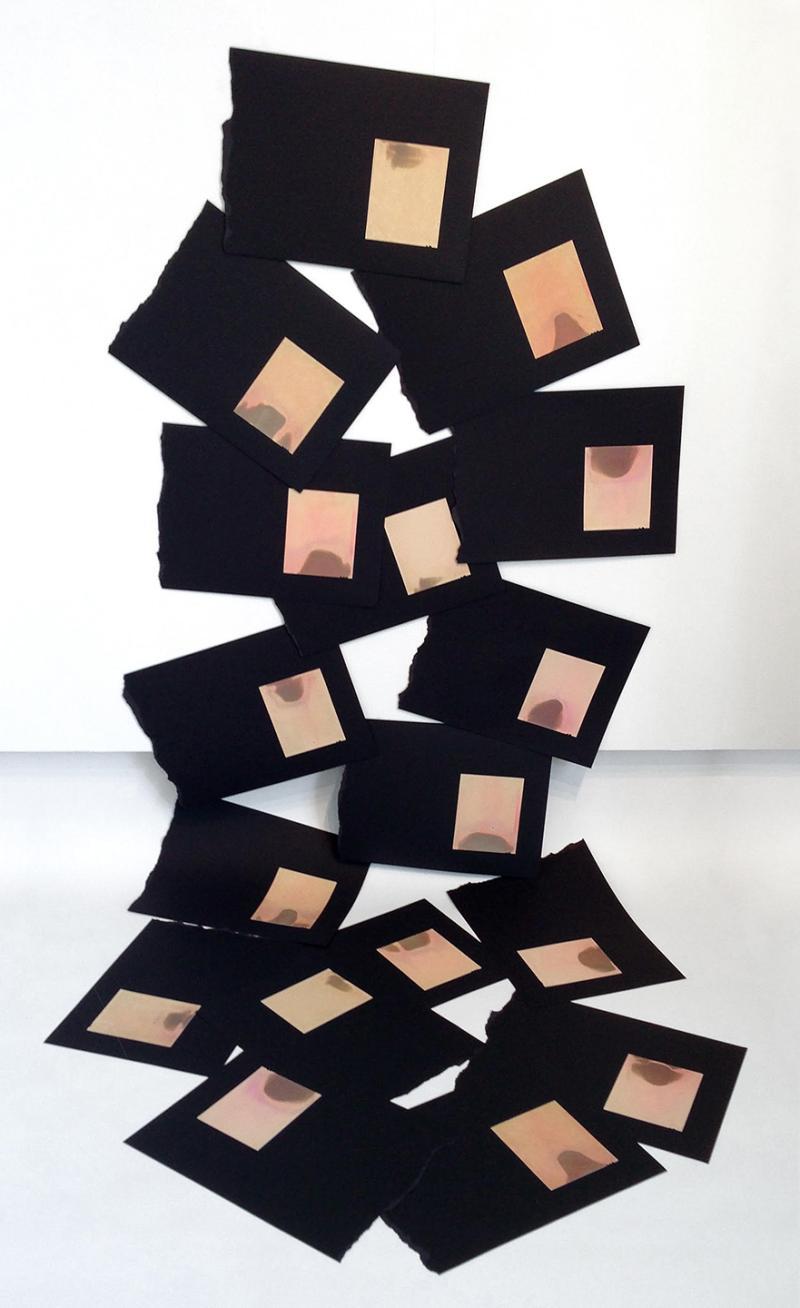 Kimberly Hahn
Disconnected #1/3
Epson archival ink prints, black card stock, and ATG
Dimensions variable
2016
$7,200.00

Email museum@westmont.edu for purchasing inquiries
Artist Statement
My work is concept-based and results in abstract works that convey a minimal aesthetic. Though composed of diverse materials that best match an explored idea, my work often focuses on photography.
The brain fools us into thinking we see complete environments, when, in fact, visual input is fractured, edited constantly, remembered inconsistently, and inherently abstract. I experienced the complexity of this perceptual anomaly first-hand when an irrational childhood fear of blindness, brought on by rapidly deteriorating eyesight, caused a 3-year period in which I saw the world softly. Light, color, and their resultant shapes became elements that helped me navigate an uncomfortable world. This experience drew me to abstraction and resulted in works that craft a way of understanding intricate thought processes, data, definitions, rules, etc. from deceptively simple-looking installations, photographs, and sculptures.
I encourage a murky lack of distinction between mediums in my work resulting, for example, in photographic works that masquerade as illustrations or paintings. The works are subtly alluring drawing one in with an inherent beauty, while asking one to consider imagery that is foreign to the standard human visual vocabulary, and suggesting there is an analytical thought process that can be followed, which may not yield definitive answers, but rather an ambiguity to be explored.
Artist Bio
Hahn has been in numerous solo and group exhibitions including The Object is Null, Design Matters, Santa Monica, CA; Eating Apples in Paradise, Museum of Contemporary Art Santa Barbara, Santa Barbara, CA; The Can(n)on, Atkinson Gallery, Santa Barbara, CA; California Visual Artists, Second City Art Council Gallery, Long Beach, CA; and Revisiting Beauty, Orange County Center for Contemporary Art, Santa Ana, CA. Her work White Balance Backdrop (Tungsten) was included in the Janet Jackson video for No Sleeep featuring J. Cole.