Laura Stevenson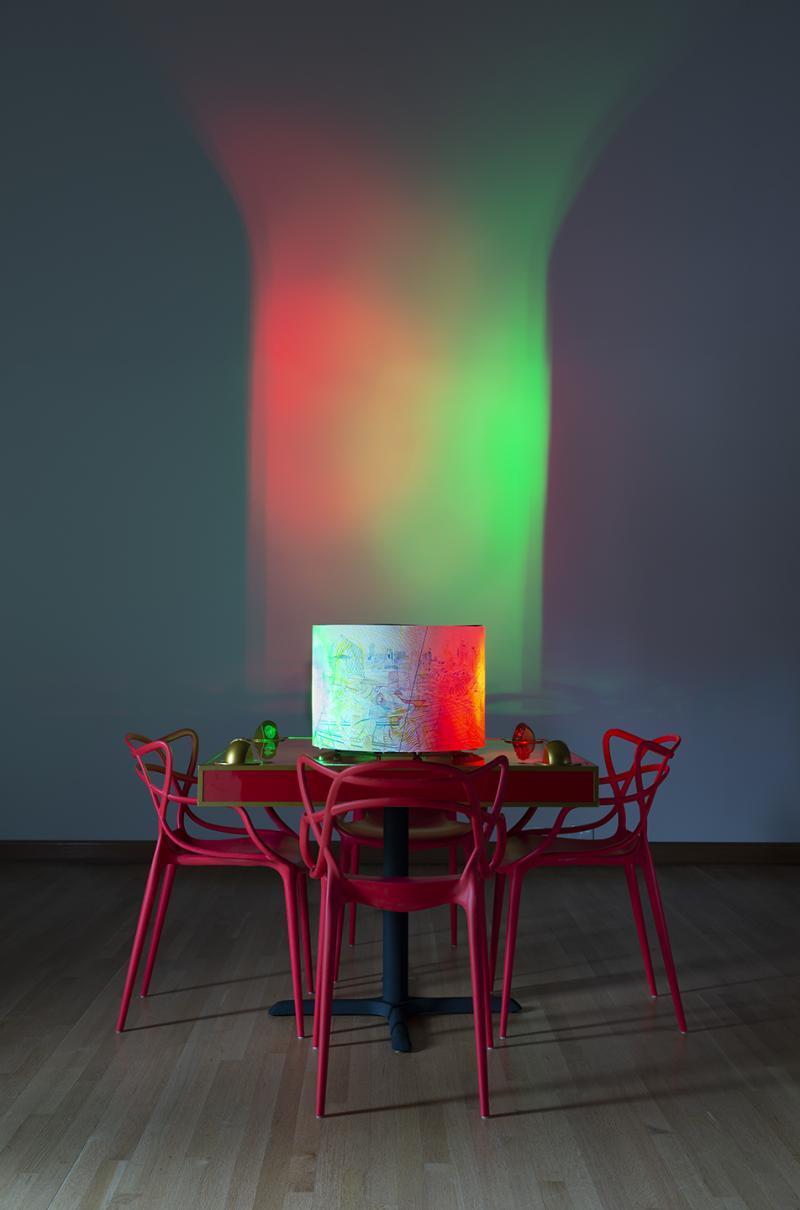 Come to the Table              
Serigraph on paper, wood, steel, cast iron, aluminum, paint, plastic chairs, LED lights, motor
2019  
182.88 x 182.88 x 115.57 cm
While in China, each day we gathered around the table for meals with food served family style on a Lazy Susan (a traditional way of serving food in China). As I processed what I had experienced during my time in China, this practice of coming together around a common table seemed to encapsulate the ancient belief that "heaven is round and the earth is square." Come to the Table was inspired by the complexity of the widely varying socioeconomic conditions of people in China. China is urbanizing at an extremely rapid pace. By 2030, China's urban population is expected to be one billion, which includes millions of internal, rural migrants. The household registration system, known as hukou, has significant implications for migrants, determining whether they can access essential social benefits and public services, separating the "haves" from the "have nots", as is the case for migrants everywhere. This work serves as a call to come to the table, remove invisible walls, see through differences, and be seen as a unified people.
—Laura Stevenson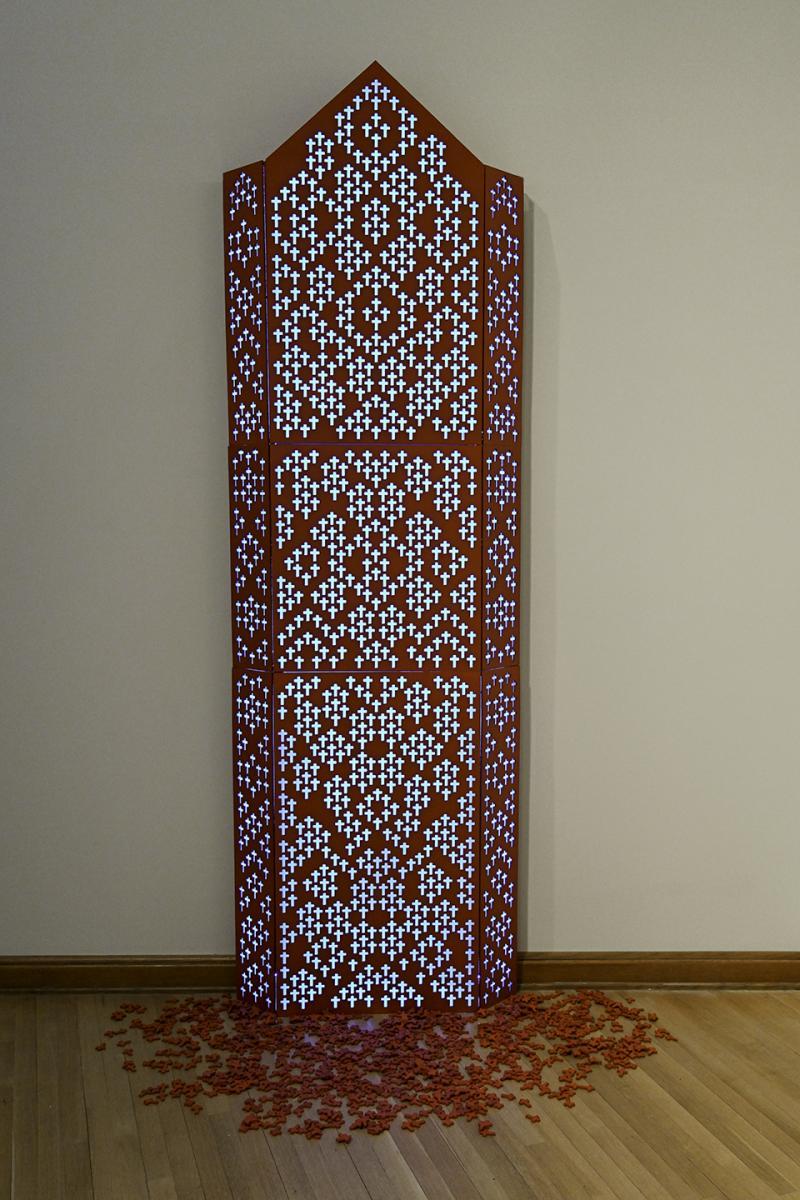 Beyond the Structure         
Wood, aluminum, LED lights with acrylic light diffusers
2019 
274.32 x 87.63 x 17.15 cm    
Beyond the Structure addresses the issue of religious faith in China. China is projected to have the world's largest population of Christians by 2030. This work shows how the church isn't defined or confined by its walls and crosses because the Holy Spirit isn't contained in that way.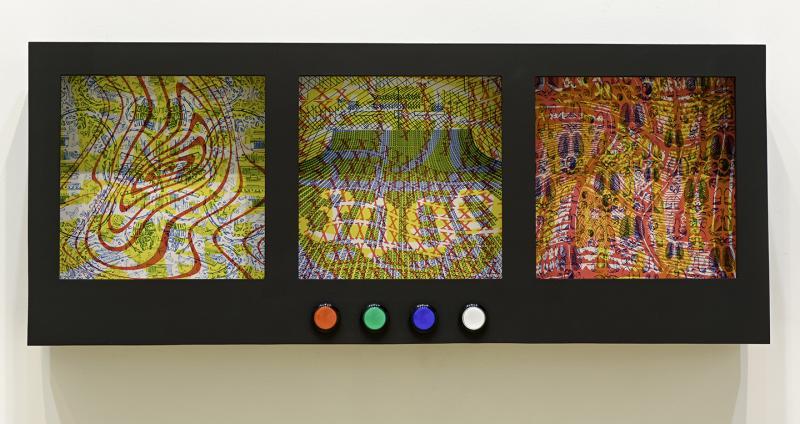 Parallel Realities              
Serigraphs on paper, wood, aluminum, paint, LED lights, Arduino software
2019     
46.99 x 115.27 x 18.42 cm 
Parallel Realities presents how easily facts can be obscured, distorted, or effectively forgotten by allowing the viewer to interact with it by pressing red, green, and blue buttons to expose images only visible in that light. It highlights three events in recent Chinese history.
—Laura Stevenson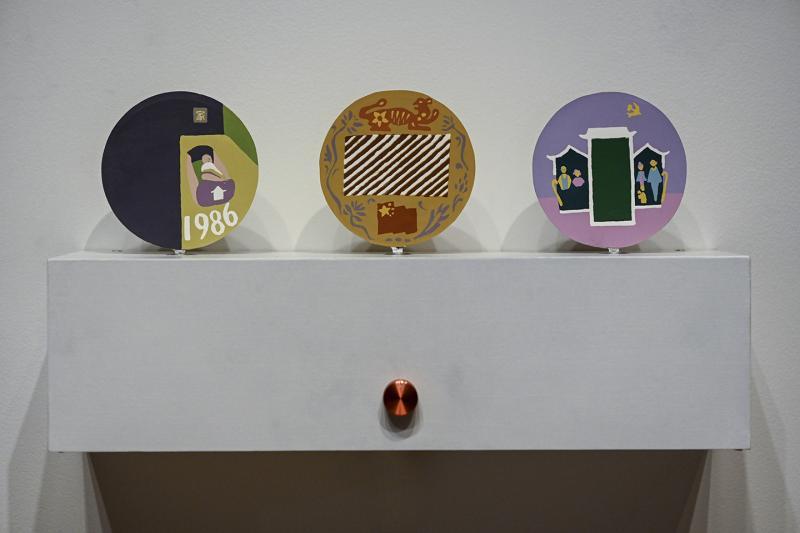 "I had no card"                  
Serigraphs on paper, wood, aluminum, paint, step motors, Arduino software
2019    
19.69 x 50.8 x 13.97 cm 
| | |
| --- | --- |
| ("I had no card" in motion)     | ("I had no card" additional side)     |
"I had no card." is a spin-off of a 19th century children's toy called a thaumatrope. A traditional thaumatrope has an image on each side of a disk with strings attached on the sides. When the strings are twirled quickly, the separate images combine optically. This piece juxtaposes my roommate's story with my own. The spinning disks blend our stories so that the one is indistinguishable from the other. Despite the many similarities we shared, our life stories are very different because she was born a second child under China's one child policy, without a birth certificate. I began to imagine how my life would be drastically different had I been born in China. What if my story began, "I had no card"?
—Laura Stevenson      
 
---
About the Artist
Laura Stevenson is an artist and Assistant Professor of Art at Taylor University, located in central Indiana. She holds an M.F.A. in Painting from University of New Hampshire and a B.A. in Studio Art from Taylor University. Stevenson has exhibited work throughout the United States. In previous work, she found interest in exploring manifestations of presence, whether it was in the form of moments or a group of figures in space. The Matter + Spirit Seminar inspired Stevenson to explore new mediums and themes relating to invisible realities of the contemporary culture and people of China.