Leah Samuelson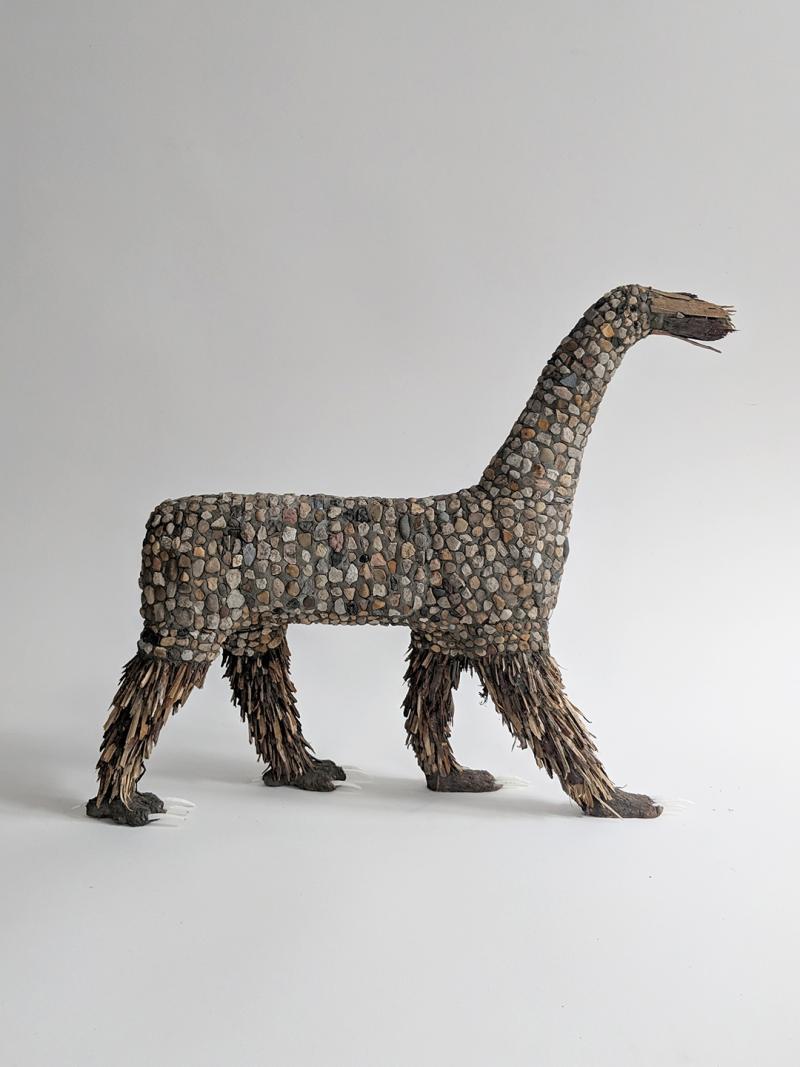 Real Dragon 1 
Wire, plaster, stone and wood mosaic, sea spines
2018
40 x 46 x 10 cm 

Real Dragon is an ambassador for uncertainty walking catching us off-guard. It draws our attention to the small forces of everyday authorities in our lives, interrupting our daily habits. Dragons usually live on the margins of the known world—deep in caves, the bottom of the sea, above the clouds, or off the edges of maps. The fact that this sculptural dragon comes into our everyday space means we are especially visited from a far-flung border by a surprise messenger.

I liked being in the pedestrian life of urban China. Cities we visited felt stitched together by what looked like everyone needing to be elsewhere—pedestrians from the north and south ends of a city switching places. I wanted to make a walking work of art that at once delights in that gesture and stirs us into curiosity about its coming and going.

This particular dragon takes the shape of one of the many Babylonian dragons of militant divinity and empire that appear on the Ishtar Gate. Babylon lies between Chicago and Beijing. Babylonian dragons have no wings, unlike Chinese dragons. Chinese dragons are associated with water and majesty while European dragons are associated with fire and enmity. Composed of the Chinese elements of stone (metal) and wood (bamboo), this dragon is positioned between water and fire, made out of what materials I could find on the ground behind my apartment in order to emphasize its evolution from my own space.
—Leah Samuelson
 
As Real Dragon migrates from place to place in the gallery as the artist envisions, he is good-will walking, a whimsical reminder that we just might be entertaining angels when we offer hospitality to those we do not already know, as the writer of the Book of Hebrews indicates. If art reminds us that we are more than material creatures living in a material world in this decidedly material, determinedly secular and apparently uncertain age, it has done its work.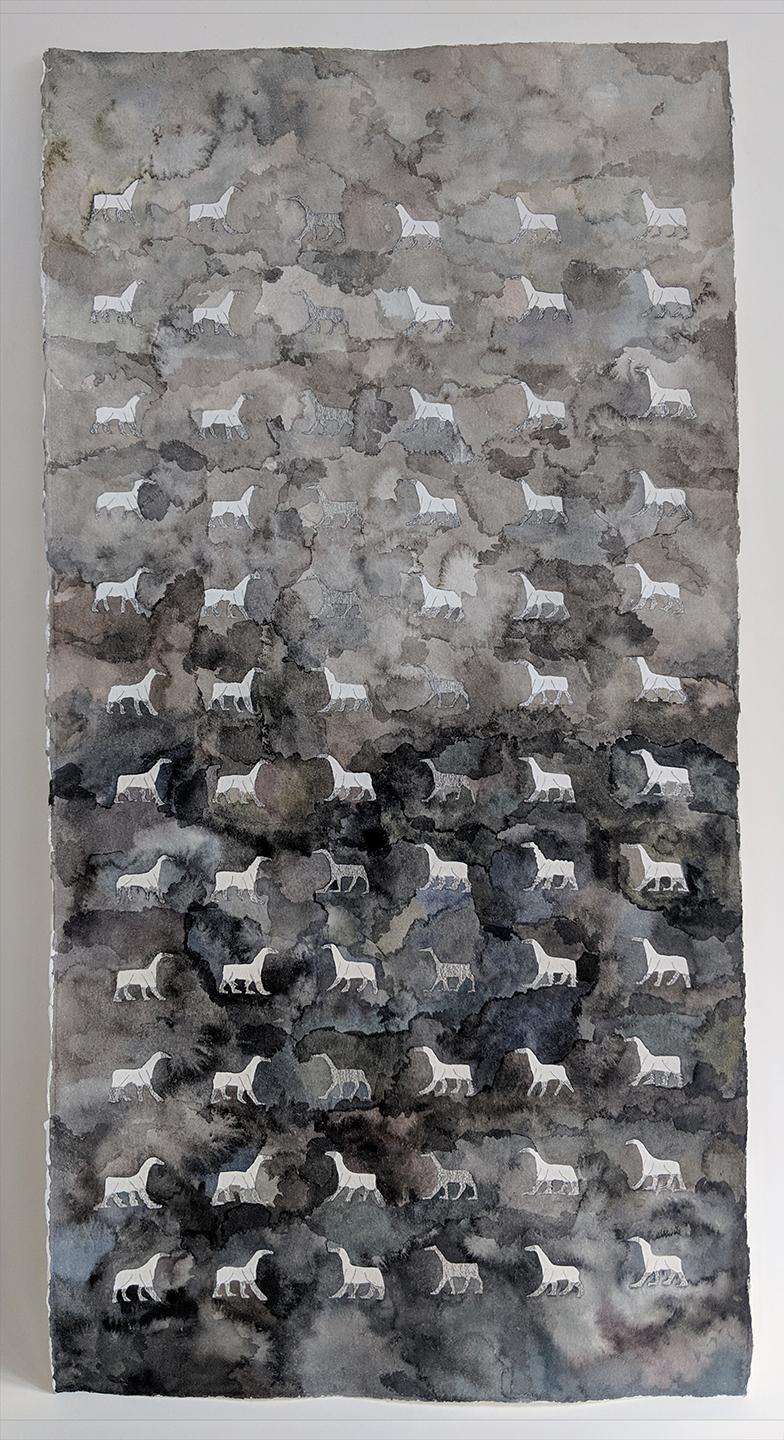 Document Dragon 
Graphite and watercolor on arches paper
2018
76 x 38 cm 

Document Dragon has 72 figures, a number significant in Chinese tradition. This piece is part homage to the repeated dragons on the Ishtar gate, which reads like a tessellation giving the impression of perpetuity, the sense I took from urban pedestrian China. The watercolor is a visual treatise that suggests an entrance portal made of ideas. Read vertically, the graphite toning of the figures in the two central columns follows the numerical pattern of the bagua, and stand as the known order of things. The two columns to the left and the two to the right show dragons facing in opposite directions. Where their direction switches is the slice through which the Real Dragon presumably emerged. Document Dragon is the origin myth for Real Dragon.
—Leah Samuelson

Document Dragon is composed of 72 dragons, a number significant to many peoples including the Chinese because it is the product of two cubed multiplied by three squared, a number representing potent benevolence.
---
About the Artist
Leah Samuelson received her B.A. in Drawing from Wheaton College and M.A. in Urban Studies/Arts in Transformation from Eastern University. With a background in high-end commercial mural painting and urban arts-based education, Samuelson now focuses on socially engaged art curriculum development and strategies of institutional collaboration through the arts. Recent work includes mosaics, landscape drawings, and portable murals. She is moving into consulting with the arts in culture formation, working as a liaison among artists, communities, and patrons to investigate curation of public art suited to contextual transformation.