Suki Kwon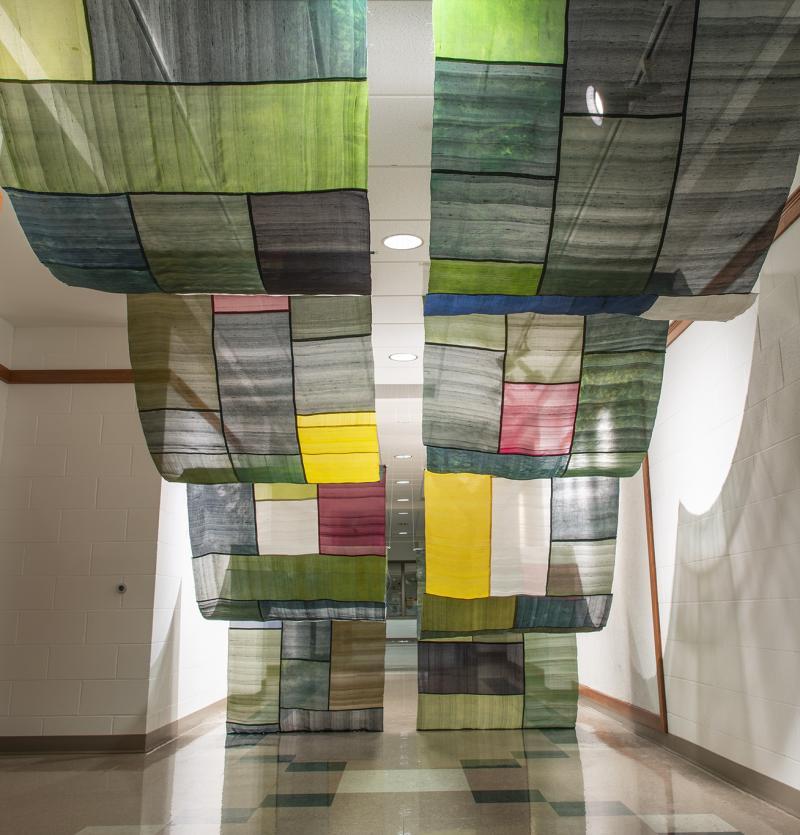 Ordinary Time 
Natural dyed, pieced raw silk banners
2019
718 x 100 cm each 

The Ordinary Time banners are made out of raw silk with many different natural dyes to create various shades of the liturgical color green. Seven different kinds of yellow dyestuff and indigo were used to create various shades of green. Raw silk is a filament silk from which the gum has not yet been removed; thus, its' texture is rather coarse and more nubby than other silk fabric. As my colleague Dr. Darden Bradshaw nicely put, the unrefined, pre-purification state of raw silk metaphorically represents Christians in ordinary time waiting to be transformed and refined. The design of the banners, composed of many shapes and shades of green sewn together, represents people in various shapes and colors coming together in ordinary time.
 
My artwork is the way I observe, explore, and express who I am in this world. My design intelligence and sensibility were born in Korea, awakened in Europe, educated and nurtured in the United States. It is largely based on my affinity with nature and my adoration and awe of the faith of people from diverse religious and philosophical traditions.
—Suki Kwon
 
The term Ordinary Time refers to those parts of the liturgical year, in Roman Catholic and other Western Christian liturgies, that are not designated to the specific events or persons like saints. The "Ordinary" is also used to refer to the regular celebrations of the liturgy, the "everyday" celebrations, so to speak, that are nonetheless, sacred. The simple patchwork of raw silk colored with natural dyestuffs and unfinished edges exemplify the unassuming nature of daily life. The green, the liturgical color assigned to Ordinary Time, symbolizes hope, life, and anticipation. It is a season focused on Jesus' "three-year public ministry, his teachings and miracles; [it is] a reminder that the mission of the church is to share the hope and life of Christ with the world."*
 
_________________________________
*https://www.catholicherald.com. Accessed December 31, 2019.
 
---
About the Artist
Suki Kwon is Associate Professor of Design at University of Dayton, Ohio. She was born in Korea, where she studied psychology, but visits to the U.K. and Europe convinced her to pursue a career as an artist.  She earned M.A. and M.F.A. degrees in design from the University of Iowa. Kwon works with media and ideas that transcend limited definitions of design, striving to bring humanity and spirituality to her work, and to give material form to concepts of beauty, simplicity, and harmony with nature. She has won a number of awards, grants and residencies and has done research in Japan and China. Her research interests include natural dye and textile installation art, comparative visual culture, and documentary filmmaking. Her works have been exhibited throughout the U.S. and in many parts of the world including China, Japan and Korea.