Xin Guo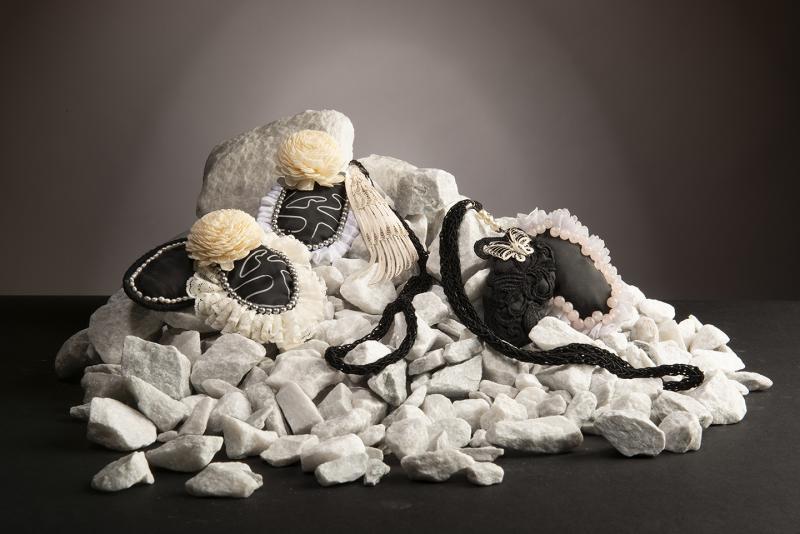 Mourning Series:
Mourning #1 
Funeral cloth, wood, synthetic pearl, found object
2018
11.5 x 9.5 x 4.3 cm                                                            
Mourning #2 
Funeral cloth, silver filigree, wood, crystal beads, base metal, found object
2018
9 x 9 x 2.5 cm                                                        
Mourning #3 
Funeral cloth, silver filigree, wood, synthetic pearl, found object
2018
13.5 x 7 x 4 cm        
This series of jewelry work titled Mourning was made after my father's sudden death on December 23, 2018. Sewing has been a mourning and healing process; using the cloth that I wore on my arm at the funeral serves as a memorial of that day in my life. Watching his ash be put down in the cold grave was heart-breaking. The softness of the cloth and cotton inside has brought a warm feeling. The loss of a parent can change how one sees life and death, and it did for me. 
 
Symbols used in these pieces include the butterfly which, in Chinese belief, symbolizes the transfiguration of a deceased person from physical form into a spiritual form. The white character printed on the cloth "孝"(xiao) means "honoring your father and mother." Only the children of the deceased can wear this character at the funeral.
—Xin Guo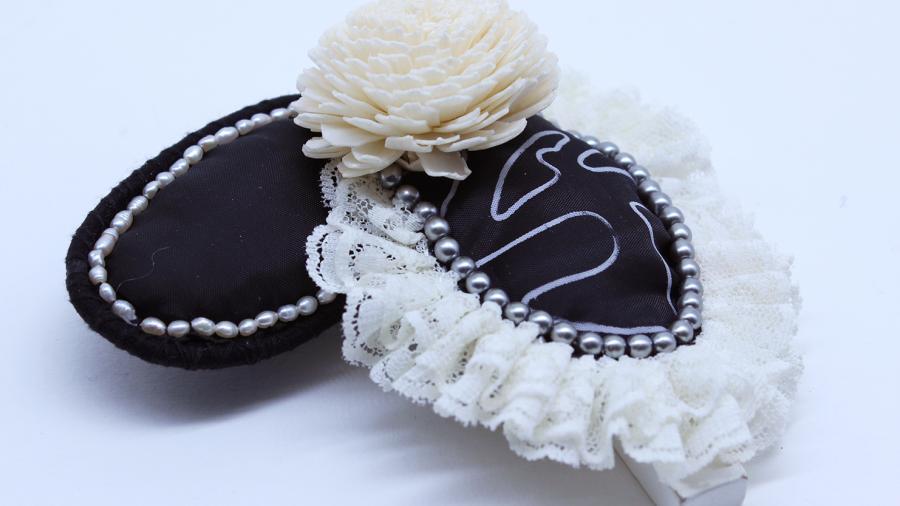 Mourning #1
 
Confucius (551-479 BCE) observed, "We have two lives, and the second begins when we realize we only have one." Xin Guo's Mourning takes us into a very specific and personal experience of loss, the unexpected death of her father. Taking the form of pins and pendants, personal body ornaments that are typically meant to be worn, they carry in them a grief born of love seen in the combination of precious and found materials including an unseen cross secured to oval pillowed forms made from the black cloth of the armband she wore at his funeral. Reminders of our mortality inevitably remind us of something we seem to instinctively know: that there is something sacred to human life and that the body carries in it something much more precious.
| | |
| --- | --- |
| Mourning #2  | Mourning #3  |
---
About the Artist
Shannon (Xin) Guo is Associate Professor, Director of the Jewelry and Metals Program, and Director of the Experimental Art Center of Shanghai Academy of Fine Arts. She is also Vice director for the Jewelry Design committee of Gems & Jewelry Trade Association of China, Vice Director for the Metals Art Committee and Glass Art Committee of Chinese Arts and Crafts Association, and Executive Director of the Shanghai Industrial Designers Association. She earned the M.A. and M.F.A. degrees from Indiana University of Pennsylvania in 1999 in Jewelry and Metals with a minor in Ceramics for both degrees. Guo is Founder, Co-owner and Curator of the well-known contemporary crafts gallery, twocities gallery in Shanghai. She was one of the co-curators for the international exhibition Ahead of the Curve—Contemporary Chinese Porcelain and Glass Exhibition which opened at the Cheltenham Museum in 2014, and traveled to the Bristol Museum and Stoke-on-Trent Museum in the UK. Awarded national level exhibition, it was sponsored by the Art Council of England.