Christina Altfeld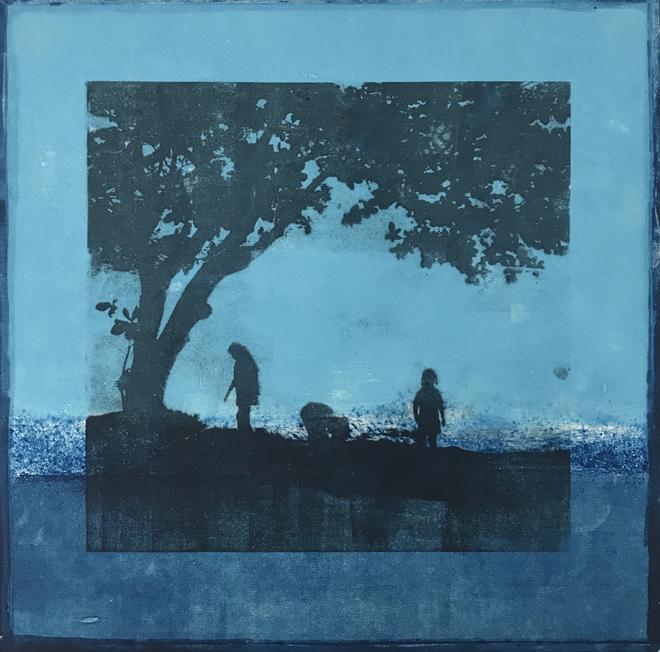 Christina Altfeld
Puka Shell Sunday
Monoprint with paper lithography
16x16
2019
$480.00
Email museum@westmont.edu for purchasing inquiries
Artist Statement
Having been a photographer for most of my life, I have a wealth of images to draw from. I have recently been going through forgotten prints and reinventing them as monoprints as well as incorporating either photopolymer or a paper lithography process. 
Printmaking reminds me of my days printing in the darkroom. There is a similar feeling of anticipation and excitement when you pull out a photo that has completely developed in the tray to when you pull back the blankets and see your first print on the etching press.
 
Artist Bio
Christina was born in Sweden and at 12 years of age emigrated to the U.S. with her family. Shortly after her arrival, she was given a Brownie Hawkeye Camera. This gift proved to be a turning point in her life as an artist. Not yet speaking English, the photographs became her visual language as she learned more about her new home.
Christina's love for photography continued throughout her life. She is self-taught and has enhanced her love and knowledge of the craft with workshops and classes at UCLA and Santa Barbara City College. Through her wonderful friendship with another artist, Christina was introduced to printmaking. Once she learned more about the process, the photopolymer plates seemed to be a natural extension of her photography work giving her an opportunity to expand on her initial impression of an image. She is currently exploring layering images and utilizing multiple printmaking processes on the same print
Christina has been juried into numerous exhibits both locally and internationally, receiving recognition and prizes.
Her love for travel has taken her throughout Europe, Asia and North Africa always with a camera by her side as fodder and inspiration for new work. Christina lived in Maui for 15 years and is currently residing in Ventura County, California.