Sara Woodburn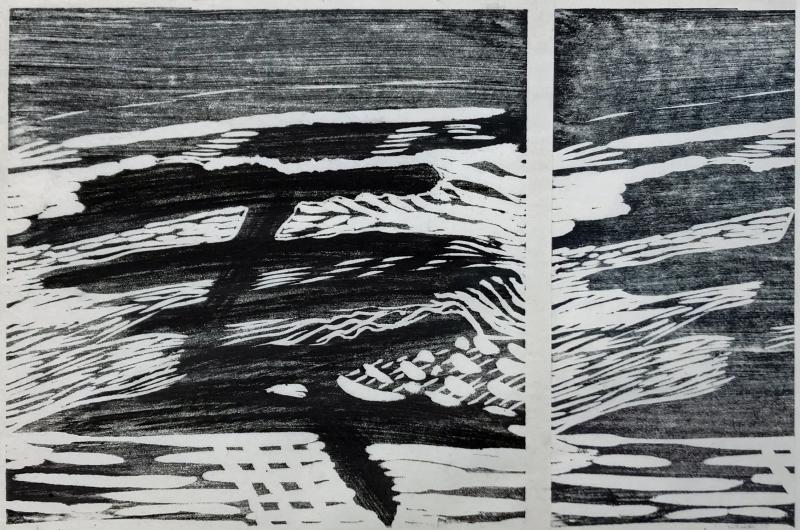 Sara Woodburn 
Holualoa
Japanese woodblock print
15x19
2017
$300.00

Email museum@westmont.edu for purchasing inquiries
Artist Statement
These works convey my memory of time and place using layers of language, stories, water, landscape, and dress.
Artist Bio 
Sara Woodburn is a native Californian, born in Long Beach and educated at UC Davis, who studied textile, graphic, and costume design. Her studies of yuzen, a kimono dyeing process, continued in Tokyo, Japan and she started a hand dyed textile and one-of-a-kind clothing business (Sara McCook Textiles) in the San Francisco Bay Area, later moving it to Santa Fe, New Mexico. In New Mexico, she was a frequent Artist-in-Residence, teaching students textile printing in communities all over the state. She earned an education credential at the University of New Mexico.
In 2012 and 2016, Sara was awarded scholarships to attend the prestigious Anderson Ranch Art Center in Colorado to study mokuhanga, the centuries-old Japanese woodblock printing method with the master printmaker, Hiroki Morinoue and reduction woodcut with Jean Gumpper.
Her work has been shown at the Architectural Foundation of Santa Barbara, the Wildling Museum, the Elverhoj Museum, Marcia Burtt Gallery, Sullivan Goss Gallery, and the Westmont Ridley-Tree Museum of Art. Her collaborative series on climate change is currently on view at the National Center for Ecological Analysis and Synthesis in Santa Barbara.