Office of the Provost 2020 Spring Research Symposium
"The Motherland Calls!" Mother Russia's Memory Politics and Wartime Legacy in the Memorial to the Battle of Stalingrad from 1946-1970
Anastasia Heaton '21 
Advisors: Dr. Johnathan Kirkpatrick (Art History at the Center for Scholarship and Christianity at Oxford) and Dr. Alister Chapman (History)
Abstract: 
This research traces the evolution of politicized depictions of Mother Russia and its repercussions on Soviet historical memory of the Second World War to its eventual manifestation in the war memorial to the Battle of Stalingrad, "The Motherland Calls!". Ultimately, this paper seeks to delineate between post-war gendering of the "Great Patriotic War" as inherently masculine and the subsequently strongly feminine understanding of victory within Soviet memory politics of the 50s and 60s. Using the evolving imagery of Mother Russia throughout this period, the paper posits both a sociopolitical and art historical framework to understand the role of gender in Soviet memory politics in the mid-twentieth century.
---
Do Sleep Problems Worsen the Cognitive Symptoms of Parkinson's Disease?
R. Christian Reynolds '21 
Faculty advisor: Dr. Steve Rogers (Psychology)

Abstract:
The present study seeks to determine the impact of sleep problems, including REM sleep behavior disorder, on the cognitive functioning of those with PD. A total of 141 patients (44 women, M age = 74.19) diagnosed with PD participated in neuropsychological assessment. They completed a questionnaire and clinical interview assessing sleep disorders, as well as subtests of the WAIS-IV, WMS-IV, DKEFS, COWAT, FAS and Animals, BNT, Trailmaking A and B, ROCF, HVLT-R, and BVMT-R. Patients with sleep problems performed significantly worse on WAIS-IV Digit Span, WAIS-IV Arithmetic, and ROCF 3' & 30'. There was also a trend for significantly worse scores on Trails B, HVLT-R Trials 1-5, and BVMT-R Trials 1-3. Those who had REM sleep behavior disorder (RBD) symptomatology demonstrated weaker scores on ROCF Copy and 30'. These findings suggest that sleep complications not only exacerbate, but also expand, some of the cognitive deficits typically seen in PD.
---
Investigating the Effect of Tau Protein Aggregates on Neuronal Signaling Using High-
Throughput Multielectrode Arrays (MEAs) and Burst Coding
Kelsey Feustel '20 
Faculty advisor: Dr. Yi-Fan Lu (Biology)
Abstract:
Tau is a microtubule-associated protein found primarily in the axons of mature neurons. Tau dysfunction is known to lead to the formation of insoluble protein fibril aggregates that ultimately lead to neuronal death. Additionally, these neurofibrillary tangles are associated with the onset and progression of Alzheimer's Disease (AD). The exact mechanism by which tau dysfunction contributes to AD progression has yet to be elucidated. In order to better understand the effect tau fibrils have on neurons and neuronal signaling, an RStudio algorithm was developed that is capable of analyzing data output by high-throughput multielectrode arrays (MEAs) coated with cortical neurons, some of which had been treated with pre-formed fibrils. The developed algorithm analyzes both neuronal spike number and duration, parameters defined according to previously-conducted empirical analyses, within a particular burst of neuronal activity.
---
Testing for effects of urbanization on Western Fence Lizard occupancy
Kendra Dayton '21, Seth Wilmoth '21
Faculty advisor: Dr. Amanda Sparkman (Biology) 
Abstract:
Urbanization has caused changes in landscape to many species' habitats. This change in environment affects a species' distribution. Our study seeks to understand the ways in which urbanization and differing habitat characteristics affect occupancy of Sceloporus occidentalis. We sampled for Sceloporus presence/absence in 21 sites in rural, park, residential, and commercial areas, sampling each site three times. We utilized the program PRESENCE to quantify occupancy probabilities for each site while accounting for detection probability, and to determine the best fit model involving a set of landscape covariates. Our best fit, modeling strictly for imperviousness, showed a positive linear trend in occupancy with increased imperviousness. Our second best fit, modeling only for canopy cover, produced a negative linear trend in occupancy with increased canopy cover. These results provide insight into potential anthropogenic effects on Santa Barbara County's Sceloporus population and build a foundation for larger studies of occupancy.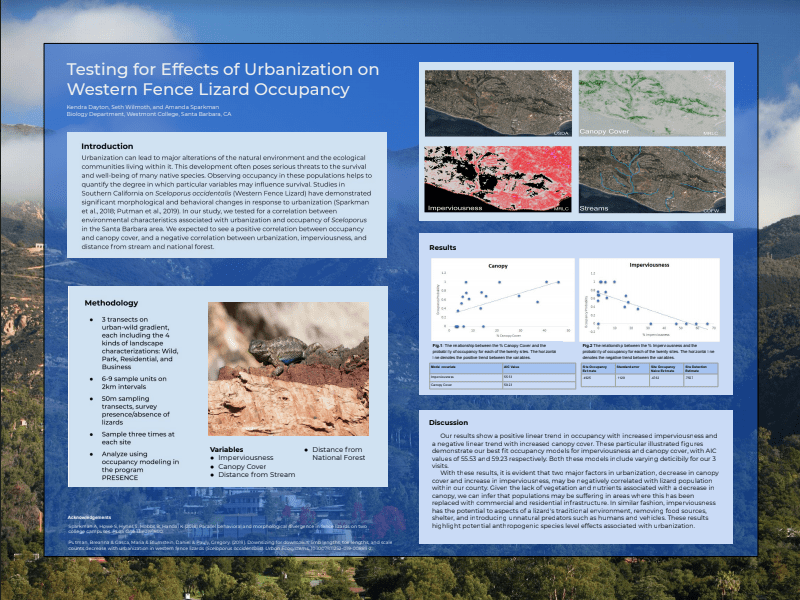 ---
Time Course of Blood Flow Restriction Exercise on Cellular Swelling
Jenna R. Skiff '20, Michael C. Oldach '20, Gavin E Hoiosen '21, Brendon Sze '20, Travis Vander Molen '20, Michaela Banyi '20, Patrick J. Malberg '20
Faculty advisor: Dr. Timothy A. Van Haitsma (Kinesiology)
Abstract:
Blood flow restricted exercise(BFR) encourages muscle growth without muscle damage at decreased exercise intensities. BFR causes cellular swelling, activating muscle hypertrophy mechanisms. This study investigated the time-course of cellular swelling following BFR. Participants(n=26) were randomly divided into three groups and instructed to perform two sets of 75 hand grip exercises at 30% of maximum grip strength at 10%, 50%, and 80% of systolic blood pressure(SBP). Forearm volume was measured pre- and post-exercise using Eureka Cans.  A rmANOVA was done to examine significant group x time interactions. Immediately post-exercise, significant increases were observed in forearm volume in the 80% compared to the 50% occlusion group(F=2.447,p<0.05) before volumes returned to baseline. This study was a pilot for future BFR research and found cellular swelling exists immediately following exercise at occlusions of 80% of SBP. This suggests that studies should examine around this time point and occlusion pressures to discern cellular swelling causes following BFR.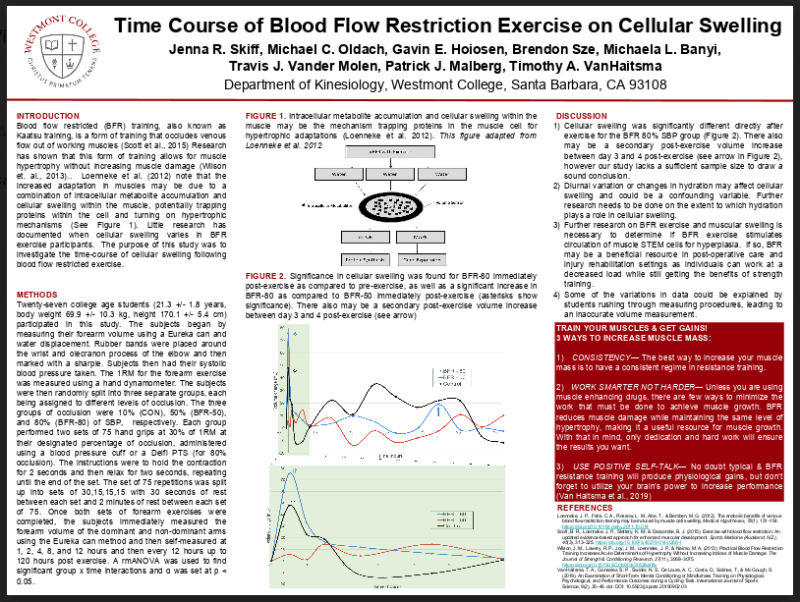 ---
God loves all his children, from the Type A's to the Z-types: An Exploration of the Effect of Z-type Binding on Transition Metal Reactivity Using Computational Chemistry
Chisondi S. Warioba '21 
Faculty advisor: Dr. Brandon E. Haines (Chemistry) 
Abstract:
One of the main interests in organometallic chemistry is the ability to control the reactivity of a transition metal center. An emerging avenue for unlocking new reactivity in transition metals is with Z-type ligands, which accept electrons from the metal. This is unique from the typical metal-ligand interaction in which the metal accepts electrons from the ligand. The goal of this research is to conduct a mechanistic study on the effect of Z-type binding in organometallic reactions using density functional theory (DFT) calculations. A better understanding of how Z- type ligands affect different reactions will help capitalize on their potential for new catalytic reactions. Here, geometries, energetics and orbital interactions for the elementary steps of a zinc-induced reductive elimination reaction were obtained and analyzed. The data indicates that Z-type ligands do not directly influence reductive elimination and seeks to confirm this finding through the use of multiple methods. The following methods were tested: B3LYP-D3BJ (SP1), TPSS-D3BJ (SP2), PBE0-D3BJ (SP3), M15 (SP4), wB97XD (SP5). These methods gave similar energetics leading to the conclusion of a barrier of less than one kcal/mol. The effect of the Z-type ligand on reductive elimination is not dependent on the computational method used.
---
Computational Study of the Mechanism of bis(2-haloacrylonitriles) with Nitrogen and Carbon Nucleophiles
Alexandra Ebert '21,
Collaborators: Adam J. Zahara, Elsa Hinds, Andrew L. Nguyen, Sidney M. Wilkerson-Hill (University of North Carolina at Chapel Hill)
Faculty advisor: Dr. Brandon E. Haines (Chemistry)
Abstract: 
Bis(2-haloacrylonitriles) are effective bisketene equivalents capable of programmable sequential additions of nitrogen and carbon nucleophiles towards the synthesis of complex natural product-like architectures. The mechanism for conjugate addition of an amine (piperidine), a cyclic -ketoester and cyanide to bis(2-chloroacrylonitrile), bisCAN, was studied using density functional theory (DFT) calculations at the DFT/def2-TZVPPD//M06-2X/6-31+g(d) level of theory, where DFT = B2G-PLYP-D3, M15, M06-2X with the SMD implicit solvation model to approximate bulk solvent effects in toluene and THF. Several mechanistic pathways were considered including stepwise or concerted vinyl nucleophilic substitution through out-of-plane attack (SNV) and single electron transfer (SET). All attempts to optimize the geometry of the tetrahedral intermediate expected from stepwise addition resulted in spontaneous ejection of the chloride leaving group, regardless of nucleophile. This indicates that it is not a stable intermediate at this level of theory. Subsequent searches for transition states describing the concerted SNV pathway were successful for all nucleophiles and the computed free energy barriers (G‡) are less than 22 kcal mol–1. The reactivity trend based on computed G‡ values is piperidine < cyclic -ketoester < cyanide. This pathway is consistent with conserved stereochemistry experimentally observed in the reaction. The thermodynamic energy for SET with the cyclic -ketoester substrate is energetically feasible (G = ~14 kcal mol–1) indicating that it could be in competition with the SNV pathway. Therefore, the preferred substitution pathway could be dependent on the nucleophile. Further computational and experimental studies are underway to confirm the mechanistic details of this reaction.
---
Characterization Of Dark Current in Charge-coupled Devices
Logan Hodgson '21 
Faculty advisor: Dr. Curtis McCully (Physics)
Abstract:
Thermal noise in charge-coupled devices is responsible for dark current in astronomical imaging systems. Because dark current is exponentially dependent on temperature, accurately characterizing dark current is an essential first step towards creating post-processing measures to counter thermal effects on images from charge-coupled devices.