Dear Parents, 
Welcome to 2019!  This is an exciting time at Westmont as we welcome new students for the Spring semester along with all our returning students. The Spring semester if filled with many exciting events and activities for students and parents alike. We value our parents and are pleased to be able to offer a variety of ways to be engaged with the college and your student while they are here.
Mark your calendars for Parents Weekend, March 29-30! This exciting event exposes you to many aspects of the college that your student experiences every day. Inspiring chapel, stimulating lectures from professors, a chance to hear from the President, opportunities to make new friends...and of course, being able to witness the long lasting tradition – Spring Sing!  Be watching for more information about this weekend and we hope you will make plans to join us.
Our prayer is that you find Westmont a welcoming place, a place where your heart and mind grows right along with your student. Please let us know if there is anyway we can be of assistance to you by emailing parents@westmont.edu.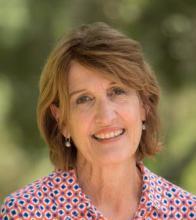 Blessings on you as you begin 2019.

Teri Bradford Rouse '77
Senior Director of Alumni and Parent Relations
A Special Evening in Santa Barbara
Join Westmont alumni and parents for a fun, inspiring evening of music and storytelling with Steve Bell on January 10, from 6-8:30 p.m.  This award-winning Canadian artist has shared his message of hope, faith and love with the world for over 25 years.  President Beebe, Vice President Reed Sheard and Alumni and Parent Senior Director Teri Bradford Rouse will be at the beautiful University Club of Santa Barbara to greet you. 
This free event will be an enjoyable evening of fellowship, community, and good food!  Please RSVP to alumni@westmont.edu and indicate "SB event" in your reply.  Include names and number attending. Watch your email for more information!
Parents Weekend
We hope this weekend will give you a sense of the journey your student is on and give you the chance to spend some time with them immersed in their life away from your home. 
MARCH 29 & 30, 2019
Parents Weekend
Important Dates
Thanksgiving Holiday: November 21-23
Christmas Tree Lighting and Santa Photos: November 28
Finals Survivor Kits: delivered November 28
Final Exams: December 11-14
Residence Halls Close at noon: December 15
Winter Recess: December 15-January 7
Residence Halls Open: January 5
Classes Begin: January 7
Spring Recess March 11-15
Commencement May 4
Alumni & Parent Relations Staff 
Drawing Closer to God

Seeing the Goodness of God
The Dallas Willard Center offers inspiring online resources to help you connect with God through video meditations focusing on gratitude.
This time of year gives us an opportunity to turn toward God with thanksgiving. When we take a moment to look, we can see God's goodness all around us in changing leaves, in a hug from a close friend and in unexpected peace in a difficult situation.
"Let the sea roar, and all that fills it;
 let the field exult, and everything in it.
Then shall the trees of the forest sing for joy
 before the Lord, for he comes to judge the earth.
O give thanks to the Lord, for he is good;
 for his steadfast love endures forever."
                        1 Chronicles 16:32-34
A few ways to step into gratitude:
Take a moment to think of three things for which you are especially grateful today.
Imagine holding gratitude in your hands. Offer it to the Trinity saying, "Thank you for showing me your presence through these treasures."
Pay attention to your surroundings. Each time you notice God's goodness reflected in a golden leaf, a billowy cloud or a child's smile, take a moment to breathe the prayer, "Thank you, God, for your goodness."
---
Important Links
Parents and Families Find information specifically for YOU!
Residence Life Learn more about your student's life in the residence hall. 
First-Year Parents Weekend Plan to join us if you have a first-year student. 
Student Life Find information for all student life offices, such as the Counseling and Health Centers, Career Development and Calling, and more.
Campus Life Find information about student-run organizations, clubs and ministries.
Westmont Athletics See Warrior sports calendars and subscribe to the Warrior Update.
Career Development and Calling Learn more about services available to help students determine their calling and prepare for a career.
Westmont Counseling Center Find information about counseling services available to your student.
Westmont Health Center See the important health services available to your student.
Westmont TV Access the archive of Westmont chapels, lectures and events.