Dear Westmont Parents,
 
Last month during spring break, many students traveled to Mexico with Potter's Clay, one of our oldest traditions, to serve others and experience a different culture. Some students also participated in Urban Initiative in San Francisco, Los Angeles and Santa Barbara, working in the inner-city with people in need. I love seeing how students learn long-lasting and life-changing lessons during these trips.
The semester has gone by so quickly, and we're already planning for Commencement on May 4. We're thankful for lots of needed rain (but not too much), discussions of important issues on campus, inspirational moments in chapel, and the joy of seeing our students engage each another. You would be proud to see your students in action.
As we welcome a new season, I'm embarking on a huge change in my life: retirement. While I'm excited about what lies ahead, I'm also experiencing all the feelings of leaving a place I love, which has shaped me in so many ways.
I've loved working with you all—what an honor and a privilege. You play such a vital role in our community and have blessed me through your support, prayers and involvement. I'm confident that with the leadership of President Beebe, his Executive Team, the Parents Council, and the dedicated team in the Alumni and Parent Relations office, Westmont will continue to grow stronger.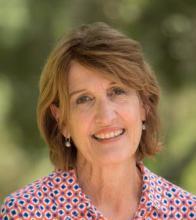 I will work through June 12, so reach out and say hello.
Blessings and deepest thanks,

Teri Bradford Rouse '77
Senior Director of Alumni and Parent Relations
Important Dates
New Student Move-In and Orientation August 22-25
Classes Begin August 26
Fall Holiday October 7-8
First-Year Parent Weekend November 2-4
Thanksgiving Holiday November 27-29
Final Exams December 10-13
Christmas Holiday Begins December 14
Alumni & Parent Relations Staff 
Parent Orientation
Make plans now to attend Parent Orientation August 22-23, 2019. Once you have your student in the dorm, we have two full days of activities for the parents. President Beebe will welcome everyone to campus; meet other 1st-year parents at the evening barbecue; meet your student's residence life director, and don't miss the service of commitment. Registration opens late June. 
Parent Orientation