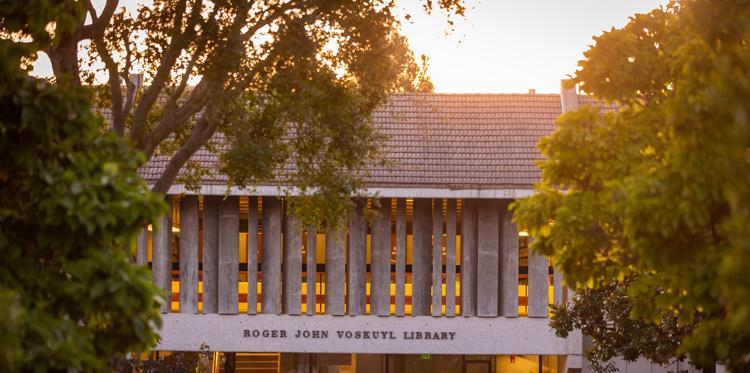 LIBRARY SERVICES THROUGH SUMMER ONLINE
The library is open remotely Monday-Friday, 9 am -5 pm.
The Voskuyl Library building is closed until further notice, but we are still open remotely Monday - Friday, 9am - 5pm, to help you with all your information needs. Please contact us using the Quick Contact Links below or explore the Summer 2020 Library Services LibGuide for more detailed information. 
New LibGuide: Open Access Resources
Some scholarly articles and journals do not require a subscription to access their content. We've curated the Open Access Resources LibGuide to highlight various OA resources across the disciplines to better support your research process. If you have any questions about OA, please contact Kyndal Vogt at kyvogt@westmont.edu. 
Check it out
Quick Contact Links: Materials
Quick Contact Links: Services
For questions about borrowing physical library materials while campus is closed due to Covid-19 or any other library related question, please contact askalibrarian@westmont.edu.
For questions regarding personal research assistance or to schedule an appointment with a librarian, please contact researchhelp@westmont.edu.
Quick Contact Links: Miscellaneous
For all other library related questions, please contact Jana Mayfield Mullen, Interim Library Co-Director, at jmayfield@westmont.edu.
Join the Research Help Desk team today!
*Temporarily closed until further notice*
Open to Work Study and non-Work Study students!
Do you enjoy helping people? Do you like to discover new ideas? Do you want to nurture your leadership skills?
Join us in at the Research Help Desk and gain valuable customer service, research, and leadership skills! 
Apply on Handshake today!
Join the Technical Services team today!
*Temporarily closed until further notice*
Do you enjoy working with spreadsheets? Do you need practice with Excel to boost your resume? Do you enjoy playing an instrument?
Give your resume a boost by learning to catalog and process library books, music scores, and special collections materials!
Apply on Handshake for "Technical Services Assistant" to join the Library Technical Services team!
Apply today!
Check us out on Instagram!
Stay in the know with updates on library exhibits, events, and more on our Instagram page!
Check out our Instagram page!
Research Help Desk Raffle
Ask questions. Win prizes!
Do you need to find a book for a research paper? Do you want to find a scholarly article? Do you like winning prizes? Enter the Research Help Desk raffle! Each question you ask - whether at the desk, over email, or on the phone - gives you a chance to win! 
How to earn tickets:
1 ticket: ask a "basic" question such as "where can I find a book?"  (< 3 mins)
2 tickets: ask an "intermediate" question such as "what kind of databases should I use for my research project?" (3 - 10 mins)
5 tickets: ask an advanced question such as "how do I narrow my research topic?" (15 - 30 mins)
10 tickets: schedule a one-on-one appointment with a librarian
Stop by the Research Help Desk today!