"To whom much has been given, much shall be required."
The Augustinian Scholars Program (ASP) offers a four-year scholarship and honors curriculum to students committed to academic excellence and Christian formation.
Westmont welcomes 60 incoming first-year students to the program each year. The highest financial award level, granted to about 30 of these scholars, covers 85% of tuition. The remaining 30 scholars receive a special award to augment the student's existing academic award.
A Message from the Director
"Welcome to Westmont—I'm delighted that you are exploring the possibility of joining our community of scholars. The Augustinian Scholars Program (ASP) offers a four-year honors curriculum committed to academic excellence. It aims to challenge, support, and connect academically gifted students, helping them faithfully cultivate the gifts that God has given them and working to prepare them to then invest these gifts faithfully in the world. Several features distinguish the Augustinians from other honors programs. First, in addition to academic rigor, the program is explicitly oriented towards Christian formation—believing that the life of the mind in pursuit of truth is inescapably tied to the life of faith and the pursuit of the One who is Truth.  Second, rather than creating a separate honors college, the ASP operates integrally within the wider college, enhancing scholars' engagement with the rich intellectual and relational opportunities within the remarkable community that is Westmont College. And third, while many of our scholars will go on to lead and make prominent contributions to their communities and to the world, the focus of our efforts is on faithfulness: answering God's call to steward our giftings well--wherever that may take us. We believe that to whom much is entrusted, much is expected. We look forward to exploring with you whether this might be the context in which you seek to faithfully steward your gifts."
Warmly,
Jesse Covington
Director, Augustinian Scholars Program
Program Description
Read about the Augustinian Scholars Program (ASP) below.
Augustinians begin their Westmont career with a two-semester course sequence on Augustine and the Christian intellectual tradition. The fall seminar— "Faith Seeking Understanding" —provides an introduction to the liberal arts and the idea of scholarship as a Christian calling. Together, the scholars mine the riches of the Christian tradition to understand how rigorous academic inquiry—the pursuit of truth—involves a lifelong journey closely linked to spiritual commitments and personal formation. After building this foundation, Augustinians move into the spring semester course, "Pilgrim Citizens," to understand how to serve society, including churches, families, neighborhoods, and broader political arenas. Scholars explore questions of calling and vocation in pursuit of faithful citizenship, activities, and service involvements.
During these first two semesters, scholars can anticipate a demanding yet stimulating agenda of classical and contemporary readings, writing assignments, seminar discussions, guest lectures, external activities, and opportunities for spiritual formation. The two-semester sequence will fulfill three of Westmont's General Education requirements—Philosophical Reflections, Understanding Society, and Writing-Intensive—which helps scholars make progress toward graduation.
In their second and third years, Augustinians enroll in one-unit honors seminars (at least one per year) on a range of topics, including good stories, vocational calling, interpersonal relationships, the Church, stewardship, and encountering creation. They deepen their ongoing connection and intellectual fellowship within the program while gaining opportunities for spiritual formation, service and preparation to launch well from college—all with sufficient flexibility for students to pursue diverse majors, off-campus programs, athletics, etc.
In their final year, scholars share an integrative capstone experience that provides sustained reflection on ASP themes as they get ready to graduate from Westmont.
IS-010H Honors: Augustine and the Christian Tradition I: Faith Seeking Understanding.

This course offers an introduction to higher education as a Christian calling, exploring the pursuit of truth as a lifelong journey that is closely linked to spiritual commitments, communities, and formation. By engaging with primary texts, seminar discussions, interdisciplinary guest speakers, and written communication, students are introduced to select thinkers in the Christian intellectual tradition, including St. Augustine of Hippo, the North African bishop renowned for his contributions to Christian thought. (4 units, G.E.: Philosophical Reflections)

IS-020H Honors: Augustine and the Christian Tradition II: Pilgrim Citizens.

Thematically grounded in St. Augustine's rich theology of the two cities, this course draws from the Christian intellectual tradition to enrich students' understanding of society, its institutions, and their callings to love both God and neighbor. Using a pilgrimage framework, the course invites students to pursue increasingly faithful citizenship through reflective participation in activities and service. (4 units, G.E.s: Understanding Society, Writing-Intensive [combined with 010]).
IS-030H—Honors Seminar: Stories Worth Telling: provides a context to explore and enjoy a good story (biography, fiction, history, etc.) together, focused on one or more narratives chosen by the instructor in light of her/his interests and/or expertise. (1 unit)
IS-031H— Honors Seminar: Calls Worth Answering: offers an opportunity for inquiry into the ideas of Christian vocation, application of those ideas to students' lives, including structured opportunities for service and post-college preparations. (1 unit)
IS-032H— Honors Seminar: The Global, Local Church: inquires into the past, present, and/or future of the Christian Church, exploring dimensions of both its universal and local nature, and its unity and diversity (relative emphasis will vary). (1 unit)
IS-033H— Honors Seminar: Interpersonal Relationships: explores facets of human relationship in interdisciplinary Christian perspective. Emphases may include friendship, marriage, children, professional, etc., explored from theological, psychological, historical, philosophical, literary, and/or sociological perspectives, etc. (1 unit)
IS-034H— Honors Seminar: Stewardship: explores the human calling to steward finite resources of the created order, including natural resources, time, and money (targeting NBS majors, but accessible broadly). (1 unit)
IS-035H—Honors Seminar: Encountering Creation: explores ways of seeing, understanding, and enjoying the created order from an interdisciplinary perspective. (1 unit)
IS-036H—Honors Seminar: Topics: advanced inquiry in a subject area proposed by the instructor (1 unit)
Senior ASP Honors Seminar (2 units)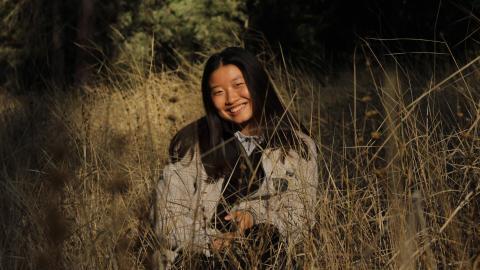 Phoebe Lu, Senior (Class of '23)
Through each historic book read, each invigorating discussion participated in, and each critical question explored, the Augustinian Scholars Program has played one of the most formative roles in my intellectual and spiritual development. Perhaps I am most grateful for the voices it has introduced me to—voices such as Teresa of Ávila, …Blaise Pascal, the persecuted church and of course, St. Augustine—voices which continue to inform my life beyond classroom walls.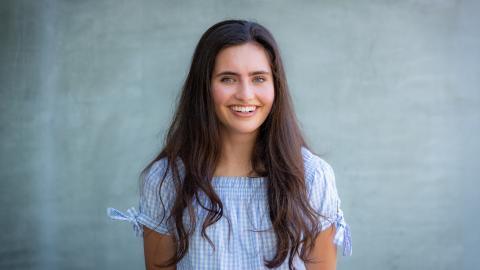 Emma Hammond, Senior (Class of '23)
In a world that often values new and upcoming ideas, Westmont's Augustinian Scholar Program has given me the opportunity to engage with ideas and truth that have stood the test of time. From St. Augustine, to Kierkegaard, Aquinas, and C.S. Lewis, these voices have moved me and formed me into who I am today; A woman who strives for rightly ordered loves, holds the conviction that faith and reason can be held together, and has truly come to know that "our hearts are restless until they rest in You (God)" (St. Augustine, 400 AD). Wrestling with deep questions of epistemology, being chosen by God, and how this world's brokenness and God's sovereignty can coincide was emphasized in my first year seminars and yet these questions and conversations became prominent in DC meals, late night couch conversations, and beach walks. Seeking truth has been fulfilling and meaningful and the discussions paired with the mentorship and wisdom of program professors has been invaluable. What a privilege and what a joy the Augustinian Scholar Program has been, and might I dare to say, its impact on me has just begun.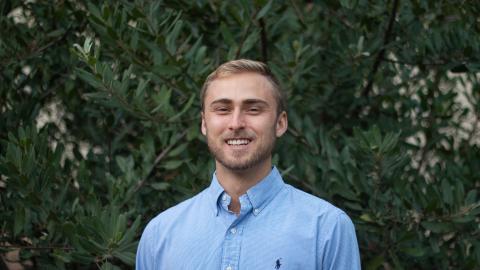 Alexander Rurik, Senior (Class of '23)
Entering Westmont, I was beyond excited for the Augustinian Program, although I was not quite sure what to expect. In that first week of class, I was blown away, not just by the caliber of students in my cohort, but by the quality of character exhibited by those around me. I loved getting to know my classmates and professors while we engaged stimulating questions. As discussions in class turned into conversations with friends over dinner or in the dorms, I quickly learned how much I don't know, but I loved pursuing truth alongside an incredible community––it's a truly humbling experience. Over the course of the program, I've forged meaningful relationships, wrestled with more unanswered questions than I'd like, discovered the richness of various Christian traditions, and my faith has been shaped in ways I could not have imagined four years ago. …I've found joy and freedom in reorienting my desires to better understand my gifts and calling, so that I can become a better friend and citizen of the Kingdom of God.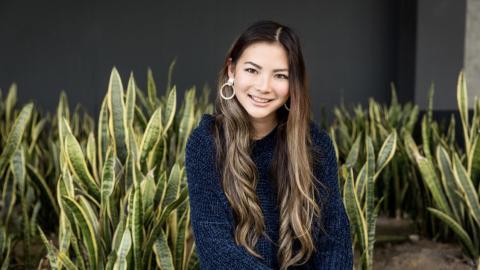 Rebecca Li, Junior (Class of '24)
Entering into the Augustinian program has been an unmistakable and utter gift. It has afforded me quality food for thought and led to some of the richest relationships I have ever cultivated. I am genuinely grateful for the proximity to my professors which these classes have offered. While engaging in conversation with these faculty members, I am reminded that they are approachable and deeply kind, in addition to being seasoned and knowledgeable. The intimacy of Augustinian seminars …feels like a breath of fresh air, and I owe much gratitude to the individuals who are responsible for the flourishing of the program!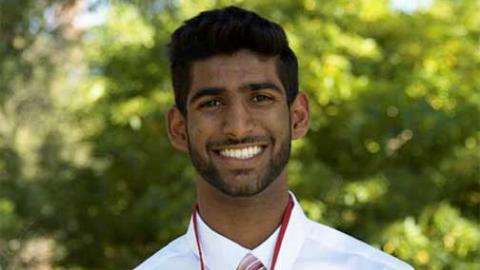 George Mathen, Class of '20)
This program was and is still a testimony to God's goodness in my own life. I came into college aware of desiring growth in my interpersonal connections and my professional aspirations; however, God also had something else in mind and brought me here to integrate and deepen my intellectual and spiritual desires. …More than anything else, the program set a foundational tone for how I wanted to make sense of myself and the pursuit of a meaningful life with God. I cannot stress enough how helpful this foundation was. I am now in medical school and to this day, I still revisit some of the topics and regularly stay in touch with my friends and professors from the program. As I look back, those four years together were an eye-opening, fruitful, and humbling experience of intellectual inquiry and spiritual formation. Every bit of it was worth it and I feel very lucky for how generously the program has invested in me and my future.