Westmont Magazine Bringing Justice and Mercy Through Music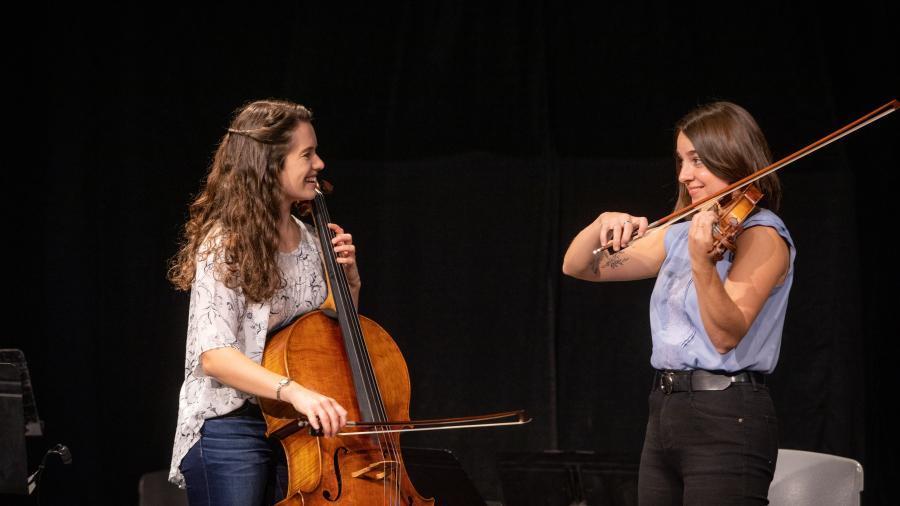 REBECCA SHASBERGER '15 crafted a career as a cellist, teaching students of all ages, playing with orchestras and chamber music ensembles and freelancing for weddings and parties. "But I wanted my life to be about something more," she says. "I wanted to belong to a cohesive community of musicians and not go in so many directions." She envisioned musicians joining together to serve marginalized people and connect divided communities through music. In 2018, she established Renovare Music, a nonprofit organization in Cleveland, Ohio.
"I feel the tension between the spaces usually occupied by classical musicians and those occupied by people experiencing hunger, thirst, homelessness, resettlement, imprisonment, etc.," Rebecca says. "I couldn't feel settled with the disparities I encountered. I didn't want to stay in my classical bubble and ignore the rest of my community. I wanted to build relationships and bring justice and mercy through music."
During her master's program in cello performance and Suzuki pedagogy at the Cleveland Institute of Music, Rebecca learned the backgrounds of some of her junior high cello students. "They had parents in jail, had never met their fathers or were living with grandparents," Rebecca says. "It was one of many experiences that hit me hard, and I wanted to create consistency for communities that lack it."
LALIA MANGIONE '17 has joined her in this endeavor after earning a Master of Music in violin performance at the University of North Carolina at Greensboro. "I felt God calling me to Cleveland," she says. "I was doing everything I had dreamed about as a kid playing the violin, but it wasn't what I expected. I said, 'OK, God, what am I supposed to do with the violin?' I had no experience with the prison system, homelessness or other marginalized communities, and I've learned so much. My faith has grown, and I'm sure I'm in the right place."
Renovare's performances fall into three areas: Tapestry, Oasis and Voices. Through Tapestry, Rebecca and Lalia perform interactive concerts. "We ask the audience questions and stop performing to hear what they say," Rebecca says. "We take requests sometimes, and other times we play games with them."
"Once we made cards to represent various moods and tempos, then invited audience members to pick them out of a basket to explore improvisation in jazz music together," Lalia says.
Tapestry concerts occur in surprising places: prisons, hospitals, homeless shelters and refugee centers. The women also perform in parks and churches for the general public and share stories about their less conventional venues.
Oasis events feature their most explicitly Christian work, including concerts for Lent, Easter and similar occasions. "We lead worship services on Sunday and monthly prayer services," Rebecca says. "Sometimes we play for Sunday morning chapel at a prison."
With Voices concerts, the musicians share stories about marginalized people to help audiences understand and connect with them. In a recent concert at Deane Chapel, they focused on women who've been trafficked, incarcerated or who suffer from addiction. "We co-write songs with members of our community often overlooked," Rebecca says. "We've been trained in Documentary Songwriting."
"The highlights of their stories become the lyrics, then together we find rhythms, melodies and harmonies," Lalia says. "This allows us to tell powerful stories in just three minutes. Then we string them together with instrumental music and spoken narrative so the audience can enter into these women's lives."
Rebecca and Lalia also lead weekly classes teaching violin, viola and cello to 27 students in a men's and a women's prison, providing instruments funded by donations or loaned by music organizations. "We want to help those with lengthy sentences start or continue to make music," Rebecca says. Renovare depends mostly on gifts from individual donors, especially through Heartstring, a monthly giving program. Rebecca and Lalia have also started writing grants.
"We're already doing the work we envisioned, performing more than 80 concerts a year," Rebecca says. "Now we want to recruit more musicians. Running a nonprofit is a huge undertaking that requires someone to do fundraising and marketing, so we're looking to build a team. We're also working to include more diverse voices, backgrounds and skills on our board."
At Westmont, Rebecca and Lalia majored in music and played in a quartet together. "I appreciate the plentiful opportunities I had to perform as the only cello performance major," Rebecca says. "At the conservatory, I was one of 40." The daughter of Professor Emeritus Michael Shasberger, she began playing with college ensembles while still in high school.
"Westmont created a great environment for developing leadership roles in music through experiences such as being concertmaster and section leader," Lalia says. "I got so many opportunities, and everyone was rooting for me. It was great preparation for the competition in the music world: keeping standards high but providing support as well."