Class of 2021 Commencement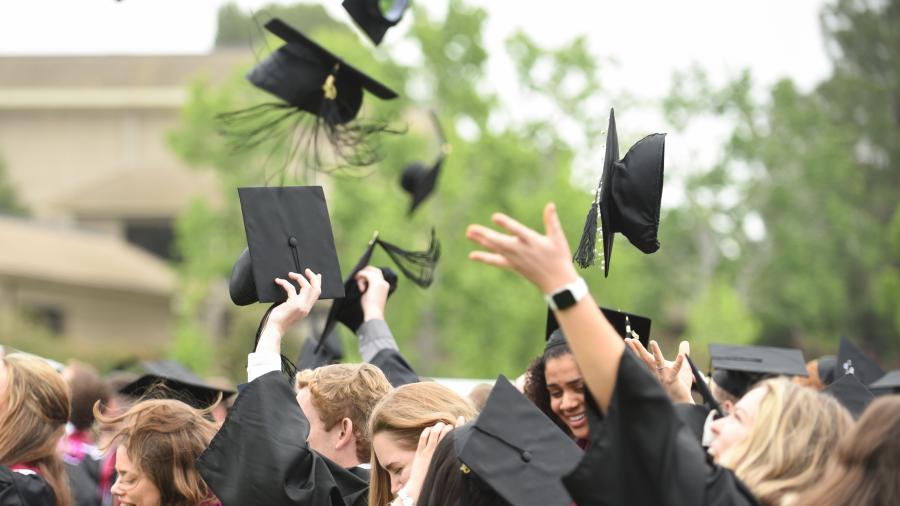 COMMENCEMENT
May 8, 2021, at 9:00 a.m.
We look forward to celebrating the accomplishments of the class of 2021 in person on May 8, 2021. Please check back regularly for details about COVID-19 protocols and restrictions related to gatherings.
---
The Commencement team has been meeting weekly and is working hard to plan a Commencement weekend that will honor and celebrate your accomplishments on campus while also doing so safely. As you plan to attend Commencement, please keep in mind the dynamic nature of the pandemic and its impact on travel and face-to-face events.
Update from 4/8/2021: 
We are excited to share with you that Commencement planning for the Class of 2021 is well underway. We know that you and your families have a lot of questions as things continue to evolve and improve with the COVID-19 situation. We have one significant update to share since our last communication. Since then, we've received confirmation that a limited number of guests may attend Commencement, within the guidelines provided by the county. 

We would like to clearly outline what you need to know and do:
The Commencement Ceremony for the Class of 2021 will take place on Saturday, May 8, 2021, at 9:00 a.m. on Thorrington Field in a special, socially distanced layout. 
 
Due to requirements by the CA Public Health Department and Westmont's desire to ensure a safe environment, each graduate will be allowed a maximum of two guests. Guests must be from the student's household. No exceptions will be made to these requirements.
 
By May 1, 2021, each graduate must register each guest on the registration form emailed to you and provide a name and current email address for each guest. All guests will be sent information outlining requirements to be able to attend Commencement. 
Westmont is committed to following all State of California Public Health Guidelines for all guests attending the 2021 commencement celebration. These requirements are as follows:
For all guests:
On May 6, 2021, all registered guests will be emailed a COVID-19 screening questionnaire that must be completed so that they will be allowed to enter campus for Commencement.
Upon completion of the screening information, guests will receive a QR code which they will need to present either on a mobile device or printed at the entrance of campus on graduation day.
All attendees must wear a face covering and maintain at least six feet of distance from those outside their immediate household while on campus.
Additional requirements for out-of-state guests:
Proof of a full vaccination and where the final dose was administered on or before April 24, 2021 will be required for any out-of-state guests. Out-of-state guests will be contacted for proof of vaccination at the email address provided during the registration process completed by each graduate.
Out of state guests who cannot provide proof of full vaccinationwill have to arrive in California 10 days prior to Commencement to quarantine in order to attend the ceremony, or provide a recent negative COVID-19 test and quarantine for seven days. 
Friday, May 7 - There will be a graduates-only rehearsal for Commencement from 3 p.m. to 4 p.m. Graduate attendance is strongly encouraged.

You and registered guests will receive email updates on details as the big day gets closer, but we hope you will share this new information with your families and register using the link provided as soon as possible.

We are grateful we are able to honor your great accomplishment on Saturday, May 8 and that you will be able to share the experience with up to two household members. We would appreciate a prompt response to the steps outlined above so that we can continue to plan a safe and joyful celebration for Westmont's Class of 2021.

If you have questions, please email commencement@westmont.edu or call 805-565-7177.

Looking forward to a wonderful weekend.

The Commencement Team