Campus Updates 
Westmont moved to remote instruction on Monday, March 16, and will continue doing so through the end of the spring semester. We will provide general, campus-wide updates, and posts will occur daily on the homepage at 9 a.m., noon, 3 p.m. and 6 p.m. 
The Santa Barbara County Public Health Department is confirming 153 total cases of COVID-19 in Santa Barbara County at this time. Westmont continues to report no confirmed cases among its students, faculty and staff who remain on campus.
Q&A recorded session with President Beebe March 31, 2020
---
Monday, March 23- 3 p.m.
Join President Beebe for a Conference Call Tuesday, March 24, at 6 p.m.
Dear Westmont Community,
We're following all the latest news, updates and trends that affect Westmont and look forward to sharing this information with you each week. We hope you'll be able to set aside each Tuesday at 6 p.m. (PST) to hear the updates and progress occurring on behalf of our students and other related college news from President Beebe. Please join in remotely tomorrow, Tuesday, March 24, and email your questions to questions@westmont.edu.
Please join the event conference five minutes before the start time using the information below:
Phone number(United States): 323-794-2558 
Phone number(Canada): 800-289-0459
Participant Passcode: 438235 
We'll use this same number each Tuesday.
Thank you so much for your messages of support and encouragement and for your patience and understanding during this uncertain time. We pray that God will keep you and your family safe and well.
Blessings,
President Beebe and the Executive Team
---
Friday, March 20 – 9 a.m.
This email went out to all students this morning from Edee Schulze, vice president for student life.
Last night you received information via email from Dr. Beebe about Governor Newsom's "stay home" order. This means that all non-essential travel is restricted in CA until further notice. Therefore if you are not on campus currently, you should not travel to campus to retrieve your belongings from your residence hall at this time. 
We will keep you posted about the status of the "stay home" order and how you will be able to retrieve your belongings. So until then, please postpone any plans to come to campus at this time. 
Thursday, March 19 – 9 p.m.
Dear Westmont Employees and Students,
This evening at 7:25 p.m. Governor Gavin Newsom issued a statewide order for Californians to remain home and shelter in place except as needed to maintain continuity of operation of the federal critical infrastructure sectors, effective immediately until further notice. To comply with this mandate, we're issuing the following course of action for Westmont:
 
Faculty and Staff
We're directing all employees to work from home and not come to campus beginning tomorrow, Friday, March 20. Only the employees who serve the students staying on campus (essential Student Life staff, workers in the Dining Commons (DC), Health Center staff, Campus Safety and essential Physical Plant staff and critical operations of the college such as IT, and others directly notified by their vice president) should report to work. Faculty who have materials in their offices needed for teaching in the next several weeks can work with the Provost's Office to secure them. Look for information about this process in the Provost's Office update in the morning.
Students
All students residing on campus must remain on campus unless their travel falls under the exceptions named in the governor's order. Students should not gather in groups.  The DC will be open to serve students as Sodexo employees are considered essential. While eating in the DC, students should continue to practice good social distancing by limiting the number of students at each table and complying with all instructions provided by the dining staff.  Resident directors living on campus and other select Student Life staff will continue to be available to
respond to student needs. 
For more information, please see the official order issued by the State of California tonight. 
I want to thank all of you, in advance, for complying with all state and college mandates and requests. This news requires us to pivot and flex our plans and everyday business practices almost immediately, and we're all doing our best to keep our community and state safe. 
God is with us, and we will keep moving forward.
Gayle D. Beebe
---
Thursday, March 19 – 6 p.m.
Covid-19 Security and Technology Issues
As a result of the spread of the coronavirus, many people are working and studying remotely, and all of us have heightened levels of concern.  Unfortunately, unscrupulous bad actors are working to exploit this situation, as indeed they exploit any major source of fear and anxiety or disruption to our normal procedures. 
Here are a few examples of what you can expect.
Phishing and scam attacks via email, phone call, and text message preying on your fears.
False information about the spread of COVID-19 spread, treatment, and causes intended to increase anxiety.
Faked communication from your peers, subordinates, or supervisors.
Emails ostensibly from organizations such as the CDC (Centers for Disease Control), or the WHO (World Health Organization) that actually contain malicious phishing links or dangerous attachments.
Emails asking for donations for studies, doctors, or victims affected by COVID- 19. Scammers often create fake charity emails after global phenomena occur, like natural disasters or health scares like COVID-19.
Emails that claim to have a new or updated list of cases of COVID-19 in your area that contain malicious links and information designed to scare you into clicking on the link.
What Should I Do?
Remain vigilant! Follow these best practices:
Never click on links or download attachments from an email that you weren't expecting.
If you receive a suspicious email that appears to come from an official organization such as the WHO or CDC, report the email to the official organization through their website.
If you want to make a donation, go to the website of the charity of your choice to submit your payment. Type the charity's web address in your browser instead of clicking on any links in emails or other messages.
Consider never clicking on a link sent to you when you are browsing email on your cell phone. You can't preview the URL in links in most cell phone email clients
Make sure your computer is healthy.  Use Malware Bytes to scan your computer for viruses, especially if your computer is acting weird or slow. 
Be particularly suspicious of any request for ID, Social Security number, birthdate, password, bank account number, or credit card number.
If you receive an email or text that makes your heart race and the tingle of fear crawl up your spine, be aware that bad actors use our emotions to manipulate us. Breathe deeply, and don't respond immediately to anything that makes you feel this way.
When you use VPN from off-campus to access services like Vendorlink, turn it off once you're done.
Where you can go to learn more.
Department of Homeland Security
U.S. Postal Inspection Service
How-to Geek
If you need more information, please contact Westmont Information Technology.
---
Wednesday, March 18, 6 p.m.
Click here for a recording of the call-in and Q&A session with President Beebe on Tuesday evening, March 17.
---
Wednesday, March 18, Noon
Cottage Health infection expert tells City Council he does not believe such restrictions are necessary at this point.
---
Tuesday March 17, 3 p.m.
The Santa Barbara County Public Health Department is confirming another positive case of COVID-19 in a north county resident. This is the second confirmed case in Santa Barbara County.
---
Tuesday, March 17, Noon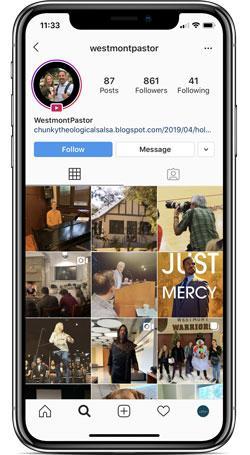 Beloved Westmont, 
I want to let you know that our first live mini chapel on Instagram live worked just fine yesterday, and we are going to continue to offer them as an offering to keep our scattered community together. 
All Westmont is invited--past, present, and future. Just follow @westmontpastor on Instagram, and join live at 10:30 a.m. PDT on Mondays, Wednesdays, and Fridays. The sessions last about 20 minutes and consist of 1 or 2 worship songs, live interactive prayer, and a brief message of encouragement from the Scripture.
Tomorrow, Wednesday, we will hear from Bart Tarman, who was the Chaplain at Westmont when I was a student.
You can also watch these or share these with others after they are done. They will be housed with our other chapel services at Westmont Chapels.
I remain available to you to Facetime with you, pray with you, or whatever you need. Let me know how I can be praying specifically for you.
I want to remind you to consider the corporate practice of reading Psalm 91 each day during this current challenging time, and to consider pausing at 5 p.m. each day to pray for our Westmont community specifically in regards to how the Lord can lead and teach us all as a community as we navigate, grow, learn, and change as a community committed to equity and reconciliation.
I love you. Jesus loves you more.
Blessings,
Scott Lisea 
Campus Pastor & Assistant to the President for Church and Community Relations 
The Santa Barbara County Public Health Department confirmed the first positive case of COVID-19 in a north county resident on March 15. This is the only confirmed case of COVID-19 in Santa Barbara County at this time. Our campus remains safe and clear with no reported cases. Remote class instruction begins today.
---
Noon, March 12, 2020
Dear Westmont Community,
In this extraordinary moment, we have an opportunity to care for each other in the midst of a disruptive time to our campus and global community. We're all unsettled with the news that changes daily and sometimes hourly. Because the health and safety of our students, faculty and staff remains our highest priority, we're moving to remote instruction beginning Monday, March 16, through Monday, April 13. 
With this shift in academic delivery, we'll also restrict access to communal and residential living spaces and cancel all college events through April 13. The NAIA has canceled all winter national championship events. Students will receive directions from Student Life early this afternoon about how they can retrieve their belongings or request permission to reside in campus housing (e.g., international students, special arrangements with supervisors for jobs on campus). 
Each group–students, faculty and staff–have specific needs requiring detailed messages. Please check your Westmont email concerning specific, individual protocols with detailed information. The Westmont website will contain general, campus-wide updates, and posts will occur daily at 9 a.m., noon, 3 p.m. and 6 p.m. 
Our students, faculty and staff will receive detailed plans on what this means for them and what to expect as we shift to this mode of operation until we receive further guidance from health officials and federal agencies. All offices will remain open, and staff should report to work as scheduled. The college is taking additional measures to clean and sanitize all public spaces and areas.
This temporary shift to remote instruction will not change the academic calendar. Final exams, the start and end dates for the semester, and Commencement will remain the same.
The Santa Barbara County Public Health Department confirmed the first positive case of COVID-19 in a north county resident on March 15. This is the only confirmed case of COVID-19 in Santa Barbara County at this time. Our campus remains safe and clear as well. Students traveling abroad will receive additional information about their programs. As you continue to research information regarding COVID-19, please be aware that numerous malicious websites prey on our fears, and before clicking on any links to information related to this outbreak, verify their veracity. 
We urge you to join us in praying for our Westmont family and also our country and world in such an unprecedented time of anxiety and concern. May we be a community that reflects the hope we have through Jesus Christ our Lord.
Thank you for your continued understanding, prayers and cooperation,

Gayle D. Beebe, President
Edee Schulze, Vice President for Student Life
Mark Sargent, Provost
Reed Sheard, Vice President for College Advancement and CIO Doug Jones, Vice President for Finance
Irene Neller, Vice President for Enrollment, Marketing and Communications
---
March 11, 2020 
Each day presents new information about COVID-19, and we've been developing a careful and thoughtful plan addressing all the dynamics involved for our students, faculty and staff. We consider the health and safety of our community to be our top priority. 
We'll post information tomorrow, Thursday, March 12, at noon about how we intend to complete the semester. Our announcement will include information about students returning to campus from spring break, the completion of our spring semester, and events that correspond with these plans, including Commencement. 
We continue working closely with Disease Control and Prevention staff at the Santa Barbara County Public Health Department and will follow their guidance. We're also monitoring information from the Center for Disease Control and keeping informed about the situation.