Westmont Magazine Designing a Strong and Innovative Engineering Program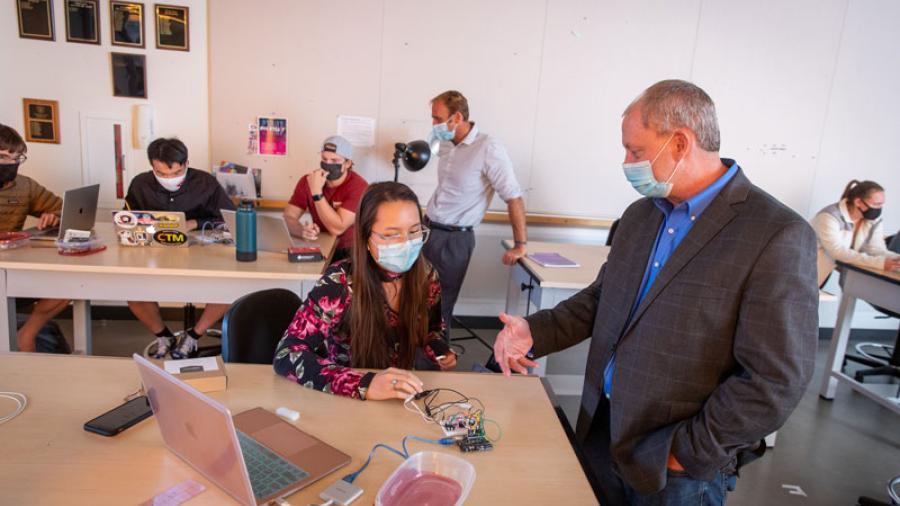 Dan Jensen would have attended Westmont if the college had offered engineering. Instead, the Colorado native earned a bachelor's degree in mechanical engineering, a master's in applied mechanical engineering and a doctorate in aerospace engineering at the University of Colorado. He spent 21 years on the faculty at the Air Force Academy and also taught at the University of the Pacific and Lawrence Berkeley National Laboratories. In July 2021, he finally joins the Westmont community to help develop the college's new engineering program as director and professor of engineering holding an endowed chair.
"Dan brings a passion for design as a central feature of an engineering curriculum, which he thinks about in distinctly interdisciplinary ways," says Provost Mark Sargent. "He has wide experience with curriculum development and accreditation and has been working with us as a consultant for the past year."
Dan is building the engineering curriculum on three pillars. First, the program requires a strong technical background delivered through small classes and active, project-based learning.
Second, Westmont's Christian liberal arts approach to learning will help professors and students think well about how they develop effective projects. "Engineers have made mistakes in trying to help people but not doing it wisely,"
Dan says. "We'll widely engage people from a variety of disciplines to make our creations better."
The third pillar, innovation and design, gives students the tools they need to build things well. "The World Economic Forum includes creativity in the top three things employers want," Dan says. "Combining technical competence with training from a Christian liberal arts perspective and the ability to design in creative ways will produce well-rounded engineers able to develop excellent products and services that help people."
Throughout his career, Dan has developed tools that unleash innovation and harness creativity. He also draws on the best practices of leading innovation experts to equip students and professional engineers to solve problems. He has published more than 130 peer-reviewed articles in design methods, innovation and related engineering education.
At the Air Force Academy, Dan ran the design program and completed projects for the Department of Defense and other organizations. The cadets won awards
for their creations, obtained patents, and published scholarly papers. "They designed things that really helped people," Dan says. For example, they developed
a safe way for military troops and first responders to exit a hovering helicopter with only one hand so they could hold extra gear under their other arm. Dan received several grants from the National Science Foundation's Division of Undergraduate Education for his work with students.
"Dan has developed tools that unleash innovation and harness creativity."
For the past decade, Dan has served as a senior fellow at Singapore University of Technology and the MIT International Design Center. The institution emphasizes innovation and design, and Dan works as a scholar in residence, running training workshops for faculty and design innovation workshops at the largest design research center in the world. "We've trained thousands of students and practicing engineers in design innovation methods, connecting with some of the best people at the best companies in the world," he says.
Dan also runs a company called Creo Consulting that teaches design and innovation methods. "In our modern world, organizations live and die with innovation," Dan says. "We offer training in a suite of creativity techniques that cultivate an environment of innovation."
Dan and his wife, Bridget, have been married for nearly 30 years and have four grown sons. She has worked and volunteered for Cru (where they met) and for other ministries as well.
At present, Dan is reviewing applications for two full-time engineering positions at Westmont and hopes to hire professors for the fall 2021 semester. Adam Goodworth, a biomedical engineer and associate professor of kinesiology, also teaches engineering classes. "We're looking for outstanding engineers, fantastic teachers and Christian mentors excited about research and Westmont's Christian liberal arts emphasis," Dan says.
"One of our top priorities is recruiting outstanding students. It's a challenging program, so we need strong students interested in universities such as Stanford who choose Westmont because of our three pillars: the focus on innovation and design, our Christian liberal arts foundation and our technical expertise and excellence. We can provide a very different and distinctive experience, and we invite students to join a new program, help us develop traditions and make friends for life through the Westmont community."