Former Pitchers Offer Relief to Westmont Baseball Players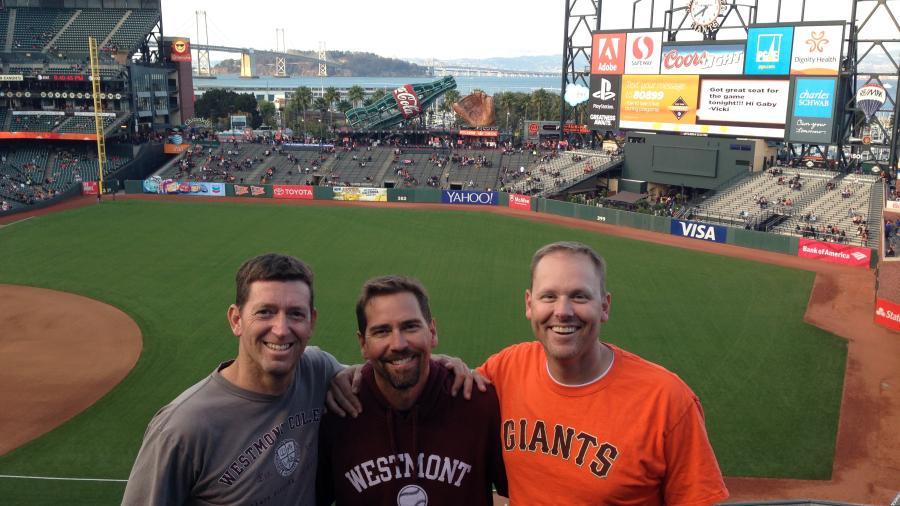 Baseball brought Erik Ellefsen '97, Joe Ellett '97 and Chris Kurz '97 together. They all pitched for the Warriors, although Chris initially played in the infield. "We became fast friends," Erik says. "Hanging out with Erik our freshman year made Westmont come alive for me," Joe says. Chris and Joe roomed together their sophomore year. Then Dean Wilson '97 invited them to join a discipleship group and make a lifetime commitment to each other. The three friends took it seriously.
The larger group got together at their 20th Westmont reunion in 2017, but Erik, Joe and Chris started meeting yearly in 2012. They traveled to Westmont to watch a weekend of baseball together, the first time the three had gathered since their weddings. The trio decided to go to a Major League Baseball game each year and study Scripture.
"A deep love for the Lord and for each other has kept us together," Joe says. "That commitment in 1994 created a strong bond and helped us maintain our relationship over distance and time."
They've discussed what they could do to bless people the way Westmont has blessed them. "How do I bring that with me and create it where I go?" Erik says. He'd done that as much as possible throughout his career — especially when he helped establish a Christian high school. "I know what I received at Westmont, and I miss it — so what do I do to recreate it in other spaces?"
Erik focused on baseball, the experience they shared. All three thought highly of their coach, John Kirkgard, and recognized that Rob Ruiz, the current coach, shared Kirkgard's passion for developing people. "Coach Ruiz is phenomenal," Erik says. "He's a great man who cares about the spiritual formation of the players as well as their baseball skills." Erik suggested the three friends fund a scholarship for baseball players, something that helped him attend Westmont.
"I knew we couldn't accomplish this by ourselves," Erik says. "We don't have the resources individually. But we can do more together than we can on our own. We could help baseball players who might otherwise not be able to afford Westmont by giving them the experience and opportunities we benefitted from." Joe and Chris signed on, and they've created the Ellefsen, Ellett, Kurz Baseball Scholarship Endowment.
"I've watched my former students go to Westmont and have transformative experiences like I did," Erik says. "I never realized how hard I was working because we were all in it together, which created a sense of closeness and commitment that most people don't experience. I'm happy we can extend that opportunity to others through the scholarship."
Read more about the Ellefsen, Ellett, and Kurz Baseball Scholarship in the April 2022 Westmont Magazine.
For more information about the tax-advantaged benefits of charitable remainder trusts, please contact the Office of Gift Planning at (805) 565-6058 or giftplanning@westmont.edu.