Mayterm 2022 Israel Mayterm
So maybe you've known about the Bible all your life...But have you ever hiked from Jerusalem to Jericho? Seen Mt. Zion? Taken a boat across the Sea of Galilee?
This Mayterm is designed to get you out of the classroom and into the real space of Israel's story. For three weeks home base will be just outside the walls of the Old City of Jerusalem at Jerusalem University College (JUC)--one day a week in the classroom; six days a week on the road.
You'll travel south to the ancient city of Arad, see the Makhtesh Ramon, and visit the Nabatean city of Avdat. You'll hike Masada at sunrise, float in the Dead Sea, and visit the breathtakingly beautiful spring of Ein Gedi where David and his men hid from Saul. You'll visit the Jezreel valley where Deborah and Barak fought Sisera, climb Mt. Carmel where Elijah stood down the prophets of Baal, visit the Philistine city of Ashkelon, and climb on the Roman Aqueduct at Caesarea. Your third field trip is to the Sea of Galilee where Jesus and his disciples lived out their ministry. Here you'll stand on the mountain where Jesus charged his followers with the "Great Commission" and hike down Mt. Arbel (complete with climbing cabels). At last, we will turn toward the northern reaches of the Golan where the snow clad slopes of Mt. Hermon animate the skyline, and the UN forces protect the barbed-wire and bunkers of the modern border. In each of these sites you will explore for yourself the real space of Israel past and present.
Students will spend approximately 20 hours prior to departure working through the narratives of the biblical text geographically. You will identify the topography, soil, and waterways of the "holy land" on military-grade maps, and then map out the stories you have come to know so well in real space and time.
Upon arriving in Israel, the encounter begins. With your home base at Jerusalem University College, you will hike all of these mapped spaces and engage in on-site lectures regarding the people and events who occupied them. You will visit archaeological sites and museums in order to see the actual artifacts of Israel's history. On your free days you will join the crowds in the Old City, interacting with Orthodox Jews from all over Europe, devout Muslims, Armenian Christians who survived the genocide(s) and Christians of every flavor imaginable. The William F. Albright Institute, the hub of archaeology in the region, is just up Saladin Street as is St. George's, an Anglican parish and school long committed to the Arab Christians of the city. You will be evaluated based on your enthusiastic (and pleasant!) participation in all aspects of the program.
RS 155 will fulfill GE Thinking Globally and GE Thinking Historically, as well as RS elective credit. Prerequisites: RS-001 Introduction to Old Testament; RS-010 Introduction to New Testament. Contact Professor Richter if you have questions about the prerequisites or cannot fulfill both by Mayterm.
Class schedule available HERE.
Course syllabus available HERE.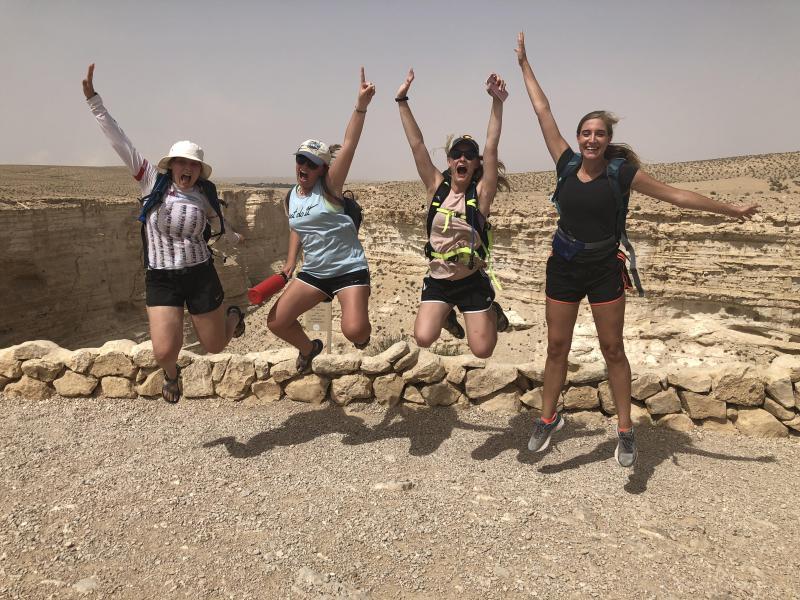 JUC's program is academically and physically rigorous, including up to twelve hour days in the field or longer. The field studies involve hours of walking, standing, and several hikes (although some are optional). There are usually opportunities to sit throughout the day and plenty of time on the bus. However, students should expect an intensely physical program and plan to sweat.
For more information about The Geographical & Historical Settings of the Bible click HERE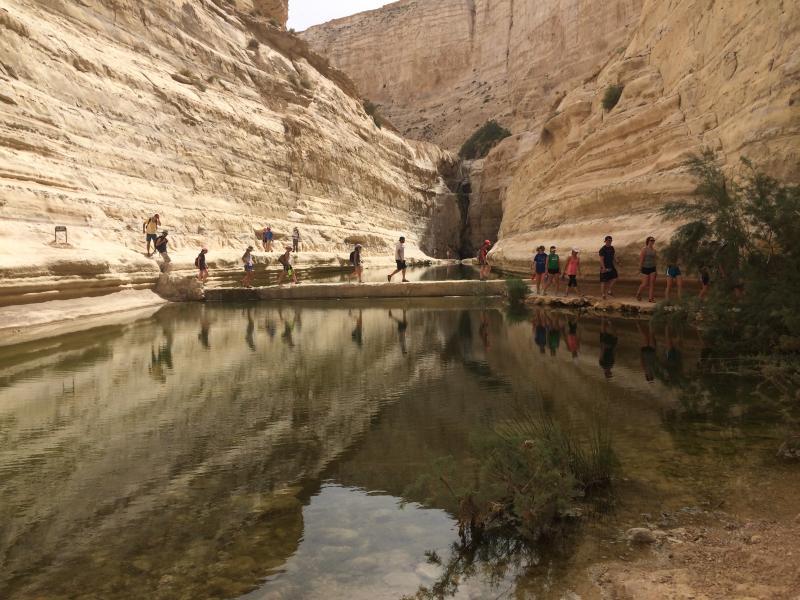 Jerusalem Walks
The first field study will take you to Jerusalem where you will visit The Four Quarters of the Old City of Jerusalem, Mount Zion, City of David, Western Wall, Southern Steps of the Temple Mount, Pool of Bethezda and Church of the Holy Sepulcher.
Jerusalem Approaches Field Study
Next you will get to study in Jerusalem on the Mount of Olives and its churches, then off to Herodium and Bethlehem.
Benjamin Field Study
This study will take you to the Judean wilderness / Wadi Qelt, Jericho, Nebi Samwil, and Gezer.
Judah, Shephelah, Philistine Coast Field Study
Next you will venture to Beth Shemesh and  the Valley of Elah.
Negev and Great Wilderness Field Study
On to Beersheba, Arad, Ein Avdat, Avdat and Makhtesh Ramon.
Dead Sea Area Field Study
Climbing Masada, being refreshed by the springs of Ein Gedi, looking over the excavated Qumran community and Dead Sea Scrolls caves, and swimming (floating?) in the Dead Sea are experiences you'll never forget. 
Sharon Plain and Jezreel Valley Field Study
This study section will include Caesarea,  Mount Carmel, Megiddo and Nazareth.
Galilee Field Study
The Galilee area has so many places connected with the Gospels as well as the broader history of the region: Golan Heights, Capernaum, Magdala, Tabgha, Chorazim, Mount of Beatitudes, ursi, BoaSepphoris, Arbel, Hazor, Dan, Banias.  It was in Caesarea Philippi that Jesus asks ,"Who do men say that I am?" Peter affirms "You are the Christ!" 
PROFESSOR SANDRA RICHTER, Westmont's Robert H. Gundry Chair of Biblical Studies, has spent many years touring and excavating in the land of Israel. From 2003-2013 she designed and directed the Israel Studies programs for Asbury Theological and Wesley Biblical Seminaries, taking graduate students overseas to study at Jerusalem University College and to experience field archaeology. She also co-led the Wheaton College "Wheaton in the Holy Lands" six-week, undergraduate program in 2015. She herself was a student at Jerusalem University College during her seminary studies, and during her doctoral program at Harvard University excavated at Ashkelon under Lawrence Stager. Over the years she has excavated at Tel Zayit, Tel Dan, and Tel Rehov and publishes regularly on the intersection of Syro-Palestinian archaeology and the Bible. Professor Richter's passion is to make the "real people and real places" of the Old Testament come to life for her students. This course is guaranteed to accomplish just that!
Eligibility 
Class standing
GPA (minimum 2.3 gpa for eligibility)
Application and essays
Personal and faculty recommendations
Program Criteria
In addition to the general qualifications above, the following requirements must be met, with or without reasonable accommodation, in order to complete all essential elements of the program. All participants must be able to:
Participate in regular communal meals based on a local diet and with limited control over food choices.
Tolerate local diet with limited control over food choices in most locations.
Anticipate possible exposure to peanut or other food allergens.
Navigate multiple irregular surfaces and walk/travel up to 10 miles in a day independently. (Extensive walking, as well as travel throughout ancient cities and towns with narrow passageways and many stairs, is part of the daily life of the program.)
Navigate carrying personal items including suitcase and/or backpack without assistance.
Anticipate having sufficient emotional wellness to fully participate in the program safely and successfully despite the limited availability of frequent access to psychological services.
Anticipate at least double occupancy accommodations on some if not all locations.
Receive the final dose of the Covid vaccine at least two weeks prior to the commencement of the program. 
Cost & Dates
$5100 (includes tuition, room, board, and in-country travel.) Students will be responsible for round trip airfare and on campus housing charges, if requested, for the two days of classes prior to departure. The program on site will run May 16-June 5, 2022.
Application
Application due November 15, 2021. For more info about the application process, please contact ocp@westmont.edu. For more info about the program, contact Dr. Richter at srichter@westmont.edu.