Westmont Magazine A Mother-Daughter Westmont Story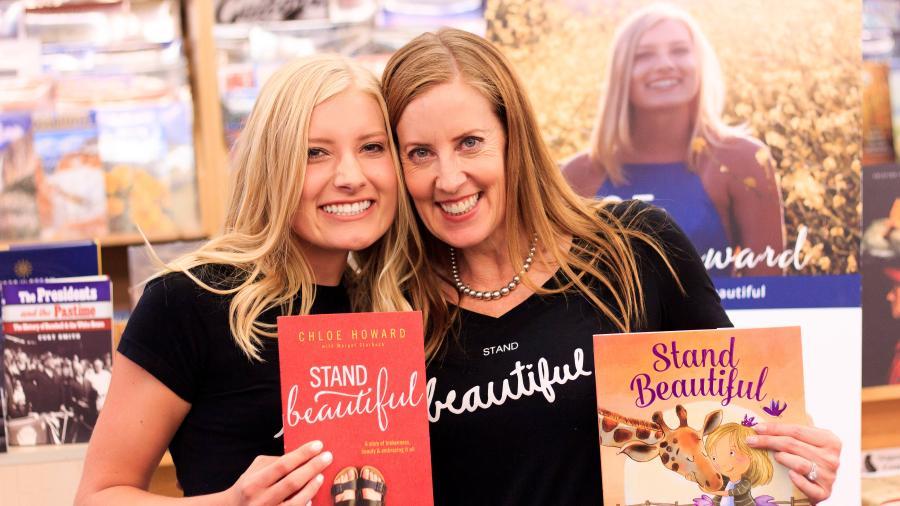 Chloe Howard '22 grew up wearing Westmont T-shirts and attending basketball games on family visits to Santa Barbara. The daughter of two alums and the granddaughter of two longtime education professors (Gayle and Ruth Tucker), she enrolled at Westmont for its small campus, close-knit community and personal student-teacher relationships. 
Chloe's parents, Dane '94 and Lori Tucker '93 Howard, describe her as their miracle child. Before her birth, an ultrasound revealed a hole in her heart and two club feet. The doctors predicted a stillbirth and recommended an abortion. The Howards refused to end the pregnancy, and Chloe was born with a whole heart, one club foot and only three toenails. 
While many club feet heal with treatment, Chloe's "stubborn club" remained frozen, and the lack of flexibility causes problems such as back pain and poor balance. She has endured numerous painful surgeries throughout her life, including interventions to slow the growth in her right leg to keep the two limbs the same length. 
"She is incredibly strong and resilient and doesn't complain," Lori says. "She has dealt with this her whole life and accepts it. She grew up loving Jesus and would tell the neighbors, 'Jesus loves you.'" 
Then an assault by several girls at her Christian high school, who ridiculed her feet, shook Chloe. "She learned that Christians are human and can let you down, but God is not like that," Lori says. "Her faith in God deepened." 
"Your heart breaks when your child is hurting. You can relate to a child with a disability on a different level because you've been through so much together." 
Chloe follows another family tradition: storytelling. An inspirational speaker and anti-bullying activist, she has written two books: a memoir, "Stand Beautiful, a Story of Brokenness, Beauty and Embracing It All"; and a children's book, "Stand Beautiful" (standbeautiful.me, @istandbeautiful). She has given two TEDx talks and traveled internationally to share her message. 
Her father, Dane, tells stories using sequential media, the art of putting things together to create a narrative. He designs momentum for world-class products, services and brands and serves as the global head of design and product experience at Samsung NEXT. A former freelance writer, Lori has published stories in magazines such as Focus on the Family. 
When Chloe started high school, Lori entered graduate school to earn a master's in counseling psychology at Santa Clara University, feeling called to this career. The timing proved beneficial as Lori's studies helped her better support Chloe after her assault. They worked through the challenges of school together and graduated in spring 2018. After focusing initially on grief therapy, Lori works with elementary school students in Silicon Valley with anxiety, depression, ADHD and autism. 
As a school counselor, Lori draws on her experiences with Chloe and Tucker, 15, a sophomore in high school. "You don't get a manual for parenting," she says. "You just love your children and do your best for them. I seek to help the students in our area who live in a pressure cooker, with high expectations from parents and schools starting at such a young age." 
Mother and daughter traveled with CURE International in 2017, and Chloe spoke to hundreds of families with congenital deformities like club feet in Kenya, the Dominican Republic and India. This summer, Chloe will share the message of STAND Beautiful in Guatemala and Australia. 
For more information about Chloe's story, go to standbeautiful.me.