The Nancy Voskuyl Chapel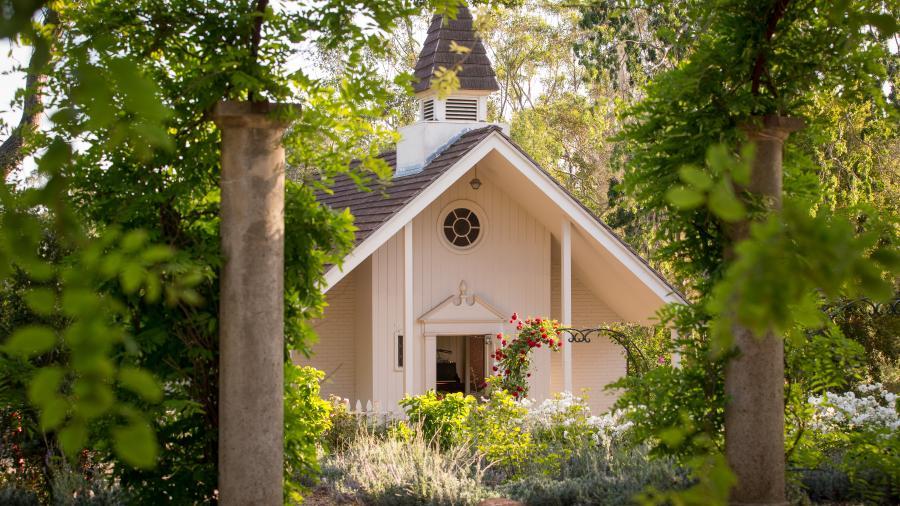 The only building on Westmont's campus which clearly, in both form and function,indicates that we are a Christian college is the small chapel in the formal gardens built to honor Nancy Voskuyl, the vivacious daughter of President and Mrs. Voskuyl, who died in a tragic accident on Sycamore Canyon Road when she was a freshman at the college.
Nancy Kathryn was a passenger in an MG roadster that went out of control and sideswiped a utility pole at about 1:20 p.m. on December 17, 1959 when she and a friend were returning to campus from a luncheon at Mission Inn in time for an afternoon class. Professor and Mrs. Eldad Vanderlip, also returning to campus following lunch at the Inn, were the first to arrive on the scene. A Montecito fire truck, returning to the station after responding to a call, stopped to render aid, but it was too late. Dr. Vanderlip proceeded to campus and notified Dr. Ed Bouslough who was meeting with the Personnel Committee. Dean Frank Hieronymus then called to report the accident to Dr. Voskuyl who was at the Figueroa Hotel in Los Angeles. Funeral services were held in Grace Church of Santa Barbara. The church was filled, indicating a small part of the outpouring of sympathy from the college community, the church, and the many friends of the Voskuyls and Westmont in the Santa Barbara area and across the state.
Following this service, a number of friends, including several Board members, gathered at the Voskuyl home and in the course of the conversation, an appropriate memorial for Nancy became a topic. Dr. Voskuyl does not remember who suggested a small chapel, but those who were present quickly recognized a chapel as the right means to honor Nancy. Mrs. Kerr promised $5,000 on the spot. Other gifts soon came in.
After rejecting a contemporary idea for the design, Dr. Voskuyl, at the suggestion of Don Michealson, turned to a Los Angeles designer of stained glass windows, and his design of a small New England style chapel with a steeple and windows looking to the surrounding woodsy site seemed particularly appropriate. W. T. Selling of Covina drew the plans.
A Trustee committee approved the plans and the Board, in a resolution dated September 14, 1960, approved a contract with Michealson Brothers for $15,000 including furnishings, to which the class of 1960, of which Nancy's sister, Ruth, was a member, contributed.
Dr. and Mrs. Bouslough donated the stained glass window, Gezina Kingma drew the plaque and her husband, Will, wrote a script which commemorates Nancy. It reads:
Gone suddenly
Where all is clear and bright
Precious is the memory of
NANCY KATHRYN VOSKUYL
1941-1959
....and I shall dwell
in the house of the Lord
forever.
Ps. 23:6
The building was dedicated following the Spring semester convocation on February 6, 1961. Duane Johnson, President of the Sophomore class, and Drs. Kenneth Monroe, David Hubbard, and Edmund Bouslough led the college community in the dedication ceremony.
The building is always open for individual or small group meditation and prayer. There is a piano and a small organ to enhance the atmosphere when appropriate. Weddings are performed in the chapel from time to time. It is, above all, a place for renewal. Dr. Voskuyl wrote at the time of the dedication:
How well I remember attending a mid-week service in the Lake Avenue Church of Pasadena a little more than a year ago and asking for a special prayer on behalf of the spiritual life of these young people who are entrusted to our care. One member of that group prayed long and fervently in response to this request. Little did I know that God would answer that prayer in a most unusual way—one of sorrow and of joy. The next day I received a call from campus that our Nancy had gone to be with the Lord. Her going has made a profound impression upon those of us who were close to her and upon the students and community as well, perhaps more than in the ordinary way.
Within a few more days, the thought of a Prayer Chapel as a suitable memorial was gathering strength. Now one year later it stands with open door ready to receive into its recesses the student, the faculty member, the friend who wishes to spend a little time of quiet. A New England colonial, symbolic of the faith which brought the first settlers to this country, with deep red carpeting and white pews, windows through which one is united with God's out-of-doors, all add to the beauty of the spot which we hope and pray will be a blessing in the lives of those who come.
. . . .
Recently Dr. Bouslough used an illustration in a message with this precious thought: "It matters not how long one lives, but only how well." For those of us who knew Nancy, nothing more need be said. She served her Lord here, a special joy to her parents, a living example of a Christian teen-ager to her friends and now in her memory a place that will be specifically for communion, and a close relationship with the living God. The prayer of our heart is that this Chapel may be used ever to honor His glory and for the strengthening of the spiritual lives of our students.
Nancy, although only a freshman, was already popular among the students. The first number of The Phoenix, Westmont's literary magazine, was dedicated to her. The editors paid tribute to her with these words:
She [Nancy] left behind a rich legacy of brief, happy moments, wistful smiles, and lovely apparitions. The memory of her life is a sweet benediction. For she has taught us how to live and love; life meant nothing to her without living....
A short essay, "Impressioned Memories," which she wrote for her freshman English class, is printed on pages 12 and 13 of The Phoenix.
The Nancy Voskuyl Prayer Chapel serves as a constant reminder of the centrality of Jesus Christ to the ministry of Westmont College. To sit quietly and contemplate the stained glass portrayal of Christ with extended hands vividly reminds us of our college motto, Christus primatum tenens.
A Personal Note
I knew Nancy a bit through contacts at Grace Church, but I got to know her better when she enrolled at the college. I was her academic advisor, and I helped her plan her first semester of studies. In our conversations, I learned to appreciate her gracious spirit, her infectious smile, and her love of her Lord. What a wonderful testimony she was to all who knew her.
Paul C. Wilt
College Archivist