Westmont Magazine Nights at the Opera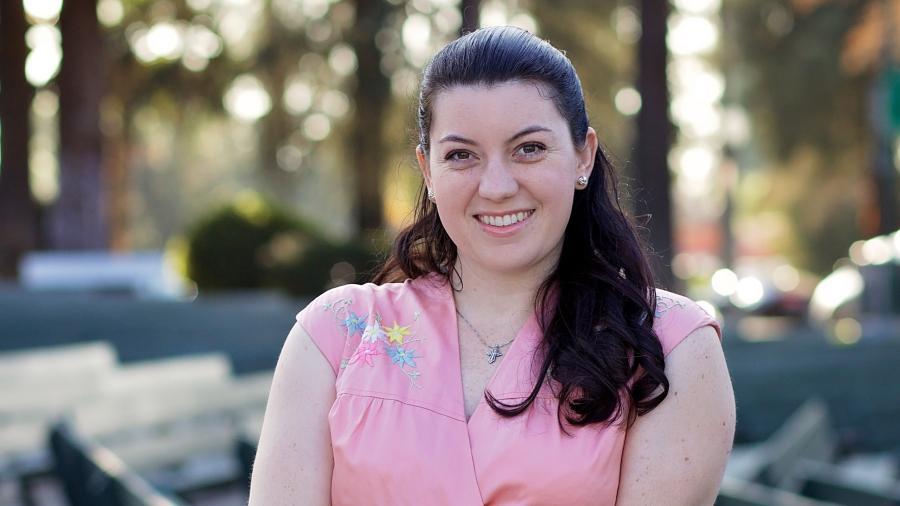 Christina Farris Jensen '09 has heard all the reasons people avoid opera. "It's too intellectual, the language is too difficult to understand, and it's not relevant," she says. "It's such a shame. I'm a traditionalist and believe that if you tell the story well and focus on the characters, opera is always relevant because it's about human nature." 
Christina passionately directs opera productions for small companies in the Los Angeles area, bringing classics such as "Eugene Onegin," "Carmen," "Faust" and "Cosí Fan Tutte" to life. Through her church, First Congregational in Redlands, she presents "Amahl and the Night Visitors" each year and some of her own creations, including the mashup "Apologies to Gilbert and Sullivan," and "Murder in Four Courses," a light operetta. 
She majored in music at Westmont and created her own second major in arts criticism. "I had never experienced such a welcoming environment where people work together to accomplish things," she says. "My professors were incredibly supportive and helpful." She sang with the College Choir, Chamber Singers and New Sounds and gave recitals. "I tried to take advantage of the many musical opportunities and events," she says. 
Christina developed close friendships with students in a wide variety of majors. "We had our faith in common and our determination to succeed in our particular field," she says. "It was solid common ground for a group with such diverse interests." 
After graduating, she took a year off before earning a master's in dramaturgy from the American Repertory Theater/Moscow Art Theater Institute for Advanced Theater Training at Harvard University. She spent three months studying in Moscow, where she gained a deeper understanding of Russian playwrights and history, and two years at Harvard. 
She returned to Redlands, her hometown, and began by directing some theater before falling into opera. She has worked for a number of the small opera companies in the region, such as the Ukrainian Independent Opera Company, and now does four or five productions a year. "The companies are small enough that oftentimes I'm also in charge of costumes and sets," she says. "When I receive a commission, I consider what the company has at their fingertips, so I can make the production as simple and undemanding as possible. I then develop the artistic concept within those parameters. The story is the story, and it can work in any space." 
Sometimes she directs her husband, Brian Jensen '05. "He is a software engineer by day and an opera singer by night," she says. "He is wonderful to direct and appreciates that I expect a lot of him and don't treat him differently. We try not to let anything come between us in the rehearsal room; sometimes people don't even know we're married." 
Christina seeks to dispel fears and debunk grandiose visions of opera through a web comic strip she is developing with Sara Ziegler Vander Wall '09. Named Hiccups, the feature will focus on hilarious things that happen in opera, such as an ill-fitting costume or a sword breaking in a singer's hand. "We want to show that opera is just like everyday life and reassure people who think it's scary or above them," she says. "I think a comic will reach more people and be easily digested." An elementary and middle school art teacher, Sara will create the drawings. They hope to launch it in the summer of 2019. 
Christina hopes to continue working with opera companies and looks for ways to share her faith, especially through work she presents at her church. I don't have a lot opportunity to boldly proclaim my faith, but through little moments with people, faith peaks through and a little door opens," she says.