Westmont Magazine Proposed Building to House Engineering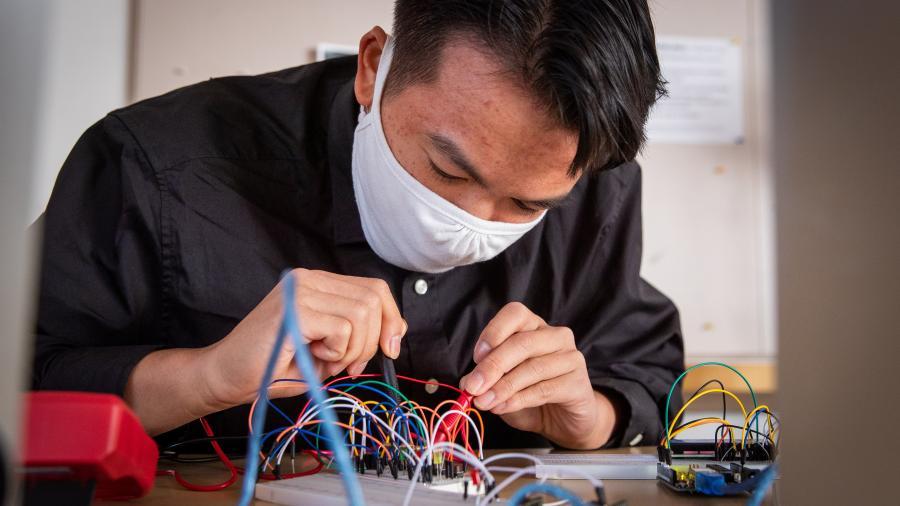 With the submission of plans for a new warehouse and a new program director for fall 2021, Westmont's engineering program is poised to take off. The college plans to build a 5,200 square foot metal warehouse to house the budding engineering department between Physical Plant and the Abbott Tennis Courts. Dan Jensen, who has served as an adviser to the engineering curriculum for the past year, will be director and professor of engineering beginning in July.
The project, which will cost less than $2 million and slated to be completed by August, has been completely funded by several generous donors, including a $475,000 grant from the Fletcher Jones Foundation. 
Westmont launched its fully contained engineering program in fall 2019, blending a mix of courses in engineering, physics, mathematics and chemistry and grounding the program in the college's liberal arts tradition. The program has experienced high interest with prospective students and surpassed its new students goal for fall 2019. 
"We really needed a space that could get dirty," says Doug Jones, Westmont vice president for finance. "They are going to be woodworking, welding and doing other metal work, so we needed a space that will provide ample room for students to work on their projects, while not being disruptive to the rest of campus."
The proposal calls for the ground level of the warehouse to include a large projects lab, computer-aided design (CAD) area with 3D printers and workshop space for large power tools. The second floor, accessed by a freight elevator, will contain warehouse space for furniture storage and other campus needs. The building will have large roll-up garage doors that can create a free-flowing space to an outdoor patio for year-round enjoyment of Santa Barbara's temperate climate. 
"This will be a beautiful area with a nice view of our Montecito setting, and a great place for our engineering students to gather and call their own," Jones says. 
Jensen, who is eager to grow the engi­neering program to be one of the most sought after for its caliber of graduates, earned his doctorate in aerospace engi­neering from the University of Colorado and owns Creo Consulting Company, a novel engineering consulting firm that specializes in enhancing innovation in the design process. He served on the engineering faculty of the Air Force Academy from 1997 to 2018 and has taught at the Uni­versity of the Pacific and Lawrence Berke­ley National Laboratories. Currently, he is a senior fellow at Singapore University of Technology and MIT International Design Center and a Scholar in Residence at the University of Colorado-Denver. He is the author of scores of articles and chapters, and has received numerous grants, including several from the National Science Foundation's Division of Undergraduate Education for work with students.
The program will work to secure internships and apprentice opportunities with local businesses to serve the greater needs of the Santa Barbara region and gain experience for post college careers.
For more information on Westmont's engineering program, go to westmont.edu/engineering.