Westmont Magazine Reshaping Potter's Clay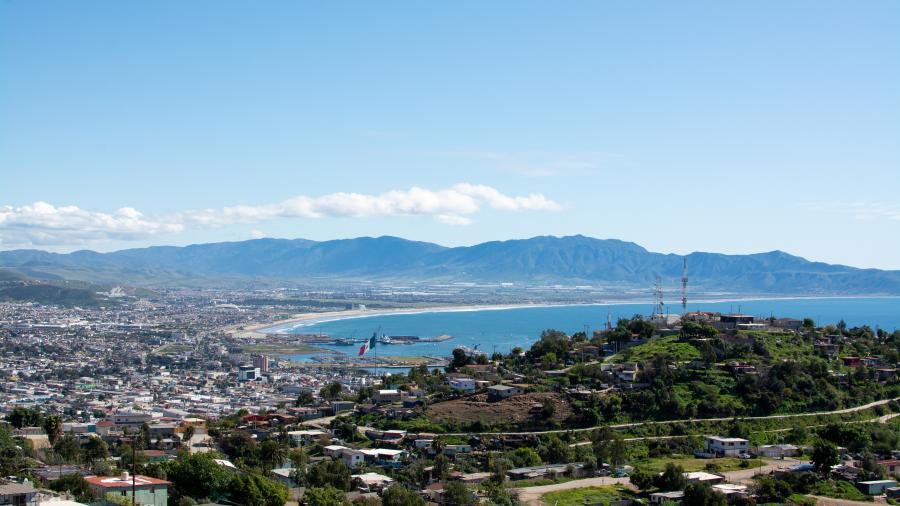 Westmont students started Potter's Clay in 1976 to serve the people of Ensenada, Mexico, amidst a remarkable movement of ministry on campus in the late 1970s. Students like Dave Dolan '78, Duane Alleman '78 and Gordon Aeschilman '79 challenged their peers to stretch their concept of ministry. They desired to serve God in more diverse ways and take full responsibility for their activities.
Potter's Clay grew out of Aeschilman's visits to Ensenada to experience a different kind of outreach. "I spent most of my time in the downtown area and the dump," he said. "I helped people build shacks out of whatever material we could find, and I also washed a lot of kids' hair, trying to get the lice out."
He and Clara McKinney Maranville '79 developed a plan to include other students in what they were learning in Ensenada. "We knew we couldn't save the world by going to Mexico," Aeschilman said. "But the experiences I'd had in Ensenada challenged some of my narrow-minded categories of what Christian service is. We wanted others to benefit from these experiences. Eventually we came to see that Potter's Clay is a great opportunity for giving, but we originally conceived of the program as a way for students to learn."
The students asked only for time during chapel to announce the trip and worked on the logistics of getting more than 200 students to Mexico. "We begged for buses and tents from local churches," Aeschilman says. "The college helped us cut down our costs by getting a grant for $2,500."
Throughout the decades, the outreach has continued and expanded. Students formed teams to build and repair houses and churches, teach vacation Bible school, support local churches, provide some medical and dental care, pray and lead musical worship, play soccer and basketball, teach surfing, and even cut hair. Leaders on the core team trained their successors, handing down responsibility for planning, organizing and implementing the movement of hundreds of students to Mexico and their pursuit of various ministries. Potter's Clay has remained a student-run ministry.
Troy Harris '74, retired assistant vice president for institutional resilience, worked closely with the ministry for 22 years, traveling with the students to Ensenada several times each year. Until 2007, three Mexican men worked with the Westmont students on planning activities: Dr. Ramon Vidauri; Rubén Castañeda, pastor of La Gran Comisión, and Juan Monge. Then Juan moved away, leaving Vidauri and Castañeda. Since 2014, Castañeda has been the sole contact.
In March 2020, Westmont shut down for the rest of the spring semester and moved classes online just as students were returning from Potter's Clay and spring break. The pandemic forced the ministry's leaders to cancel the trip in 2021 for the first time in 43 years. The break in the action created an opportunity to reevaluate the role of Potter's Clay, both for the students and those in Ensenada.
With the evolution in knowledge surrounding missions and development, the core team saw a need to review and assess the program. Director Taylor Mache, a senior who had attended Potter's Clay each year, explains why she pursued this initiative. "In my years on Potter's Clay, I've always felt this disconnect: Something in my heart doesn't feel right." A Spanish and psychology double major, Mache also studied in Querétaro with Westmont in Mexico. Her passion to see Potter's Clay rededicate itself to its mission and become a truly relational ministry inspired her to direct the core team. "I had this desire in my heart to see it honor the Gospel at its core," she says.
With support from Jennie Estrada Fuentes '08, assistant director of campus life for ministry, and Professor Cynthia Toms, who teaches global studies and kinesiology, the core team asked students in the global studies minor, which Toms directs, to undertake a thorough review of the ministry. Student researchers Kenna Brase '22, Cody LeFebre '22, Zab Potter '22 and Mache named their study "Asset-Based Community Development and Future Directions in Potter's Clay."
Through the financial support of Donn and Daisy Tognazzini, these researchers joined members of the core team in a visit to Ensenada in October to talk to people and identify the greatest assets and talent that individuals in the community possess. This approach supports the ideas and abilities of local people building on their strength, with students then working together with them to add capacity and resources to accomplish the community's desired goals.
The students asked Ensenada residents what the good life looks like for them and how they wanted to achieve it. They sought to avoid naming problems themselves, which could reinforce stereotypes.
"There are questions about how we, as a community, think about community development as a form of missions," Toms says. "When students enter a community, we want to consider the assets that are already there that we can build from, rather than taking something that's our idea and overlaying it."
The student researchers presented their findings and recommendations in an event at the Westmont Global Leadership Center December 9. They focused on the areas of public health, vacation Bible school, the history of the church in Mexico and immigration.
After carefully considering the report, the core team decided that Potter's Clay will begin serving under the umbrella of Rancho Aqua Viva (RAV), which has a wider and more diverse ministry. Not only has RAV hosted hundreds of travelers from Westmont on their property each spring, but it serves 10 to 15 churches in Ensenada, operates a seminary and reaches broadly into the community. This change allows Potter's Clay to work with more strategic partners, extending the college's reach and influence in the Ensenada community.
The student leaders had proposed a period of transition with RAV and La Gran Comisión. But Castañeda, who is nearing retirement, chose to step aside to allow Potter's Clay to begin working with RAV this year. Fuentes had been concerned that the students were coordinating with only one pastor and one church. "Working through RAV is a healthier way of doing ministry by serving the whole community and learning to be good stewards of what God has entrusted us with: our finances, gifts, talents and skills," Fuentes says.
The core team traveled to Ensenada to meet with Castañeda in person, recalling his years of service, giving him an award and taking him out to dinner. "We had a healing conversation to hear his heart and desire to still be connected with the ministry in different ways," Fuentes says.
"Working with Rancho Agua Viva is a natural next step," Harris says. "They're a good,establishedministrythatassistslotsof American organizations. They have the staff to coordinate effectively with Potter's Clay."
Because RAV already does many of the same things as Potter's Clay, the core team won't need to travel to Ensenada every other week to plan for the Juntos weekend and the week-long Potter's Clay. "Students have midterms, papers and exams, and the excitement wears off," Fuentes says. "They start feeling the weight of it. It's not realistic for us to continue operating this way."
This spring, Potter's Clay will scale back its efforts to fewer than 40 students, focusing on three ministries: optical, children's ministry and mercy sites, a new initiative aimed at volunteering with the elderly and underserved.
The team is reexamining the future of the construction teams to improve the process of choosing families to receive new homes. The student leaders also seek to strengthen the local economy by possibly purchasing construction materials in Ensenada and hiring professional workers from the community.
Seminary students at RAV already volunteer for underserved groups in Ensenada. The core team seeks to assign smaller groups of five Westmont students to work with several seminary students to serve at a home for the elderly and at local churches. Mache says they're reconsidering ministries at rehabilitation centers, facilities for the unhoused and centers for children with disabilities. "We want to be gentle, recognizing the potential harm of working with vulnerable populations and then leaving after just a few days," she says. "We're trying to think creatively about how we can serve children with disabilities who need constant and stable support. A group of U.S. students coming in for a week can feel unstable, so we want to respect that and hold to those boundaries."
Concerns related to COVID-19 have led to a pause in the work of the dental team.
The new partnership with RAV is part of a three-year plan. "We're testing it out this spring with the goal of seeing growth, developing healthy relationships and acting ethically," Fuentes says. "We intend to focus on the entire community. We'll audit the process again, inviting conversations with RAV and Dr. Toms' global studies minor students. In five to 10 years, we foresee a new form of relationships with the community in Ensenada — and we hope that alums and volunteers will think we've done the right thing."
The core team reached out to alumni and community volunteers to get their perspective on the changes. "We sent them all emails, and it's been helpful to get their feedback, which identifies some of the things we can't see," Mache says. "Some of the local doctors have worked with folks in Ensenada for more than 18 years, making friends and building relationships. That's a more constant thing than students coming and going. We care deeply about continuing those long-term relationships."
Potter stressed the importance of medical/dental teams operating under existing guidelines for the Mexican healthcare system, which includes limitations on treatment by foreigners. "This isn't just an opportunity for pre-med students to get experience," she says. "This is about the people there. We should keep in mind the importance of honoring human dignity and the dangers of giving healthcare in a materialistic way." Following interviews and research, she found that residents in Ensenada already had free access to healthcare, although a need exists for better access to dental care and optometry. Other suggestions included focusing on preventative health and education, such as vaccination clinics, sanitation and tooth-brushing as well as hands-on clinical assistance.
LeFebre recommended that future Potter's Clay participants challenge their assumptions about immigration and approach the topic with a more nuanced perspective. "I suggest the integration of a border-immersion program into future Potter's Clay activities," he says. "This would help students act with greater empathy and compassion for the people of Mexico."
Mache believes the Potter's Clay core team and participants would benefit from learning more about the history and context of the church in Mexico. "It's important to understand the dynamic of the relationship between the Catholic church and Protestant churches because it's very different than in the U.S.," she said. "Students should also be trained to see the church not just as an institution, but as the people they interact with."
As a result of the research, Potter's Clay now requires its student volunteers to attend training seminars to better prepare them for their cross-cultural experience. Topics include:
» Who we are and are not as a ministry
» Potter's Clay history and new transitions
» Poverty and how we address it and face it
» Cross-cultural involvement and the four modes of ministry engagement
» Get to know Ensenada and Mexico: Where are we going? History and current research
» Media Ethics: How to properly share about your experience
Following the week in Mexico, students, core team members and partners in Ensenada will participate in debriefing sessions that address issues such as coping with feelings, lessons and growth, and engaging and connecting for change.
"We have the opportunity to change the general perception of what the spring break experience offers and to be more intentional in coming alongside Ensenadans to promote self- efficacy even when we're not physically present," says Carlos Sandoval '22, a core team member for the past two years. "The chance to initiate a new direction for the organization and pass the torch to the next leaders who choose to step up really excites me."
"There is something to be said about groups of different cultures coming together as the body of Christ to recognize the place and role of the global church," Mache says. "One of our biggest goals for students is having the space and environment to embrace another culture, sit in tension with it and break down the constructs in their mind about cultural differences to see what the Kingdom of God looks like and to form cross-cultural relationships.
"I couldn't quite pinpoint it, but through the research I uncovered why I never felt connected to the community of Ensenada," Mache says.
Toms praises Fuentes' support for the student research. "Jennie had questions about the efficacy and impact of Potter's Clay and how that might change in future years," Toms says. "She isn't the first person who came to me and said, 'I have some concerns.' But she should be commended for taking the time to do the work in a community-based way to make sure that we got some answers and were thinking about the future."
"I'm glad to hear Potter's Clay didn't fizzle despite losing momentum with COVID," Harris says. "It was a personally enriching experience for me to be involved with the ministry. I built enduring friendships with students and people in Ensenada, and I miss spending time with them. I'm glad to hear Potter's Clay has done a thorough assessment and found a way to thoughtfully resume its work."