Westmont Magazine Seniors Graduate on Time Despite a Challenging Year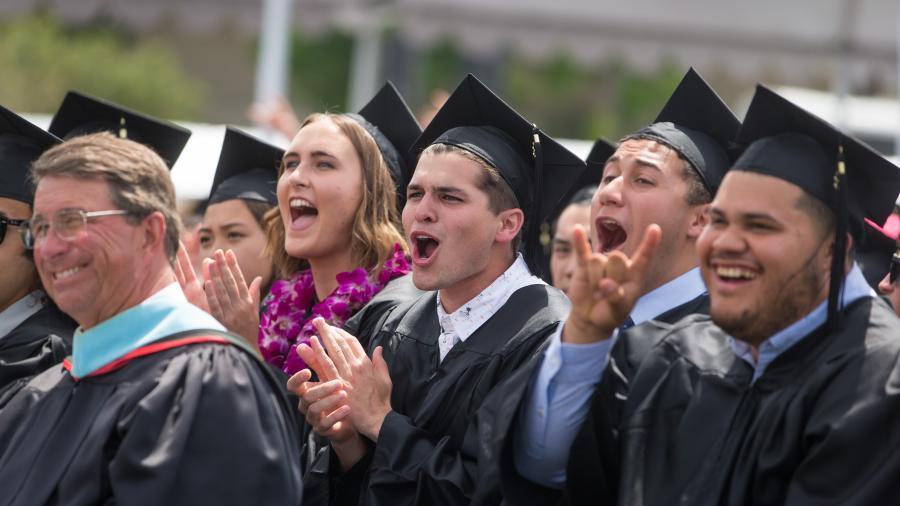 Despite four evacuations after the disastrous Montecito mud flow January 9—and an early end to the fall semester due to the Thomas Fire—the class of 2018 graduated on time May 5. 328 students received their diplomas, including Connor McManigal, who was swept away from his family home and seriously injured in the mud flow. He received a standing ovation as he walked across the stage. 
President Gayle D. Beebe presented the Westmont Medal to Santa Barbara County Sheriff Bill Brown and the KEYT NewsChannel 3 team (C.J. Ward, Beth Farnsworth, John Palminteri and Tracy Lehr), for their exceptional work and courage during the fire and resulting mud flow that devastated parts of Montecito. 
Tom Nguyen, Westmont trustee and managing director of U.S. sales for China International Capital Corp. (CICC), offered the Commencement Address, "In His Will." As a child, he narrowly escaped capture by the North Vietnamese army. He told the graduates that they suffer from "Instagratification," being constantly bombarded by images of people who have seemingly perfect lives on social media. "You think everyone but you seems to be swinging for the fences and hitting homeruns," he said. "Graduates, let me be one of the few people to urge you to step up to the plate today and bunt. It's OK to bunt. There is nothing wrong with taking baby steps and taking the scenic route through life. As you can see, I have been bunting for 50 years. I bunted from Saigon all the way to Santa Barbara to stand before you today. 
"It is nothing short of a miracle that I am standing before you. Nothing could have prevented this. Look around you graduates, no drought, fire, storm or earthquake could have stopped any of us from coming here to celebrate your graduation." 
Edee Schulze, dean of students, presented Lauren McCoy (basketball) and Luke Whalen (tennis) with the Dean's Award for their excellence as students and athletes. A political science major, McCoy set school records in eight categories. The top scholar-athlete in her sport, she led her team to multiple championships, including the 2018 NAIA national championship game. Whalen double-majored in engineering physics and philosophy and was a First Team All American in 2017. He co-captained the Warriors his senior year. 
Brittany Bland-Boyd, a psychology major, won the Dave Dolan Award for raising awareness of and responding to social and spiritual needs. She orchestrated campus-wide programs to give voice to black identity at Westmont, worked as a resident assistant, and served on two international service trips with Emmaus Road and Potter's Clay. 
Hannah Belk and Jordan Baldridge earned the Kenneth Monroe Award for superior academic achievement and leadership. Belk, a communication studies major, won the 2017 David K. Winter Award and served as a resident assistant and a leader for Racial Equality and Justice with Intercultural Programs. Balridge researched the political and institutional responses to the Rodney King trials for his capstone paper as a history major. A student body senator, he played in the Chapel Band and contributed to the student newspaper. 
Provost Mark Sargent gave the Faculty Scholarship Award to Ariel Adams, the senior with the highest cumulative grade-point average. A biology major from Castle Rock, Colo., she earned a 3.97 GPA. Before attending dental school, she is working at an orthopedic surgery unit as a medical assistant. 
Jesse Covington, associate professor of political science, Steve Julio, associate professor of biology, and Paul Willis, professor of English, won the Bruce and Adaline Bare Outstanding Teacher Awards. Caryn Reeder, associate professor of religious studies, received the Faculty Research Award. A poet and essayist, Willis teaches Shakespeare and syntax and is a former poet laureate of Santa Barbara. Covington spent a year at Princeton as a visiting fellow exploring religion and public life. He developed the primary honors seminar for the new Augustinian Scholarship program. Julio studies the virus that causes whooping cough and received a major grant from the National Institutes of Health and an invitation to speak to a gathering of international scientists in Argentina. Reeder has devoted much of her scholarly life to exploring the interface of religion and violence in both political and domestic landscapes. She won a Fulbright Scholarship in 2013 to study families and war in biblical and classical antiquity and the modern world at Bethlehem University. Cambridge University Press published her latest book on war, peace, and gender in the Gospel of Luke. 
Forty-seven Golden Warriors, who graduated in 1968, attended the event to celebrate their 50th reunion.