Westmont Magazine Stand-out Student Now Stands as Teacher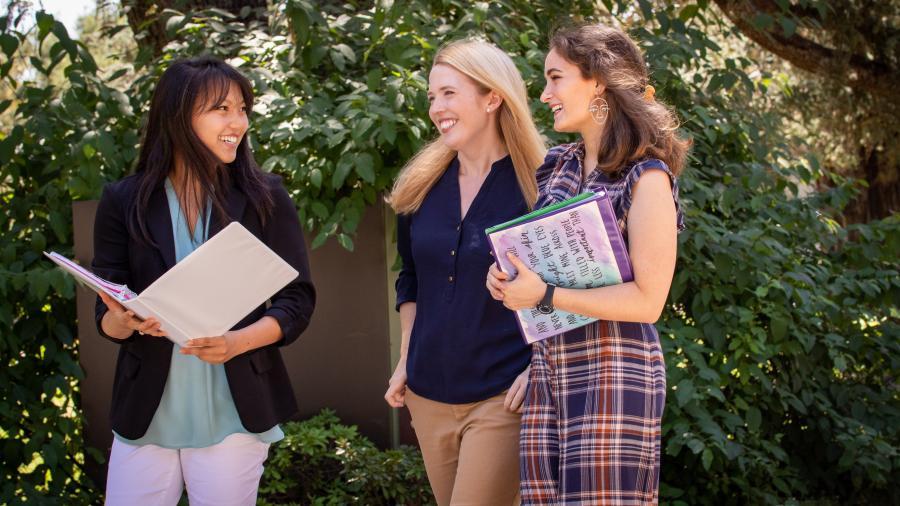 Allison Judy '19 (left) fell in love with chemistry as a first-year Westmont student in a class with Professor Michael Everest. She enjoyed "the intricate logic and creativity revealed in the study of science—and labs are always fun! The academic rigor and support from the Chemistry Department enabled me to deepen my understanding and become an expert in my field," she says. But she remembers her Westmont education as more than just intellectually rigorous and stimulating. "Westmont helped me overcome the tendency to compartmentalize intellectual discoveries from the actual principles that direct my life," she says.
In a last-minute decision her senior year, Allison enrolled in Westmont's fifth-year teaching credential program. "I'm so glad I chose Westmont over other universities, because our secondary model allows student-teachers to spend more time in the classroom and experience a more authentic teaching experience," she says. "I also wanted to continue deepening the relationships I formed at Westmont and capitalize on the community I had already invested in for the past four years."
Allison discovered that Westmont prepared her in more than one way to become a teacher. "The faith-filled teachings and relationships with friends and teachers cultivated the compassion and perspective necessary for approaching teaching from the heart," she says. "One of the most significant lessons was engaging in regular reflection to develop greater empathy."
After earning her secondary science credential with a focus in chemistry, Allison teaches eighth grade science at La Cumbre Junior High School in Santa Barbara. "I love the students and their sassy spirits," she says. She sees herself teaching in the field for at least 15 years before potentially transitioning to school administration.
The teacher is learning some lessons herself, especially about having hard conversations and being a lifelong learner. Allison wants to encourage college seniors to actively pursue learning after graduation. "Living removed from the immediate community of Westmont means it takes intentionality to continue stretching your mind," she says. "Soon- to-be graduates, you'll be responsible for seeking out opportunities to learn, so keep your eyes open and your ears ready to listen."
Allison has connected to the Santa Barbara community by joining Anthem Chapel. She has also made a commitment to rest from her work on Sundays. "I never stopped working in college," she says. "Student teaching was so stressful that I forgot the power of resting in the Lord's presence and being present. The combination of investing in the community of believers, carving out time for rest, and engaging in undistracted worship has brought rejuvenation and joy to my soul."