Westmont Magazine Stronger Together: Courage and Kindness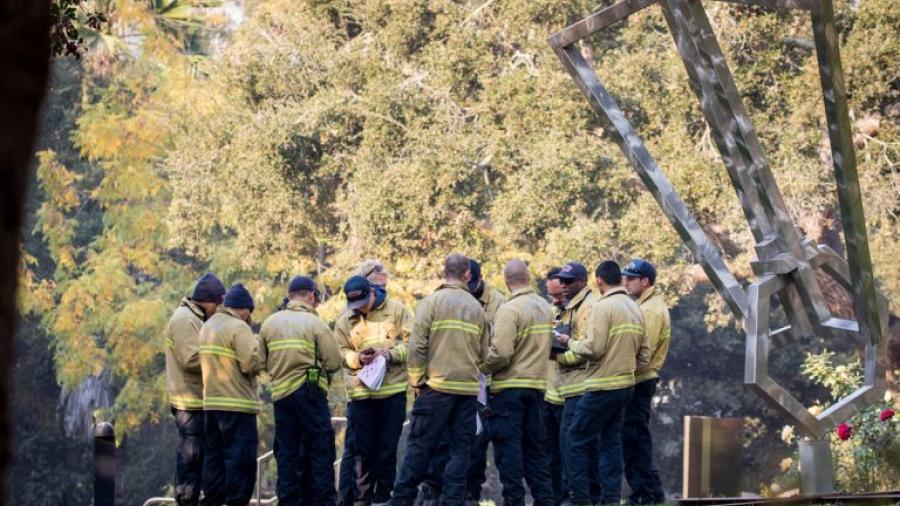 THE FIRE
The Thomas Fire exploded in the early evening of December 4, 2017, more than 40 miles away, but Westmont quickly felt its might when the blaze triggered a massive power outage. The darkness lasted late into the night, with electricity returning intermittently throughout the morning. The blackout crippled the college's website and email servers, hampering communication to the campus community. IT staff worked long hours to get everything back online.
Westmont's Situation Readiness and Response Team(SRT) and the Executive Team, which includes President Gayle D. Beebe, Provost Mark Sargent and the five vice presidents, began monitoring the fire closely and implementing the college's wildfire safety plan. Most of them had worked through the 2008 Tea Fire, which destroyed eight buildings, 15 faculty homes and about a third of the vegetation on campus.

The voracious Thomas Fire, which grew to be the largest in California history, quickly burned through thousands of acres of dry brush, with fierce winds pushing it relentlessly westward. Smoke and ash from afar blanketed the college in the following days, forcing the cancelation of outdoor activities. Air-scrubbers in the library, Dining Commons and gym made breathing easier in those buildings. The college also handed out about 1,400 N95 particulate masks.
President Beebe led an open forum December 7 to announce that the college was canceling classes until the start of finals on December 12. Most students left the area to stay with family and friends out of the fire's path. About 380 students remained on campus. The air quality continued to worsen, and Beebe announced December 9 that students would take their final exams off campus.
"Having experienced the ravages of the 2008 Tea Fire, we know first-hand how fast and how destructive wildfires can be," President Beebe said. "The air quality on campus has deteriorated further, with ash falling on a consistent basis. Because we place such a high premium on the health and safety of all members of our community, we've released the students through the weekend and excused staff and faculty who need to address fire-related preparations for their home. We're striving to balance these health and safety concerns, which are our first priority, with maintaining the credibility and integrity of our academic program. Faculty know what's best for their courses and most fair for their students, and they do an incredible job of balancing individual needs with academic integrity."
Provost Sargent and the Faculty Council, led by Tom Knecht, professor of political science and vice chair of the faculty, encouraged professors to finish the semester in the way that worked best for them and their students. Options included giving an exam online, requiring an alternative assignment instead of a final or taking the grade earned to date in the class.

"Even as we feared the threat to our campus, we were reminded how much of Westmont survives in the loyalty and good will that exist apart from our grounds," Sargent said. "I don't take for granted the brisk and collegial manner with which the faculty adapted to the moment, remaking final exams so they could be offered remotely. I'm grateful for faculty adjusting on the run."
The students remaining on campus packed up essential belongings, checked out with resident directors in the gym and left in a calm and orderly manner ahead of any evacuation orders. Westmont faculty and staff opened their homes to those who needed a place to stay.
As the fire continued its westward advance, county officials ordered mandatory evacuation for all non-emergency personnel at Westmont on December 10. The vacant 110- acre campus became an operational headquarters for the Thomas Fire, housing about 500 firefighters and 100 engines that cycled through as crews battled the blaze in the foothills to the east.
Members of the Westmont Fire Brigade, created after the 2008 Tea Fire, reported for duty. These volunteers, most of whom work at the college's Physical Plant, never battle structural fires but may be activated to extinguish spot fires on campus. They lived on campus for 12 days, working in shifts around the clock, sleeping on cots and cooking their own food.
Administrative staff moved into Westmont Downtown's offices in Santa Barbara, home to the off-campus semester focusing on social entrepreneurship. "Each of us sought our own corner to carry on our duties, but we were drawn easily into conversations about students, colleagues and projects needing care," Sargent said. "I returned to campus with a sense of having shared and reaffirmed our mission together."
The convenience and camaraderie of the shared space helped essential operations such as admissions, information technology, fundraising and communications to function effectively throughout the evacuation.
The winds picked up the morning of Saturday, December 16, forcing the Thomas Fire into thick brush that hadn't burned since 1964. SRT and E-Team members gathered at Westmont Downtown as the fire marched uncontrollably west, finally reaching the area above campus. Through the wall of windows in the third-floor conference room, they watched the towering flames and followed non-stop news coverage. They prayed and sent out requests for prayer. Despite fierce winds blowing flames down into neighborhoods, firefighters kept hundreds of homes safe and quickly extinguished small spot fires above Page Hall and west of the library. Once again, God kept Westmont safe, thanks to more than 8,000 firefighters and the prayers of countless people.
Fire crews made steady progress in containing the fire after that, but the college remained under mandatory evacuation until the afternoon of December 21. The campus needed a thorough cleaning from the smoke and ash, and it remained closed until January 3 while crews worked. The residence life staff came back early to help students who needed access to their rooms or to move out before the semester began. They worked tirelessly to help get the residence halls ready.
The Westmont community celebrated the return to campus with a Gratitude Chapel January 8 honoring first responders, members of the news media and college employees who played a key role in responding to the fire.
President Beebe recognized Santa Barbara Sheriff's Lieutenant Brian Olmstead, who received a standing ovation. "Brian represents an incredible sheriff's department, and I have huge admiration for your sheriff and for what you do to keep our community safe by working constructively and proactively with the campus."
The president also thanked C.J. Ward and Beth Farnsworth of KEYT News Channel 3. "You became our lifeline for the latest developments on the fire," he said. "We could plan and adjust our response because of your up-to-the-minute coverage. You were brilliant in your coverage, relentless in your courage and professional in your approach." He recounted waking up at 4 a.m.to the couple on TV, and when he went to bed at 11 p.m., they were still on. "Your willingness to endure any inconvenience, to bear any burden, made me want to do my job better," he said. "You were truly inspirational."
The service ended with the chapel band leading the college hymn, "Great is Thy Faithfulness."
THE MUDSLIDES
Westmont started the spring semester on time January 8. But storm clouds hung over the campus, and county officials warned about heavy downpours during the night. The Thomas Fire viciously stripped all vegetation from the mountains above Montecito, leaving behind a baked, barren moonscape highly susceptible to flooding and debris flow. The county ordered evacuations, excluding the campus. Nevertheless, Westmont's public safety staff kept a 24-hour watch for flooding.
Beebe, who lives in the president's house above Clark Halls, woke up to pounding rain about 3 a.m. An extremely intense shower dropped more than half an inch of rain in five minutes and about two inches total in the early hours of January 9.
The storm triggered an unprecedented debris flow along Montecito Creek, San Ysidro Creek, Romero Creek and Buena Vista Creek, sweeping houses away, dumping boulders, trees and huge deposits of mud, and spilling into nearby neighborhoods. Mud poured onto Highway 101, and the debris broke a natural gas main near San Ysidro Creek, sparking a towering flame visible from Westmont.
Despite the devastation less than a mile away, the college remained safe and unharmed. The power went out briefly several times but then returned. With flooded and damaged roads, the sheriff urged people to stay home, so Westmont canceled classes for the day.
Early news reports only hinted at the widespread destruction. As the hours passed and emergency officials rushed to rescue people stranded in damaged homes, the gruesome extent of the disaster became apparent. Twenty three people died, and hundreds of homes were completely or partially destroyed. The storm disrupted water, gas and electricity to most of Montecito. It became the worst disaster in Santa Barbara history.
By the end of the day, water to campus had slowed to a trickle. Without water for food preparation and sanitation, the college had to evacuate students for the rest of the week. Once again, local families invited students to stay with them. Faculty and staff continued working on campus thanks to open roads to the west and strategically placed portable restrooms.
Highway 101 remained closed in both directions for nearly two weeks as crews worked day and night to extract the mud. With all the roads through Montecito damaged and shut, no one from the south could get to Santa Barbara. People in Carpinteria, including members of the Westmont community, were shut off from the world, and many lost cable service and internet access. Ferries began operating regular runs from Ventura to Santa Barbara Harbor, helping some Westmont employees get to work.
When train service resumed January 12, hundreds of people crowded the train stations in Ventura, Carpinteria and Santa Barbara, reminding some travelers of an earlier era.
Westmont planned to resume classes January 16 but pushed the date back a day due to the challenges of closed roads. To get to campus from the south, travelers could ride a ferry, a train or an airplane—or drive north on Interstate 5 to Highway 166 or 58, go west to the 101 and follow it south. The college chartered a bus to pick up students in Santa Clarita and transport them the long way around to Santa Barbara to ease the burden on families in Southern California.
Uncertain when water to campus would be restored, Westmont trucked in 48 portable showers and restrooms, a portable, industrial kitchen for safe food preparation, and countless gallons of potable water. Fortunately, the water returned just before the students arrived, so they could shower in the residence halls. But a boil-water order continued for several days, so they brushed their teeth with bottled water, and the Dining Commons used the portable kitchen to make meals.
Students returned the afternoon of January 16 and reunited at a welcome dinner and time of music, prayer and inspiration in the gym. President Beebe spoke of the way the disaster had touched so many in the local community, including families in his
church. Quoting Romans 12:15, he noted that part of our responsibility as followers of Christ is learning how to rejoice with those who rejoice and mourn with those who mourn.
"Over time, the way in which we respond to tragedy teaches us to find God in the midst of suffering," Beebe said. "When we face these disruptions, inevitably we return to a predictable life pattern, and we begin to experience again the love of God and his
steadfast presence. But in the midst of it, it can be very choppy. The most significant growth in my life has occurred in moments like these, where we face significant challenges and setbacks."
Beebe encouraged students to discover the historic moment and story unfolding before them and to show neighbors and the community that Westmont cares and wants to help serve them. "We can be great citizens at this time," he said. "Let's be at our best as we interact with each other and the community around us."
Benjamin Peterson, president of the Westmont College Student Association, urged students to respond by serving the local community. "People from student government, student ministries and residence life are joining together to form the Student Community Recovery Team (SCRT), which will work closely with churches and local organizations to find need and opportunity to care," he said. "This is our local community, and it needs hope more than ever."
Provost Sargent and the Faculty Council decided how to make up the missed class time. Rather than changing the date of Commencement or shortening spring break, they took a day from the President's weekend holiday and the study day before final exams. Then they asked professors to schedule additional meetings or work outside of class as needed to cover the material for each course.
Given the disruption and difficulty of two evacuations and the devastation in the Montecito community, Student Life staff members and counselors have worked to support students throughout the semester with special programs and increased clinical
hours at the Counseling Center.
Dozens of Westmont students, faculty and staff have volunteered as part of the SCRT, working at local schools, the YMCA, homes and Casa de Maria, the site of several Westmont faculty retreats. "There were two feet of very wet mud that felt like wet concrete, but filled with debris at Casa de Maria," says Chris Hoeckley, director of the Gaede Institute. "It was back-breaking and tedious, and it felt like we weren't making much progress. But we forged ahead thinking that when it dries it will be impossible to
shovel."
Angela D'Amour, director of campus life, spent a day on Tiberon Bay Road digging out a home engulfed in five feet of mud. "My experience was profound," she said. "We dug out most of the house. I spent most of my time in a true bucket brigade line moving the mud out of the house. The home owners were there trying to salvage what they could of their belongings and were deeply grateful for the volunteers. It was pretty amazing to be working side-by side-with local strangers who showed up simply because they care and there was a need."
Korbin Breeden joined fellow students at Montecito Union removing smoky wood chips from a play structure. Later they served at the YMCA, clearing trees and branches from paths and streams. "I decided to volunteer both as a member of the SCRT but also as a follower of Christ," he says. "We have a duty to serve our neighbors and be the hands and feet of Christ working in the community. It was a powerful experience, and I would do it again."
Student Lyndall Stephenson said, "I know that many in our community of Montecito are deeply hurting. The experience was good. I am planning on helping next weekend digging out homes."
President Beebe, who had previously guided the college through two wildfires, shared his perspective on the disaster in a KKLA radio interview with Frank Sontag. During the conversation, he explored his faith and the role of suffering in our Christian  lives. "I've also learned that we don't all suffer at the same depth or with the same complexity. And when we are not suffering, but we are around people who are suffering, it's an opportunity for us to be present and to truly be Christ's presence to others. It's a wonderful opportunity and a wonderful privilege, and it is one that has come to us."
EFFECTIVE, WELL-TESTED EMERGENCY PLANS
Westmont's wildfire safety plan, developed in collaboration with local fire officials, includes sheltering-in-place in the gym when necessary, as the college did during the Tea Fire after it started immediately above campus. Annual mobilization drills help employee responders practice and learn what to do in case of a fire, and students receive multiple messages throughout the year that they should go to the gym in case of wildfire. If there's time to conduct a safe and orderly departure, the college will evacuate from the gym. If fire officials say that's not practical, the community will shelter there. In February, the college activated its SAFE plan, Shelter Activated for Flood Emergencies. For more information about the emergency plans, see www.westmont.edu/emergency.
PHOTOS
The view from the harbor as the fire approached Santa Barbara (top); Westmont as the fire got closer to campus (center left); The Westmont Fire Brigade (left to right): Tom Beveridge, Julian Saavedra, Ariel Palomares, Memo Macias-Gil, Piano Paredes,Aleks Vertsekha, Hugo Franco; not pictured: Tom Bauer, Javier Guzman, Michael Prather and Michael Vinogradski (center right); Westmont served as a hub for firefighters in the area (bottom left); Smoky skies led the college to cancel classes and move finals off campus (bottom right).
DRAMATIC RESCUES
Westmont's athletic director bravely rescued a friend who was trapped in her vehicle, caught in the deadly mudslides that struck Montecito early January 9. Dave Odell received a frantic cell phone call from Kathi King, who had escaped her swamped car on Jamison Lane and climbed a tree to temporary safety. KEYT NewsChannel 3 recounted the story on television and their website. Tom Walters, Westmont assistant professor of kinesiology, his wife, Kirsten, and their girls, Reese, 6, and Taylor, 4, evacuated to the Montecito Inn from their East Mountain Drive home on January 8, but it wasn't far enough away. A Noozhawk article tells the story of the National Guard rescuing them from the mudslide that surrounded the hotel. Watch a video of Walters talking about his experiences on the Westmont website.
REMEMBERING THE VICTIMS
"The loss of life feels devastating," said Russell Smelley, head coach for the cross country and track and field teams, in a letter he wrote to track alumni. "Children, the elderly, and families have been lost, and not all have been found. The clean-up, recovery and grieving are going to be a long and painful process. We are acutely aware of the devastation just a mile or two away."
Westmont mourns the loss of John McManigal, father of Connor McManigal '17, who was seriously injured but survived, and James and Alice Mitchell, grandparents of James C. Weimer '14. The college community continues to pray for these families, for all the people whose loved ones died in the mudslides, and for the Montecito community as it recovers. #montecitostrong
WHAT KEEPS WESTMONT SAFE FROM MUDSLIDES?
Despite the downpour and disastrous debris flow January 9 in Montecito, the Westmont campus remained safe and unharmed. Location, topography and a watershed relatively untouched by fire combined to protect the campus.
Brett Gracely '90, a water resource engineer with Matrix Design Group, visited campus February 28 and assessed the potential for flooding. He explained that the well-maintained and protected channel on campus is relatively free of debris and vegetation so water flows easily through it. Unlike the mountains to the east, which the Thomas Fire left completely denuded, the area above campus burned only slightly and still features a lot of green vegetation that will slow rainfall. In addition, the relatively small size of Westmont's watershed (the basin that feeds the channel on campus) limits the amount of debris. It contains only 200-220 acres compared to 9,600 for the areas of Montecito hit by the debris flow. Read more about Gracely's report at blogs.westmont.edu /2018/03/01/flood-risk-is-minimal-at-westmont/
IN THEIR OWN WORDS

COMFORTING THE GRIEVING
By Rick Ifland, Director of the Eaton Center for Innovation and Entrepreneurship and Professor of Economics and Business
While trying to find a way out of our condo (the National Guard eventually evacuated us), my wife and I came across the body of 6-year-old Peerawat Sutthithepa, who was a student at Cold Spring School. "Pasta," as he was affectionately known to his friends and family, is survived by his mother, Aw, and his grandmother, Perm. His father and grandfather perished in the tragedy, and his 2-year-old sister, Lydia, is still missing. The week following the mudslide, the Lord connected us with Pasta's mother and grandmother, and along with Westmont basketball coach Kirsten Moore, whose daughter attended school with Pasta, we were able to sit down with them, pray with them and support them in their grief. They shared pictures of their beloved little boy with the big smile. It's our deep hope that Westmont can continue to reach out to and stay connected with the Sutthithepa family.
CARING FOR THE VICTIMS
By Alex Nizet, Senior Development Director at Westmont and Chaplain at Cottage Hospital
In the wee hours of the morning, a couple of trauma cases came into the emergency room with injuries from a mudslide. Most people initially thought these were isolated accidents and had no idea what was about to unfold. Within the next hour it became clear that the Montecito community had experienced devastating mudslides and Cottage Hospital would soon be managing a mass casualty event. I witnessed unimaginable heartbreak that morning that at times felt overwhelming. Yet amidst all the suffering and sadness, I saw families bond together and comfort each other with profound love and grace. I also learned of inspiring acts of heroism by members of the community. It was an honor and privilege to play a small role in the coordinated efforts of the team members who selflessly and tirelessly did all they could to care for the victims and their families.
PRESERVING LIFE
By Daniel Arnold '03, a 10-year firefighter now with Montecito Fire and previously with the Oxnard Fire Department
After the Thomas Fire, management officials from the Montecito Fire Department immediately began to address the challenges faced by the barren landscape above much of Montecito and the potential effects of runoff. We received updated training on the hazards and prepared as best we could. As the storm approached, plans were in place for
rescue operations and the separation of resources to provide service to various areas in the event any were isolated.
I spent the entire day January 8 attempting to convince residents to evacuate, assessing waterways for blockages, and preparing for the rain. That evening, I was assigned with six others in three vehicles to a staging area east of our headquarters. Our first call came in around 3 a.m. I looked out the windows of the Birnam Wood clubhouse and saw a glow emanating from a massive gas leak at East Mountain Drive. The mission was clear and the objective remained the same: locate and rescue as many people as possible. Rescue is always our primary priority. I didn't expect to respond to a large-scale structure fire in the middle of a rainstorm, but that's what we did.
Rock, mud, abandoned vehicles and downed lines blocked our way, forcing us to leave our vehicles a long distance from the fire and hinting at catastrophic destruction. My partner and I conducted primary searches in the homes nearest to the fire, helped residents make their way to safety and provided medical care. As daylight broke, we could see the devastation of our initial area of operation. As anticipated, we were completely isolated from other crews in all directions. We moved down to the Glenn Oaks area to continue rescue operations, seeing more devastation from the mud flow. Our tasks varied widely throughout the day. Our training is ingrained to ensure that we can adjust and adapt to the changing hazards. It wasn't until the next day that crews cleared a path for us to move west toward the fire station.
God's sovereignty, even in the midst of human suffering, is something that can give me great peace. Most of my working days involve little risk, but there are aspects of my job that are very dangerous. I'm confident that my family is also under His care even if my job were to take me from them. He truly is our refuge and strength, a very present help in trouble (Psalm 46:1). I'm called to be the embodiment of the "present help" for victims as well as fellow rescuers as we each process the tragedies in different ways.
The greater community has poured out support for the victims and fire, medical and law enforcement personnel. I hope we'll see the hillside regain its stability, and I trust the community will do the same.
TEACHING IN THE MIDST OF FIRE AND FLOOD
By Tom Knecht, Professor of Political Science and Vice Chair of the Faculty
My final was easy to turn into a take-home exam that students submitted online. I gave them options about the way they could get it and allowed them to use notes, and they appreciated this flexibility. A lot of my colleagues got more creative than I did. Some had students Skype in and do a video-conference exam while others held oral exams over the phone. Technology makes it easier these days.
Faculty tried to make the best decision for each class and overcome a difficult situation. Most students left expecting to return to campus for finals, and many didn't take their books or notes with them. Students appreciated the flexibility of faculty in responding to these challenges. The feedback we received was overwhelmingly positive.
My wife, our two children and I live in Las Barrancas, Westmont's faculty housing next to campus, and we had to evacuate for two weeks. We went first to my parents' small house in Solvang and then moved to Truckee to stay in my aunt's and uncle's place while they were away. We'd already planned a trip to Disneyland, and we were determined to go. On the long drive from Tahoe to Anaheim, I sat next to my daughter and graded my exams while she watched a movie.
We pushed back the due date for grades to give faculty more time. Then Registrar Michelle Hardley faced the difficult task of entering all the grades into the system on time. She ended up working the afternoon of Christmas and made the deadline.
Technology helped again when we had to cancel class during the first week of the spring semester because the Montecito mudslides disrupted water supplies to campus. I videotaped a lecture for my students to watch online and created a discussion board. But I recognized both the benefits and downsides of online education. It was a reasonable accommodation, but it reminded me of the importance of the liberal arts, where I see the students face-to-face. I love Westmont because of our model of education with small classes and time spent with students.
I gave students in my American government course the option of writing three papers or doing 30 hours of community service. Almost all of them took the community service option. It's a great opportunity for us to help out our community, and students are excited about doing that and getting a chance to serve.
HOPE IN THE MIDST OF FEAR AND GRIEF
By Caylie Cox '21, Augustinian Scholar
December 16, 2017, was one of the scariest days of my life. As I sat on my grandparents' couch and watched the Thomas Fire move inexorably towards Westmont, I was forced to contemplate what would happen if I didn't have a college to go back to.
January 9, 2018, was a peaceful morning coupled with one of the most stressful evenings I've ever experienced. My out-of-state friends and I had to decide on an evacuation plan within an hour, relying on the generous families of friends. We didn't know the magnitude of the mudslides until the next day.
The fire's threat came slowly, building up to a week of emotion as we watched the news and prayed. The flood's threat was a sudden shock to our systems, followed by a week of quiet as we watched the news and grieved.
Acute fear and grief: not emotions I expected to face my first year at Westmont. I haven't experienced a natural disaster before, and I can barely comprehend what happened here. This seems to be true of many students, especially those from out-of-state like me who aren't directly affected. We are struggling to reconcile our grief for Montecito with our joy at returning to a safe, beautiful campus.
How do we move forward? My answer comes from a song I remembered during the second "evacu-cation": "Hope is springing up from this old ground…You make beautiful things out of the dust" ("Beautiful Things," Gungor). Westmont students have dug out homes, given blood, and prayed our hearts out for our home. Hope is what keeps us going. Hope—certain hope—that God does have a greater plan, leading us to eternal joy and peace with Him. I pray that we may embody the hope of God "though the earth give way" (Psalm 46:2).
Many people have asked how they can help Westmont. One way is making a gift to thePresident's Disaster Recovery Fund: westmont.edu/giving/pdr.html