Westmont Magazine Students Welcome Tasteful Renovation in the Dining Commons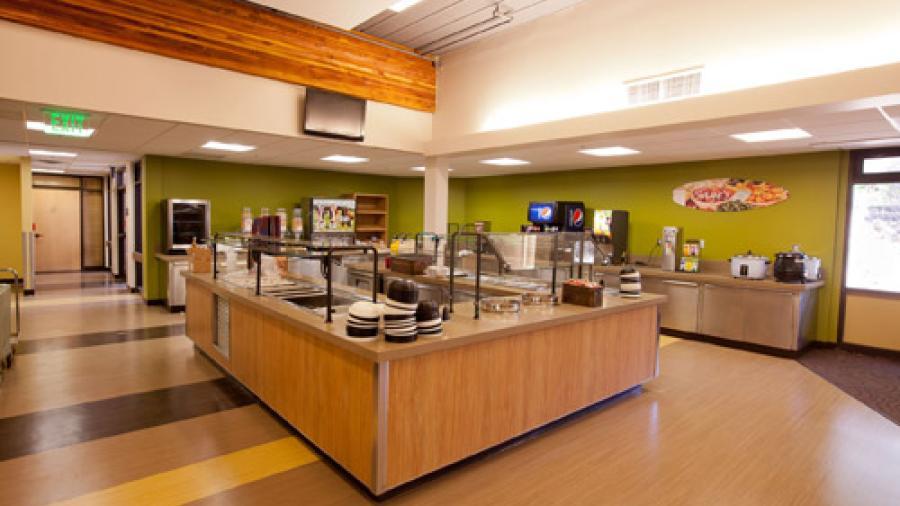 Returning students hardly recognized the Dining Commons when they walked through the door in August. Westmont and Sodexo, the college's dining service, worked together to plan a renovation that occurred in two phases over two summers. The most significant changes took place this past summer.
"Students can now choose from a variety of seating options," says Randy Jones, director of campus planning."Those who want interaction and activity can dine at the large communal tables in the center of the main dining room. The Monroe Dining Room offers a quieter experience. The new lounge to the right of the entrance provides a casual atmosphere for eating or waiting for friends."
What do students think? "The aesthetics have improved and so has the variety and quality of the food," says Chris Costenbader '15."It's a lot brighter and more open," says Jennifer Howison '14, who also praises the quieter atmosphere."I no longer have to yell."
But Bradlee Smith '15 sees both pros and cons, noting that the changes make the DC feel less familial.
Dining stations occupy the perimeter of the room, similar to a food court, which spreads out traffic. At the display cooking station in the center of the front counter, chefs cook in woks as students watch.
Shannon Moore '14 says the "appealing options" are worth waiting in line for, adding, "The quality is really good so far this semester."
With extended hours, the new DC provides a welcome place for students to dine, study and enjoy each other's company.