Westmont Magazine Teaching Outside the Zoom Box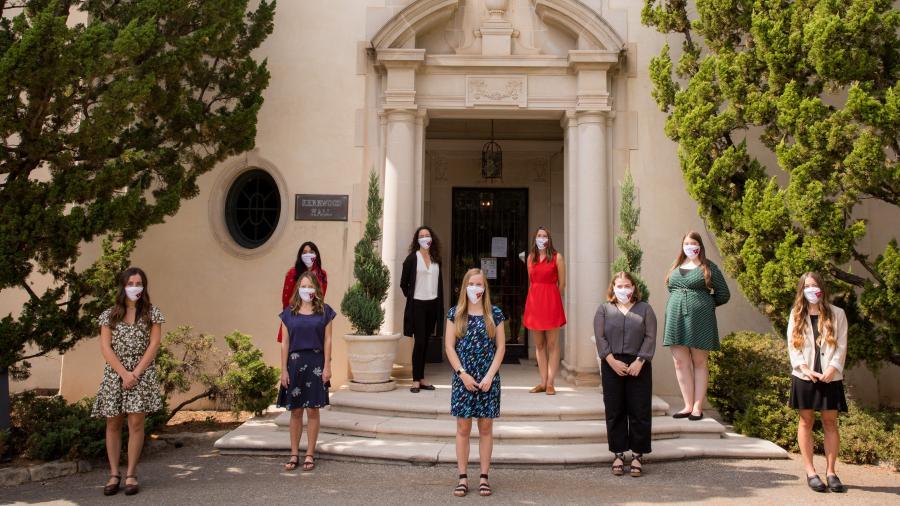 Nine Westmont student teachers have used their creativity during this unique and challenging season, learning to teach during a pandemic. Placed in four schools in the Santa Barbara Unified and Hope School Districts, the students take credential courses at Westmont, both online and in person, while collaborating with their cooperating teachers in a remote K-12 classroom.
"These intelligent and enthusiastic student teachers have become tech savvy, creative, reflective and curious," says Michelle Hughes, associate professor of education and department chair. "The cohort is demonstrating grit, flexibility, gratitude and courage as they learn the art and craft of teaching."
"It has been a challenging time, but we're persevering!" says Nissi Rodriguez, who teaches fourth grade remotely at Monroe Elementary. "We're teaching full time next semester, and we're unsure if it will be in person or hybrid. We've learned how important it is to stay positive and make the best of what is going on. We've learned to be flexible and find joy in the small things. If your lesson doesn't go well, what was one thing that did? If your class got excited over something silly, get excited too. These times can be so overwhelming; it's important to smile and find joy!"
In January 2021, the education professors will make full-time student teaching placements for second semester. "These will involve additional flexibility and adjustments as some K-12 schools shift to hybrid teaching models," Hughes says.
More than any others in history, these student teachers are learning how to think and deliver content in a variety of ways while seeking to connect with students and meet their individual academic and emotional needs in unique settings.
"Our students have been bringing their A-game to everything they do, whether it's social distancing, participating in Mental Health Matters training with Santa Barbara's Mental Wellness Center, teaching with a mask on, modeling a strong and engaging lesson on Zoom, or completing required state assessments," Hughes says.
Under the pressure of the pandemic, the student teachers have expanded their tool kit, developed a growth mindset, and are completing state assessments for a credential. "All these qualities and experiences will serve each student teacher well in their first teaching position," Hughes says.
"These times call for us to be creative and persistent," Rodriguez says. "We have to think out of the box, coming up with new ways to get students to interact with the material and keep students thinking and engaged. We also have to be persistent and not allow something that didn't work out to let us down. Staying positive and hopeful is key!"
This year's secondary student teachers are: Heather Grover (English), Claire Landino (English) and Clare Olson (music) at La Colina this fall. The elementary student teachers, along with Rodriguez, are Susie Schmaeling, second grade at Adams Elementary; Katie Judson, fifth grade at Vieja Valley; Amanda Wheeler, fourth grade at Adams Elementary; Stacy Delgadillo, kindergarten at Vieja Valley Elementary; and Kristi Cushing, fifth grade at Adams Elementary.
Enthusiastic applicants, eager to learn, teach and serve in K-12 education, are encouraged to apply to Westmont's education program before Feb. 15, 2021.