Westmont Magazine Unsung Heroes: Leaders Behind the Scenes
Javier Guzman, Hugo Franco and Julian Saavedra install new filters in the HVAC system
Each summer, the Westmont Trades Team works diligently to renovate facilities before the students return at the end of August. But in 2020 they added a major project to their usual demanding schedule: equipping the campus with safety features to protect the community from COVID-19.
"We haven't stopped since March when the students left," says Hugo Franco, who leads the team. He and his colleagues, Viktor Markov, Jose Martinez and Julian Saavedra, showed up for work every day on the deserted campus—as did the grounds crew and other essential Physical Plant employees—while nearly everyone else studied or worked from home.
The team tackled all their scheduled work: renovating four apartments in Ocean View; painting every residence hall room; remodeling the second and third floors of Page Hall with new lighting and ceilings; installing new faucets in all the sinks; and bringing a new Virdi Power Inc. generator online to keep the lights on when the electrical power shuts off. 
At the same time, they also managed to transform nearly every building with an array of custom-made protective Plexiglas.
"These guys are real heroes," Hugo says. "I'm glad to work with people who are always ready to help whenever we need them."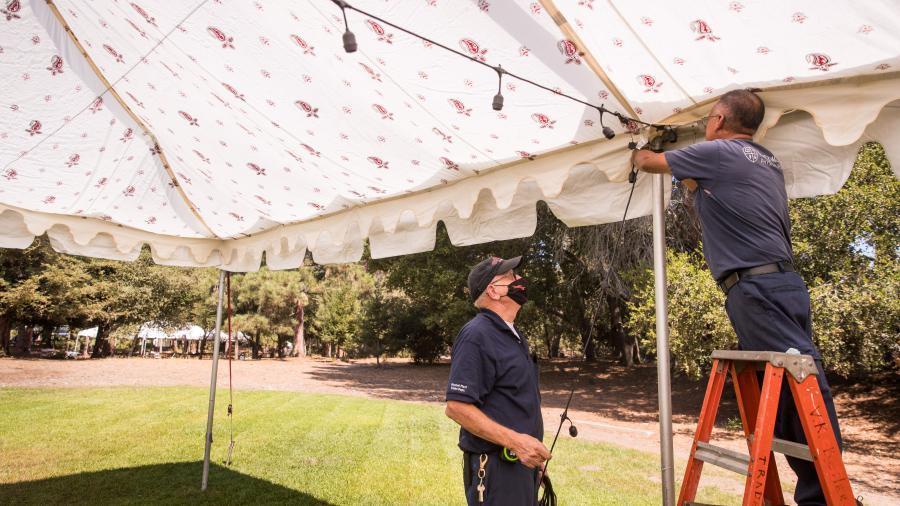 Hugo and the team quickly realized that buying large sheets of Plexiglas and cutting them on campus to fit the various needs would cost about half as much as purchasing them ready-made. Finding all the supplies they needed proved especially challenging with the lull in manufacturing and a breakdown in the supply chain during the early weeks and months of the shutdown. So they worked with numerous vendors to track down all the materials they needed. In particular, three local metal fabricators helped them obtain posts to hold the Plexiglas in place: Tilford Welding, Joe Gonzalez Welding Inc. and G T Ornamental Iron.
With everything in hand, the team went into full production, measuring the various spaces requiring shields, cutting sheets and sheets of the plastic to fit the specifications, affixing posts to keep the barriers in place and installing the final products in their proper places.
"We did it all in-house," Hugo says. They put in barriers between sinks in the bathrooms, in common areas in the residence halls, between seats and desks in the library, between students and dining staff in the DC, and in offices serving students.
Viktor spent three months cutting Plexiglas. Julian worked on installing it and making sure it fit the space, taking shields back and forth until they fit perfectly. 
"It was challenging to wait for materials to arrive, and we had to do a lot of the work at the last minute," Hugo says. Viktor nearly ran out of Plexiglas at one point, but a shipment arrived the next day.
"Everything kept changing, especially when we realized we had to quickly move classes outside," Hugo says. "We set up nine tents, wired them for lights and sound, and assembled the whiteboards. It was challenging, but it was also fun." 
With no one on campus, the team found it easier to get into the places they needed to fix. But the absence of people also created problems. A leaky hot water heater in the Health Center went unnoticed until a sharp-eyed groundskeeper spotted water trickling under the door. A major water leak due to a defective pipe in the Global Leadership Center also caused damage before crews discovered it. "Fixing the leaks was a great change of pace after cutting so much Plexiglas," Viktor says. 
"It was nice to get into places we couldn't normally go to do detail work," Hugo says. "But we were lonely. It was a lonely summer."
"We've been working so hard and doing so much more than other places around town," Viktor says. "We've been doing all the safeguards, not just the minimal amount."
Westmont had to cancel all its summer conferences, so the Trades Team recruited students who'd been hired to work for Conference Services. "We need to give credit to four students—Steven Carmona, John Kiser, Jonathan Romero and Jose Vasquez—for the great work they did," Jose says. "Julian taught them what to do, and they ended up completing most of the work independently."
Members of the Trades Team also serve on the Westmont Fire Brigade, which lives on campus when a wildfire threatens Westmont. "We've been through fires and mudslides, and we're used to working together," Hugo says. "But now we need to keep each other at a distance and take care of each other by wearing masks, washing our hands and wiping things down. That's different!"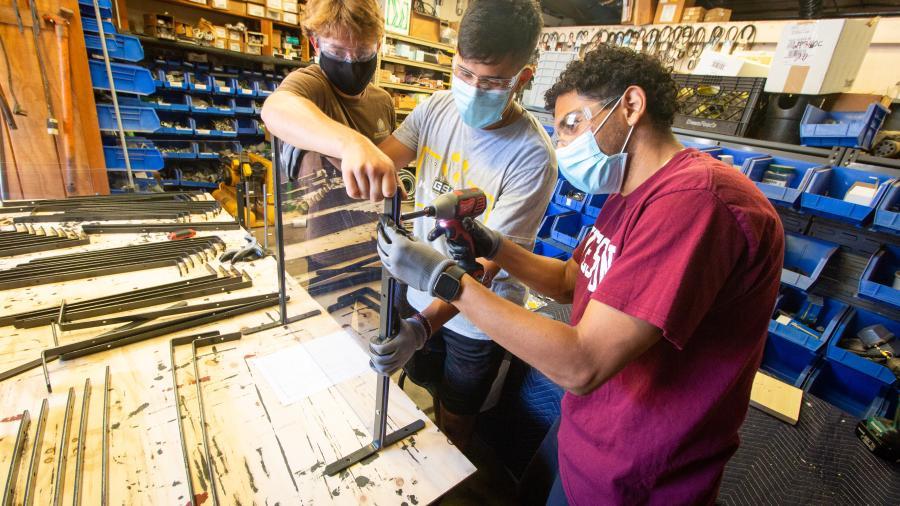 They know each other well, serving together at Westmont for decades: Hugo (32 years), Julian (32 years), Viktor (21 years) and Jose (10 years as an independent consultant before joining the team in January). Other Trades Team members who assisted with the work include Javier Guzman, Memo Macias-Gil, James Mullen, Ariel Palomares, Aleks Vertsekha and Michael Vinogradski.
One project has continued throughout the fall semester: installing special filters in the HVAC system and bringing more outside air into the buildings with assistance from Westaire Heating & Air Conditioning Inc. And the team continues to get requests for Plexiglas.
While life felt more normal when the students returned at the end of September, the Trades Team faced new challenges. "People kept finding things that didn't work after everyone was gone for so long," Hugo says. "We're staying vigilant to make sure everyone is safe."
"We're all healthy, and none of us has gotten sick," Viktor says. "We feel very fortunate."