Celebrating the Class of 2022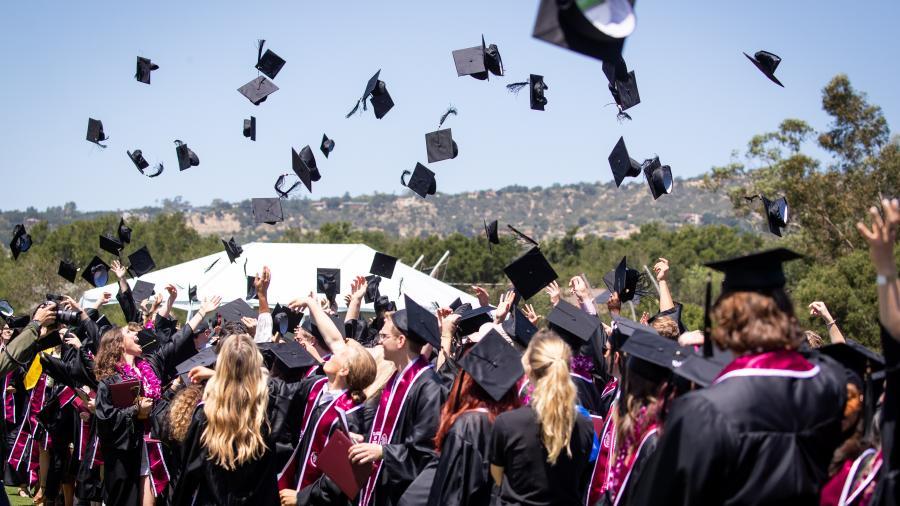 Commencement speaker Michael Shasberger, between stints of conducting the Westmont Orchestra, told the 2022 graduates they'd attain their greatest happiness when they discovered how to give away what they valued most. Coincidentally, President Gayle D. Beebe introduced Shasberger with news that the Michael Shasberger Student Scholarship Fund for Music.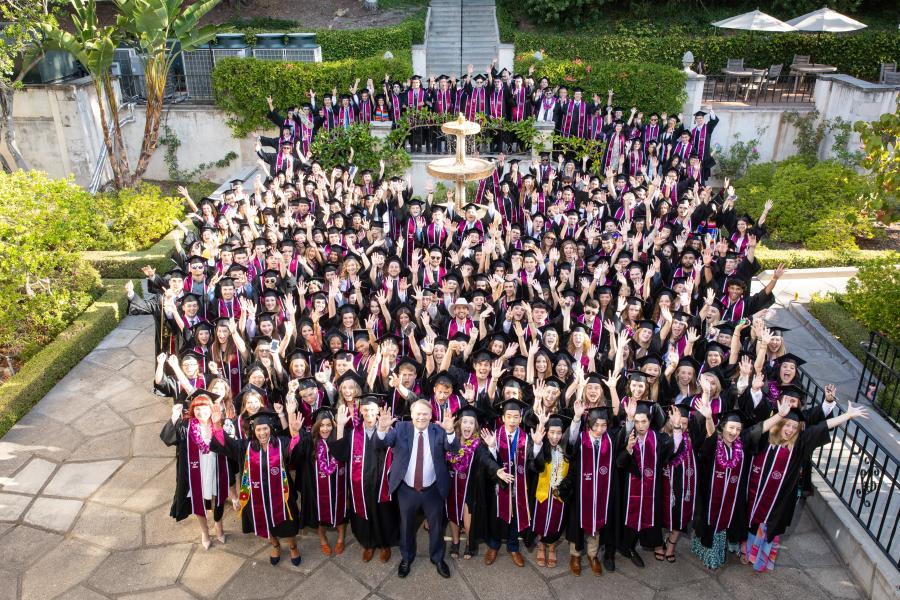 "It's a fitting tribute for one who has drawn so many of our students into a richer, more meaningful experience because of their love and participation in one of our music programs," Beebe said.
Shasberger, who came to Westmont in 2005 as the inaugural Adams professor of music and worship, is leading his final tour with the orchestra, performing in Salzburg, Vienna and Prague and participating in the American Celebration of Music in Austria.
"The spirit, joy and vision he has brought to campus will never be forgotten," Beebe said. "Michael is a true academic entrepreneur. There is so much creativity in one man. He has brought the most amazing array of energy, enthusiasm and a habitual pursuit of excellence that has blessed our campus and wider community. He lives with a buoyant optimism — and that joy is simply infectious."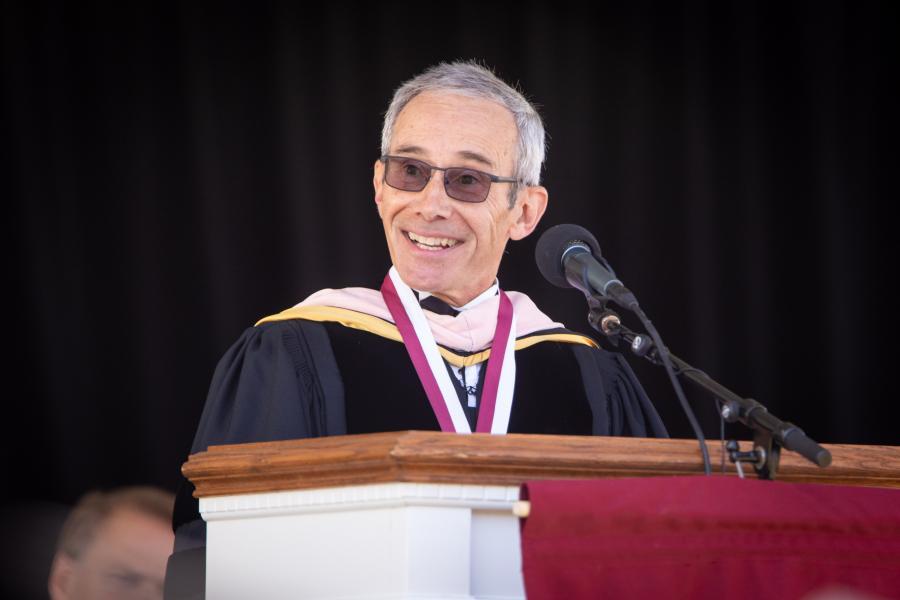 In the same vein as John F. Kennedy's book "Profiles in Courage," Shasberger spoke about "Profiles in Learning" to pay homage to seven teachers who blessed his life and academic journey. "I can't promise like the Wizard of Oz did that I can give you joy in learning or discipline or optimism, leadership skills or energetic spirit or a zeal for questioning the system or even an excitement for overcoming challenges and enduring failure all tied up in some nice little package," he said. "But I will come out from behind the curtain as he did and tell you that you have been equipped already, by my very good colleagues here, to find such qualities in yourself. I hope that in doing so, you will use them to encourage others, for we are called to build each other up, to teach by example, and share the gifts we have been given. I will suggest that your greatest gifts and fulfilling happiness will likely be attained when you discover how to give what you most value away.
"Oh, and one more thing. I have always wanted to hear a Commencement speaker say this: 'What an amazing Commencement orchestra!'"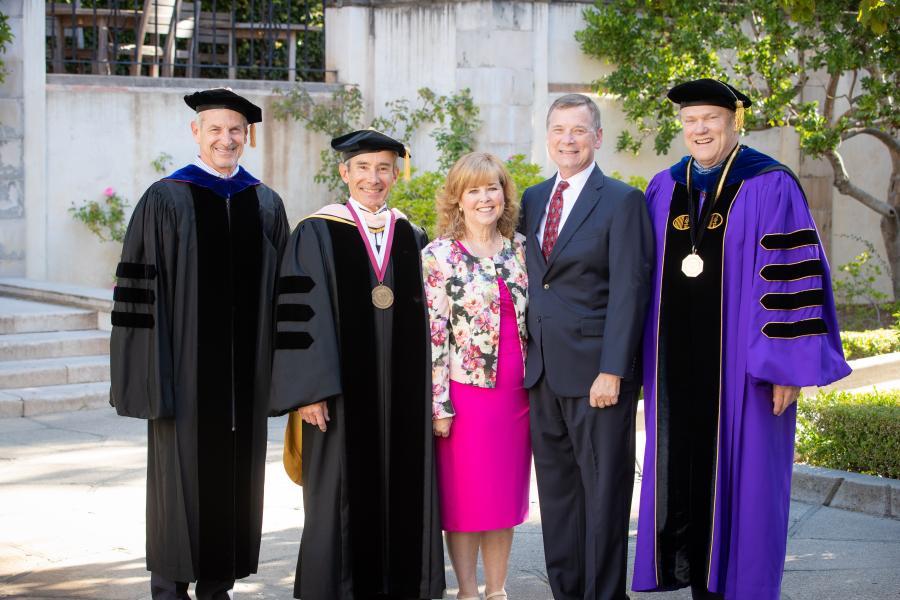 Westmont Medal recipients Steven and Denise Fellows said though neither they nor their daughters attended Westmont, they believe in the mission, direction and vision of the college. "We want to be a part of something bigger than ourselves," Steven said. We believe in supporting you, the resilient class of 2022 and your classmates, whether it's serving on the foundation board, helping to provide financial support for the college or serving on the Accelerated Bachelor of Science in Nursing program, being a part and making a difference in the community is what it means to be a servant of Christ.
"When you serve where God has called you to serve, you will find it to be far more meaningful and rewarding than seeking prestige, status or monetary gain."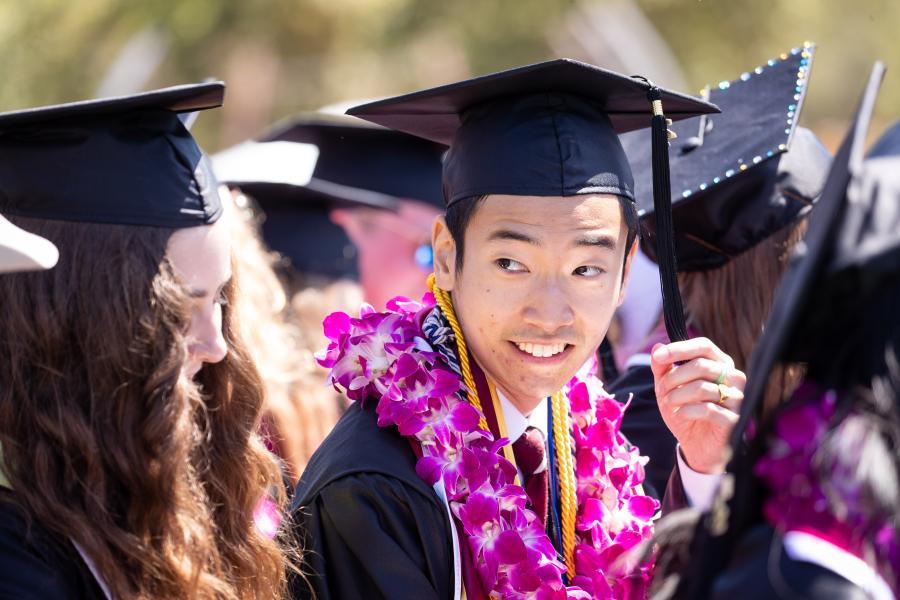 "We consider it a privilege to engage with the faculty, staff and administration in our daily lives," Denise said. "You, the Westmont community, minister to us more than we might minister to you."
Graduate Michael Kong shared that before he arrived at Westmont, his mother died following a five-year battle with cancer. He questioned his faith that had its foundation on receiving love and acceptance through her. "I've realized it was actually God loving me through her," he said. "The harsh reality is that while we must be grateful for the way that God expresses his love through other people, we must be careful not to love people more than the actual source of that love."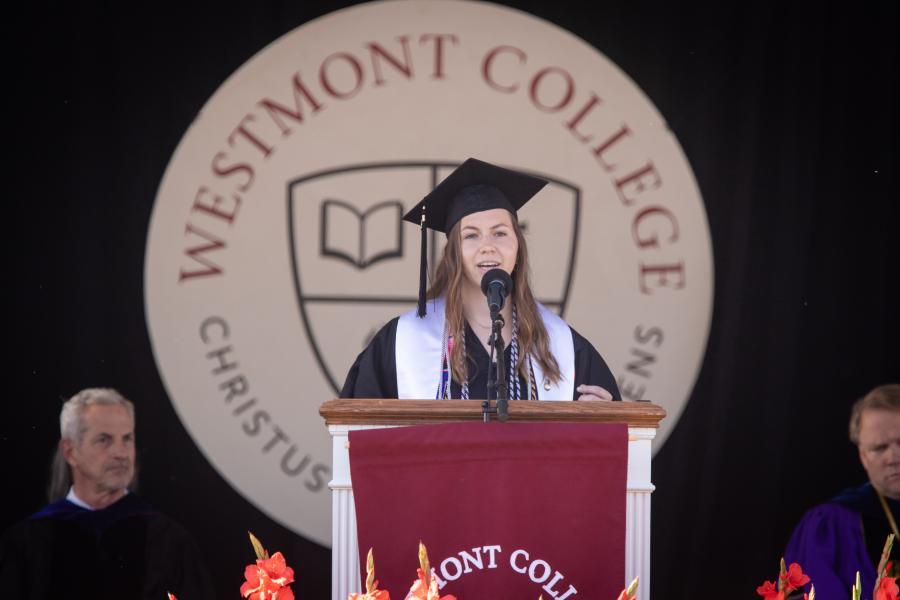 Graduate Taylor Mache, reflecting on the class verse from Psalm 25, said she had experienced hopelessness and fear that God would abandon her in her most vulnerable moments. "As I relearned to trust, I find that Christ is guiding me toward himself through the brokenness," she says. "He is already in the process or redeeming our minds, bodies, systems and communities, and he is using them to reveal his presence within."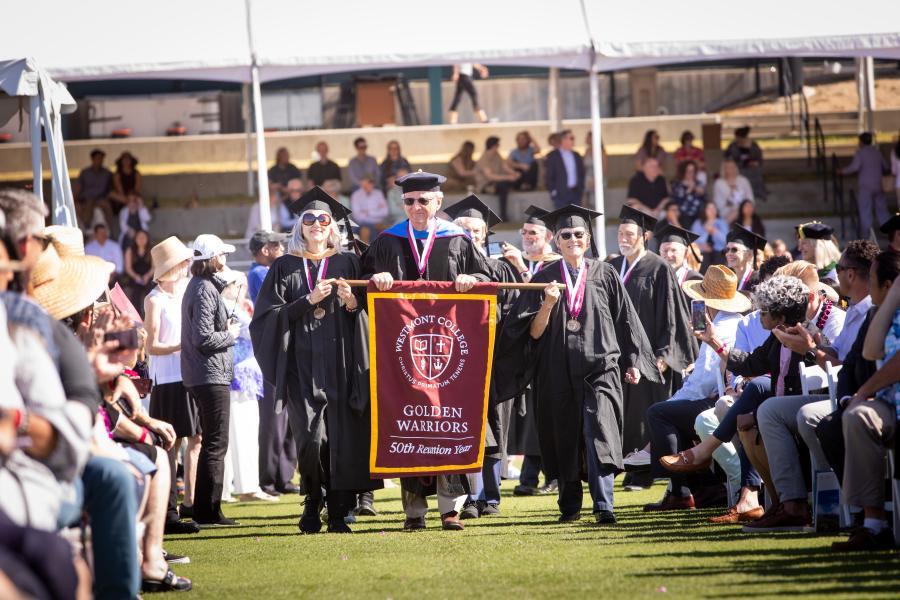 Under a cloudless blue sky with a warm, gentle breeze, 267 graduates walked across the stage to receive their diplomas on Thorrington Field, with 119 students earning honors.
A total for 117 Golden Warriors, who graduated in 1970, 1971 or 1972, marched in the procession to celebrate their 50th reunions. The group included Bill Wright '72, former longtime Westmont associate provost and director of off campus programs; John Draper '71, former assistant director of Westmont risk and emergency management; and Dana Alexander '70, longtime Westmont life planning director.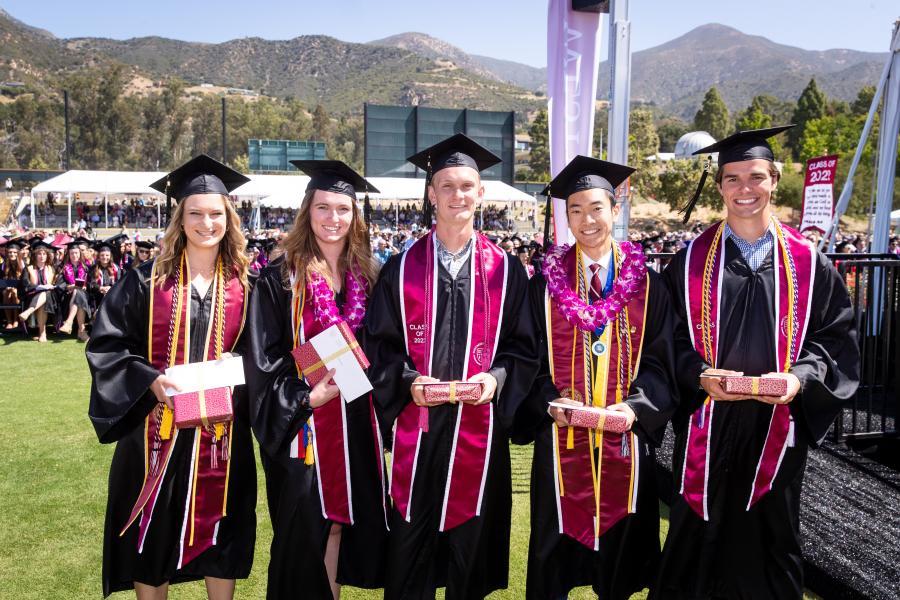 Edee Schulze, vice president for student life, presented the student awards. Patty Kerman (volleyball) and Jason Peterson (track and field) won Dean's Awards for their excellence in the classroom, superior contributions to their teams and deep faith in Christ.
Kong won the Dave Dolan Award for his campus leadership and significant contributions in the college's awareness and response to the social and spiritual needs of the community, the nation and the world.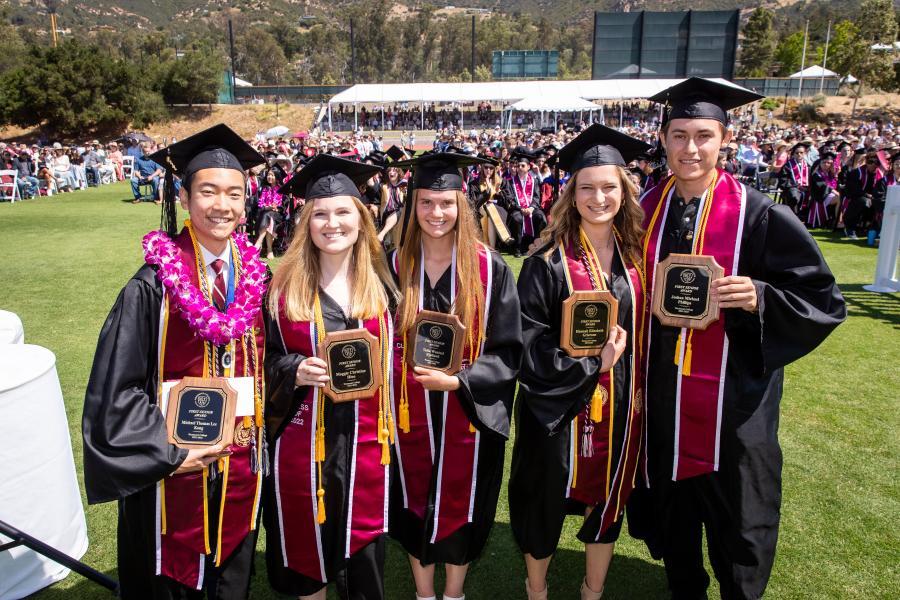 Hannah Grierson and Chapman Canlis won Kenneth Monroe Awards for demonstrating superior academic achievement in the classroom, excelling as leaders on campus, and influencing other students' lives through their integrity, character and faithfulness.
Acting Provost Rick Ifland gave the Faculty Scholarship Awards to Talia Bjelland, Grierson, Maggie Hine, Kong and Joshua Phillips, who all earned perfect 4.0 GPAs during their four years at Westmont.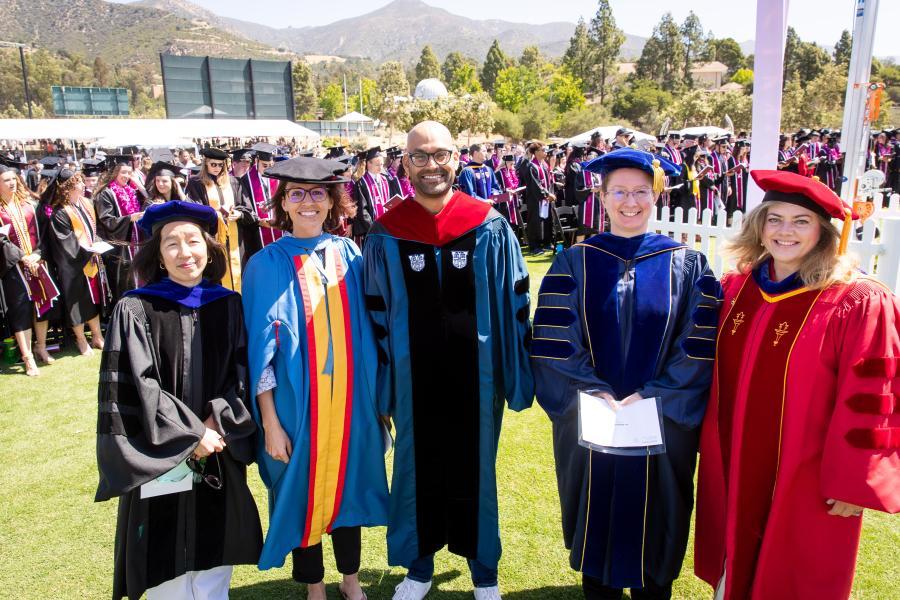 He gave the Bruce and Adaline Bare Outstanding Teacher Awards to four faculty members: Sameer Yadav (religious studies), Deborah Dunn (communication studies), Amanda Silberstein (chemistry) and Holly Beers (religious studies).
Felicia Song, professor of sociology, won the Faculty Research Award, given to a faculty member who, in the eyes of colleagues, models what it means to be a scholar. Her latest book, "Restless Devices: Recovering Personhood, Presence and Place in the Digital Age" (Intervarsity Press Academic), teaches how to live wisely in a digitally saturated society.
Westmont's Commencement was featured in Noozhawk and the Santa Barbara News-Press. 
---
Filed under
Alumni
,
Student
,
Student Stars
,
Campus News
,
Campus Events
,
Faculty and Staff