Back to the Garden New Sustainability Coordinator Grounded in Faith and Science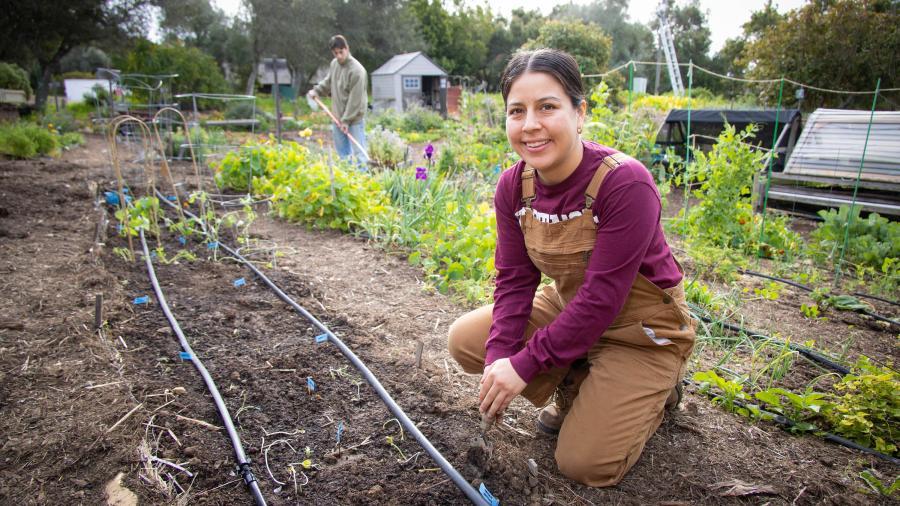 Janell Balmaceda uses a pitchfork to spread mulch over the walkways that weave between the garden rows below Thorrington Field. Student intern Peter Schramm '25 hammers together pieces from several wooden pallets to create new compost bins. This spring, the Westmont garden is flourishing again, thanks in large part to Balmaceda, Westmont's new sustainability coordinator and garden manager. A team of student volunteers began planting vegetables in March, which the Dining Commons served at the end of the semester. After some repairs, the chicken coop houses egg-laying hens.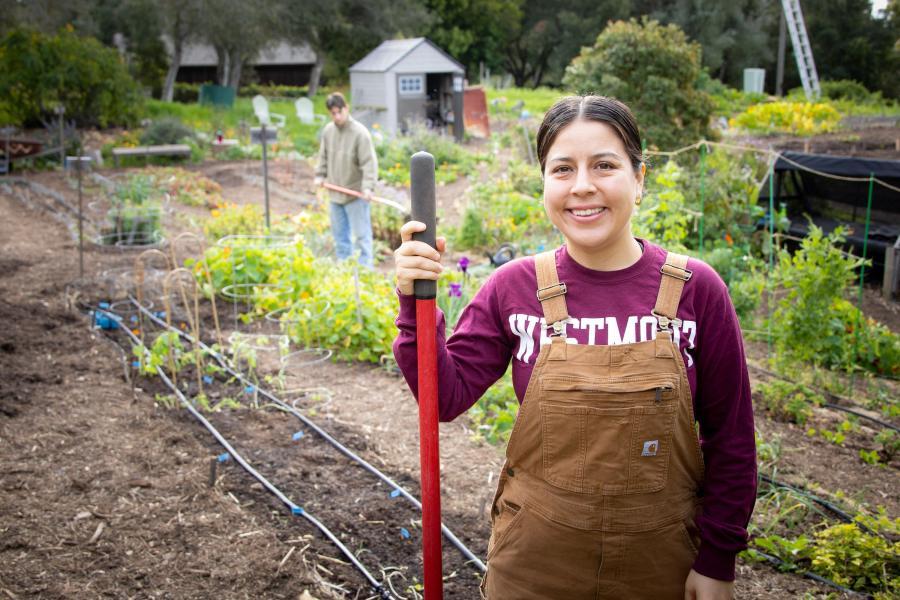 Balmaceda, who is completing her master's degree in conservation science at the University of Minnesota, oversees rows 11-20 in the garden. Rows 1-10 remain for faculty families, such as Andrew Mullen, Barbara Pointer and Amanda Sparkman, who have maintained the northern section of the garden for years. "It's because of them the garden is still alive," Balmaceda says. "I value them."
She is brainstorming new initiatives and connecting with students and faculty to make Westmont more environmentally friendly. "Right now, we're focusing on sustainability in our food," she says. "In partnership with Bon Appétit, our food service, we're planning panel discussions, a cooking class in the Global Leadership Center, and connecting with student life and academics to holistically approach food sustainability on campus."
Just days before, students in Professor Sarah Johnson's nutritional biology lab planted their own row of greens in the garden. Balmaceda hopes to reintroduce promotions like Farm-Fresh Fridays, when all the vegetables in the D.C. salad bar come from the garden, and a smoothie bar using healthy produce from the garden.
Balmaceda's position, funded through a grant from the Arthur Vining Davis Foundation and Westmont's Office of the President, includes coordinating Faith. Climate. Action: A Workshop on Christian Climate Advocacy. In her administrative role, she has assisted with travel arrangements for about 30 students from 10 different members of the Council for Christian Colleges and Universities (CCCU) to attend the summer workshop.
"We knew we needed a big personality, somebody who metaphorically and literally wants to get their hands dirty, to dig into this new position and work with lots of different people on campus," says Eileen McQuade, associate dean of faculty. "Janelle is a godsend and a great fit for this role."
"I've always dreamed of bringing together science and my faith, because my faith informs everything I do," Balmaceda says. "Working at a Christian college is incredible. Westmont's location is absolutely gorgeous and stunning — it's a great place to show other Christian colleges how to use a community garden to engage people and to work toward sustainability.
"Our foundation is scripture. The work we're doing here prepares us for Jesus' return. He'll be the lead restoration ecologist, and heaven and earth will become one with all things made new through and by and for Christ."