Student Researchers Go Outside for Symposium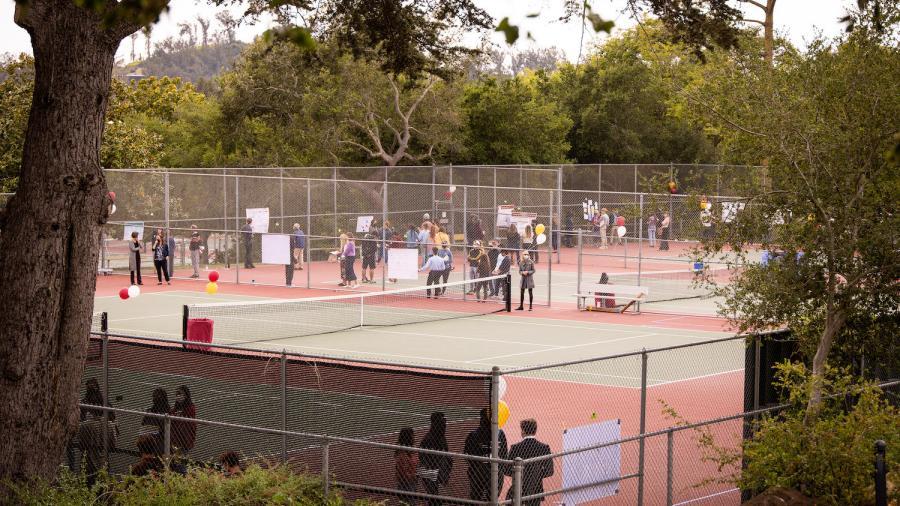 The 25th Annual Westmont College Student Research Symposium, celebrating more than three dozen research projects by 50 students and their professors, is moving outdoors on Thursday, April 22, from 3:30-5 p.m. The event is not open to the public.
While in 2020 we needed to have this event virtually, this year, student presenters will set up posters inside the top-most tennis courts and attendees will walk through the presentations in a one-way direction. Masks and physical distancing will be required.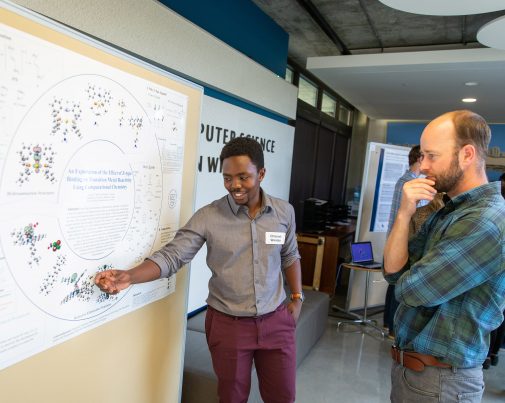 "One of the hallmarks of Westmont College's academic program is the opportunity for undergraduate students to work directly with faculty on research projects," says Eileen McMahon McQuade, associate dean of the faculty and professor of biology.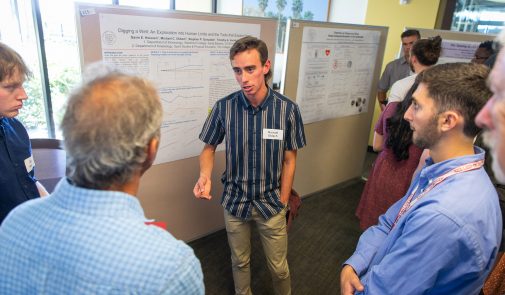 Students will present the findings of the research they have been working on for the past year from all three divisions of the college: humanities, social sciences, and the natural and behavioral sciences.
The student researchers are Morgan Alloway '22, Tyler Austin '21, Chloe Blish '21, Karis Cho '21, Kendra Dayton '21, Bryan P. Dionisio '22, Renn Duncan '21, Alexandra Ebert '21, Brendan Fong '21, Sarah Garland '21, Brook Gauthier '21, Winston Gee '21, Brianna Gilman '21, Charis Isabel Guerzo '21, Hayden Guthrie '21, Christopher Hanessian '21, Anastasia Heaton '21, Jessica Herdrich '21, Maggie Hime '21, Emma Hoerauf '21, Isabelle Hugoniot '23, Taylor Jennings '21, Nick Jensen '21, Jason Joseph '21, Trent Keeler '21, Tiana Krukar '22, Chloe Liebengood '21, Asher T. Littlejohn '24, Joe Lorentsen '21, Rachel Lorson '22, Kyle Mayl '21, Kristen Mohrhoff '21, Zackery E. Moreau '21, Marliss Neal '22, Katie L. Nili '22, Faith Palombi '21, Leila Parker '21, Laura Joy Phillips '21, R. Christian Reynolds '21, Samantha C. Rosenhagen '23, Alexander Rurik '23, Rachel Schulz '21, Maisy Simmonds '21, Alice Solorzano '21, Daniel Staples '21, Valerie Swisher '21, Grant Thomas '21, Cassidy C. Tran '23, Seth Wilmoth '21 and Nadya Wisham '21.
---
Filed under
Academics
,
Admissions
,
Alumni
,
Campus Events
,
Campus News
,
Faculty and Staff
,
Featured
,
Lectures
,
Press Releases
,
Student Stars