Students Win Servant Leadership Awards
Two Westmont students won David K. Winter Servant Leadership Awards for showing vision, courage, humility, integrity and competence as leaders. Angela D'Amour, dean of student engagement, introduced the 23rd annual awardees, junior Joy Sturges from Redding and sophomore David Shiang from West Hills, on April 14 in Westmont chapel.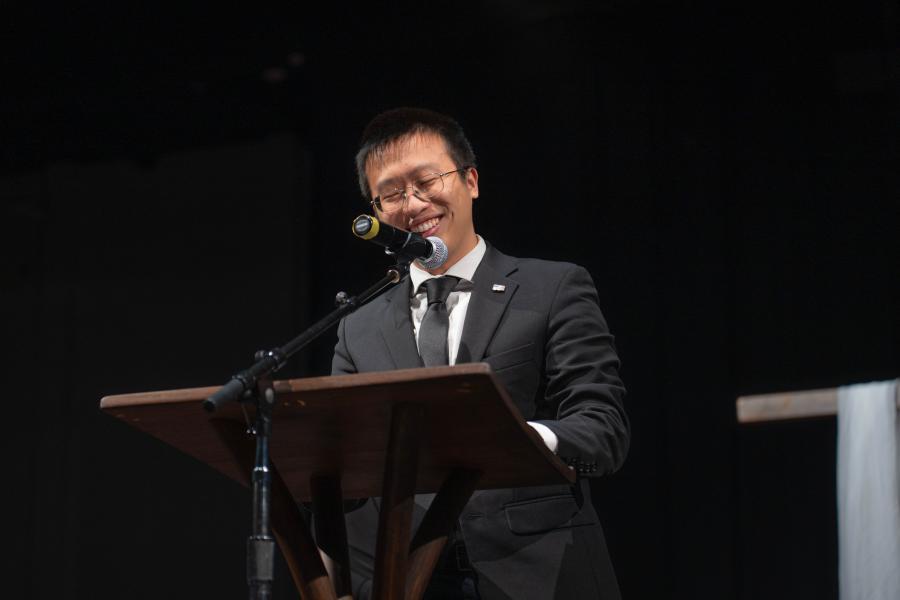 The award recognizes the late David K. Winter, who served as Westmont's president from 1976-2001 and returned as interim president and chancellor in 2006-2007. Both students earn $1,000 toward their academic scholarship.
"Each year when I read through the DKW nominations that you submit on behalf of your peers I am inspired, sometimes to tears, because I read about students who tirelessly make the lives of those around them better – who go out of their way daily to love and lead well following the model of Jesus," D'Amour said.
Sturges serves as a spiritual formation coordinator, a college choir chaplain and section leader, an Orientation team leader and a ministry intern.
A faculty member who nominated her said, "Joy's presence radiates to all around her. Perhaps this is because she's almost always singing something. But more than that, I believe it's because she embodies a deep love for others and a life devoted to following Jesus. She sings and laughs in a way that invites others to join in. She smiles and offers hugs wherever she goes. She is a listener ear to many of her peers, even when she herself is swamped with work."
Shiang serves as a residence assistant, a senator for the Westmont College Student Association, an Orientation team member and a ministry intern at Montecito Covenant Church.
A staff member said "David is joyful, intelligent, mature, and winsome. He is a faithful follower of Jesus. He is interning at his church, where he has helped them develop a league for local children. He goes out of his way to encourage me."