Symposium Offers Glimpse of Student Research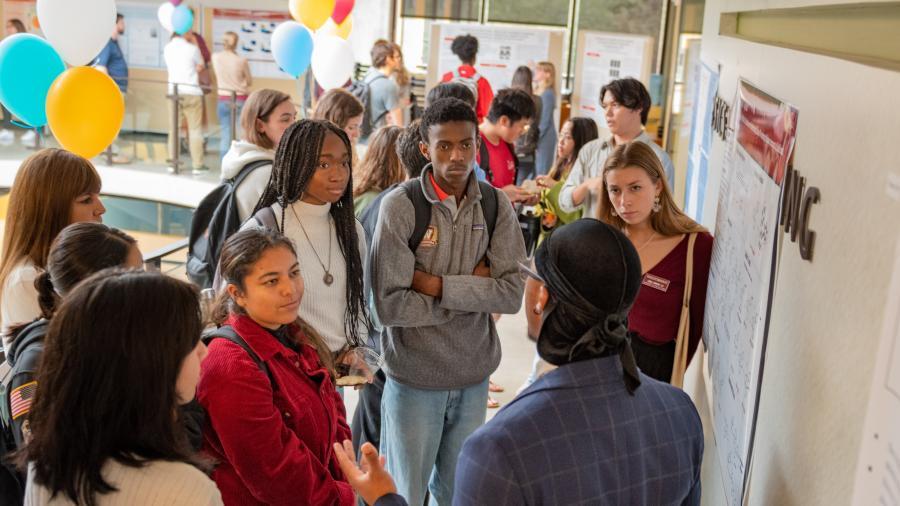 More than 40 Westmont students will present their findings on 29 posters at the 2023 Spring Student Research Symposium on April 20 from 3:30-5 p.m. around the Winter Hall third floor atrium. There will also be four students reading selections of their original works of fiction and poetry as part of their English capstone project.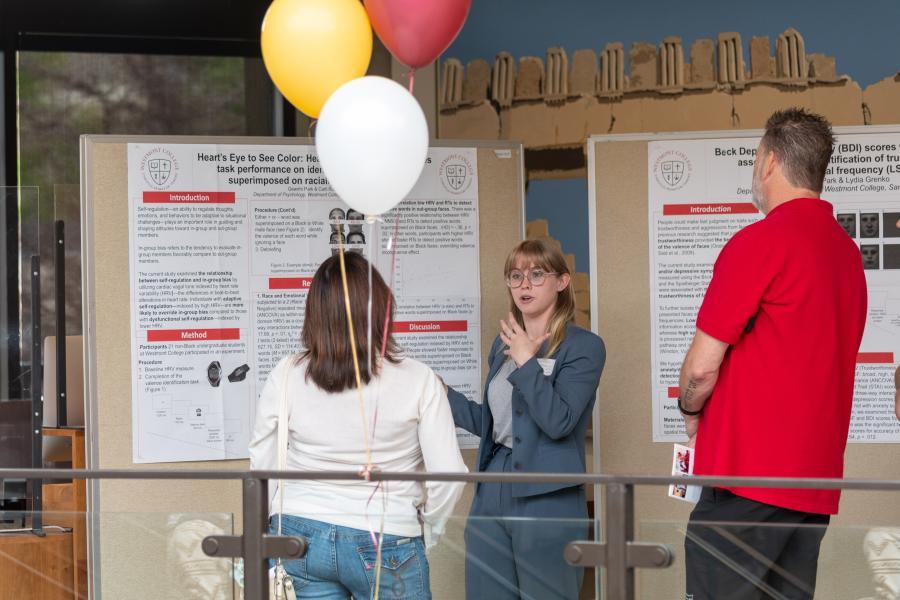 Topics included differentiating between species of gorgonian soft corals, "Iranian Activists' Use of Social Media for Social and Cultural Change," the correlation between heart rate variability and cognitive bias, "Investigations of Fetal Mortality and Injury Following a Motor Vehicle Accident" and "Gendered Work: Continuity of Cherokee Foodways in the Life of a 20th-Century Cherokee Woman."
One of the hallmarks of a Westmont education is the opportunity for undergraduate students to work directly with faculty on research projects.
Student researchers include: Sydney Azzarello '23, John Baker '23, Leannah Barreto '23, Lydia Bastian '23, Charlie Bloom '25, Nicole Bond '23, Riley Bream '24, Kennedy Burkett '26, Eliana Choi '23, Kylen Christiansen '23, Ashley Compton '23, Paige Freeburg '24, Esther Green '23, Emma Hammond '23, Ciboney Hellenbrand '24, Madison Huntington '24, Daniel Jang '23, Siena Keck '23, Bailey Lemmon '23, Michael Lew '24, Jordan Lewicki '23, Brooke Murphy '23, Camdon Park '25, Theo Patterson '23, Ashley Pitzen '25, Mariyan Popov '24, Gabriela Rego '23, Carli Roberson '23, Lillian Robinson '24, Sean Ryan '24, McKenna Sawitz '23, David Schaupp '23, Victoria Silva '23, Naomi Siragusa '24, Isaac Song '26, Madeline Stiles '24, Noah Tseng '24, Evan Tsuei '23, Ashley Vanyo '23, Raymond Vasquez '23, Arianne Vethan '25, Samie Watanabe '25, Monique Welch '23 and Grace Williams '24. The senior English majors who will be reading their works are Sydney Abraham, Caleb Beeghly, Luke Spicer and Margaret Taylor.