Parent News Parent Opportunities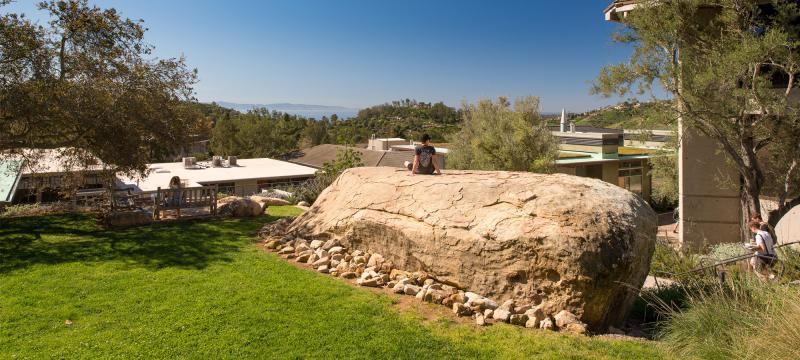 Grit
When psychologist Angela Duckworth uses this term in her book, Grit: The Power of Passion and Perseverance, she means "perseverance and passion for long-term goals." When I was growing up, my Dad would say to me "Pull up your bootstraps!" Or I was told "When the going gets tough the tough get going." So the message was be tough and wear boots with straps so you can pull them up!
At this point in the semester, students feel they have so much to do before May, and they're working hard to get it all done. Some have been straining for a while and most will stretch to the finish line to reach their goals, trying to find grit to endure to the end.
I remember a conversation with an anxious and depressed student years ago. Her father had told her she needed to "pull up her bootstraps; there's only four weeks left! You can do it!" She sat in my office with tears in her eyes and said, "I did. I pulled them up, and they broke." As she said this, her fists were clenched, grasping at invisible but torn bootstraps. She was trying so hard and needed a break or a break through.
Maybe your student has reached this point in the semester. You may hear tones of this in your conversations or texts with your son or daughter. While telling them to pull up their bootstraps may be the thing that's needed, here are some other thoughts about grit from Dr. Duckworth.
Develop a fascination. Ask your student what they find fascinating in their studies. Lifting up our heads beyond the daily grind and focusing on what is interesting can help develop grit.
Aim to improve yourself every single day. A little bit of specific attention to the task at hand each day gets us to the finish line. Of course, if poor planning has left little time for day-to-day implementation, this one won't work.
Greater purpose: If someone wants to develop grit, they're better off connecting it to a higher purpose than seeking pleasure from the activity, according to Duckworth. The most grittiest people see their activity as connected to a greater purpose. Ask your student about the greater purpose, the goal beyond the assignment.
Growth mindset: People can think about their capacities as fixed or malleable. When we think about our abilities as something we can change or grow, we develop grit. If not, we give up more easily. Does your student see him or herself as unable to develop? Or as one who has limited capability? We can all use the reminder that we can improve and get better at something if we develop a growth mindset.
When I'm struggling to make it to the end, I need a witness and a champion. I need someone to tell me I'm working hard and that what I'm doing is tough. Name it! Then I need someone who says "You've got this." My father died several years ago, and I miss him as a witness and a champion. Even more so, I miss knowing he is praying for me. Don't forget to bring your son or daughter before the Lord in prayer and put them in his protective and caring hands. We pray for your student as well. If you think of it, pray for the faculty and staff as well. We too need grit to get to the end of the semester!
Explore these Opportunities from the Gaede Institute
What does it mean to practice the liberal arts? Answers could include: Thinking deliberately about what biology has to do with theology or computer science with literature. Having conversations about what we're learning—and what that learning is doing in our lives. Cultivating habits of curiosity and broad-mindedness that keep us pursuing knowledge long past our undergraduate years.
Westmont established the Gaede Institute for the Liberal Arts in 2000 to help our community at Westmont and beyond become better practitioners of the liberal arts. The institute hosts conferences and lectures, supports first-generation students and students of color, brings the liberal arts to high schoolers just beginning to consider their college path, and creates opportunities for our own faculty to collaborate creatively—all with the purpose of inspiring people to integrate their whole education with their whole selves. Want to support the work of the Gaede Institute? Here are three opportunities to get involved:
A Conversation on Youth and Vocation, February 11. David Kinnaman is president of Barna Group, a research and education organization that keeps its finger on the pulse of American Christianity. Spend a morning with David thinking about how, in a changing world, we can help new generations pursue their God-given vocations. 
High Anxiety: Liberal Arts and the Race to Success, March 21-23. The Gaede Institute's flagship program, the Conversation on the Liberal Arts, gathers scholars, practitioners, students, and others who care about the present and future of liberal arts education. This year, we tackle student anxiety and the narratives about preparation and success that fuel that anxiety. We welcome parents to join the conversation. Learn more.
Trailhead: Seeking God's Call. Do you know any high schoolers who could benefit from a week to think about who they are, the gifts God has given them, and how they can participate in God's work in the world? Trailhead brings the best of Westmont's integrative approach to faith and learning to rising high school sophomores through graduating seniors. We're enrolling now for summer 2019. Learn more.
Cake. Did someone say CAKE?

Would you like to surprise your student with a cake? The student-led Potter's Clay core team will deliver cakes for any celebratory occasion. Order a freshly made cake, and the team will deliver it on the date you specify. Choose from vanilla, chocolate fudge, strawberry, red velvet, funfetti or a gluten-free brownie. Cakes cost $20 each and include a personalized message. Please order no later than three days before your student's birthday or special date to ensure a timely delivery. Celebrate your student's half birthday or send a cake for completing a difficult test. Think of all the occasions that can help you support your student. Order now for upcoming birthdays and special occasions.

Christian Trustmaker: Online Resource for Preparing or Updating Wills and Trusts
Wills and trusts provide vitally important protection your family by naming a guardian for your children, properly distributing your assets and avoiding a lengthy probate. Westmont offers an affordable online resource for alums, parents and friends of the college to prepare wills and trusts or to update your documents through Christian Trustmaker. Available plans include will, revocable living trust, powers of attorney for property and health, and advance medical directives. For more information, contact Mona Motte at mmotte@westmont.edu.
Chapel Is for You, Too!
Our new campus pastor, Scott Lisea, is doing a fantastic job of bringing the life-giving word of Jesus to our community. He and his team focus intently on providing deep and diverse opportunities for your student and our community to hear the word of God, experience community and grow in our faith. I encourage you to explore their website as it gives a wonderful window into the vision and mission of the campus pastor's office. You'll find it inspiring.
I also encourage you to go online and listen to the many engaging chapel talks your student has heard this semester. A variety of dynamic speakers have both challenged and affirmed our faith and walk with God. Listen to Pastor Scott's encouraging sermons as well as he takes us through Psalm 23 this year. You can hear these talks online.

Westmont's New Trailhead Program Helps High School Students Explore Their Calling
Westmont encourages our students to see their lives not as a race--a series of predetermined steps that will earn them "success"--but rather as a calling, an chance to bring all of who they are to God's work in the world. We're excited now to be able to share that perspective with high school students, who can easily find themselves jumping through pre-college hoops without much sense of significance or purpose. Trailhead: Seeking God's Call is a new program for high school youth ready to think deeply about their place in God's world. During a one-week summer residency at Westmont, students explore academic disciplines, encounter real-world needs, and reflect theologically on vocation and work. Then, in a yearlong mentorship with Trailhead faculty and church partners, they apply their experience as they continue to seek God's call at home.

If you know any high schoolers who would benefit from some time to pause, take stock, and listen for God, we'd love to have them with us at Trailhead next year. Our 2019 dates are June 14-21, June 22-29, and June 30-July 6. And if your church might like to work with Trailhead to support students' vocational journeys, we're always looking for new pastoral partners. Find out more at westmont.edu/trailhead, or drop us a note at trailhead@westmont.edu.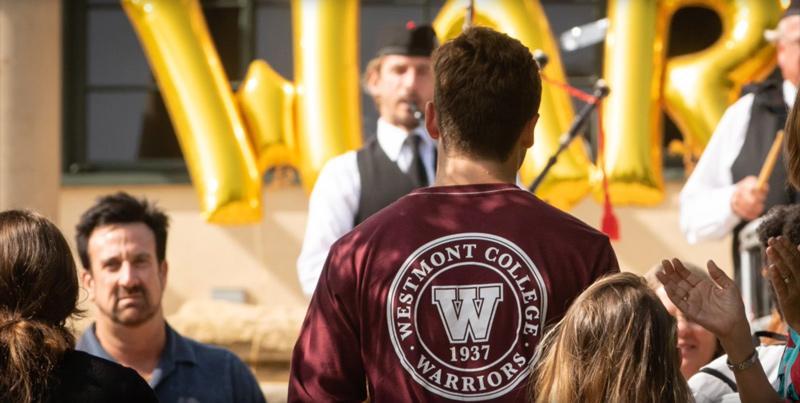 Learn Your Student's Class Verse
Each year, the student life team and student leaders choose the verse for the incoming class. Please pray for your student using these verses as a guide and inspiration.
Class of 2020: "Many are the plans in a person's heart, but it is the Lord's purpose that prevails." Proverbs 19:21
Class of 2021: "I know the Lord is always with me. I will not be shaken, for He is right beside me." Psalm 16:8
Class of 2022: "Guide me in your truth and teach me, for you are God my Savior, and my hope is in you all day long." Psalm 25:5
Class of 2023: "Let your roots grow down into Him . . .Then your faith will grow strong in the truth you were taught." Colossians 2:7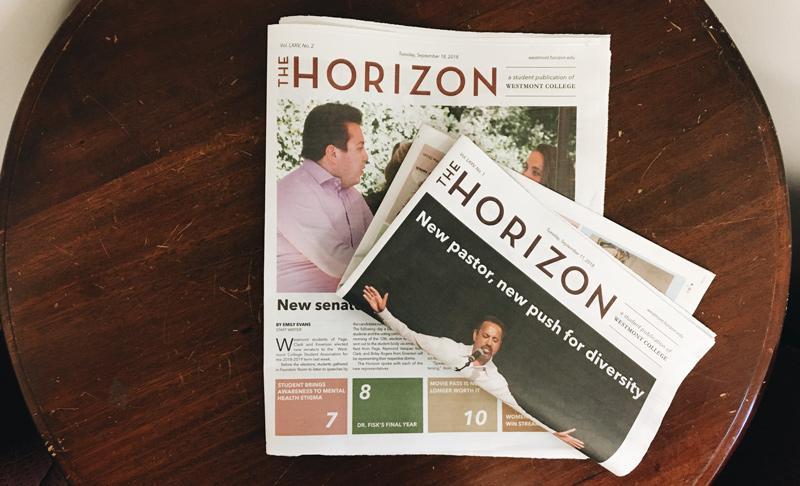 Extra, Extra, Read All About It
A subscription to Westmont's weekly student newspaper, the Horizon, will give you a taste of college events and issues being discussed on campus as well as stories about athletics, residence hall life, faculty activities, perspectives on faith-related issues and other topics of interest. Annual subscriptions cost $65 or $40 a semester. Click Here to Order

Be the Best-Dressed Parent in Town
Show your support for Westmont and your student by wearing Warrior gear from the Westmont Bookstore. Choose from an incredible selection of T-shirts, sweatshirts, jackets and jerseys as well as other Westmont merchandise. See a full selection and order online. Or, visit our store while on campus.