Parent News Westmont News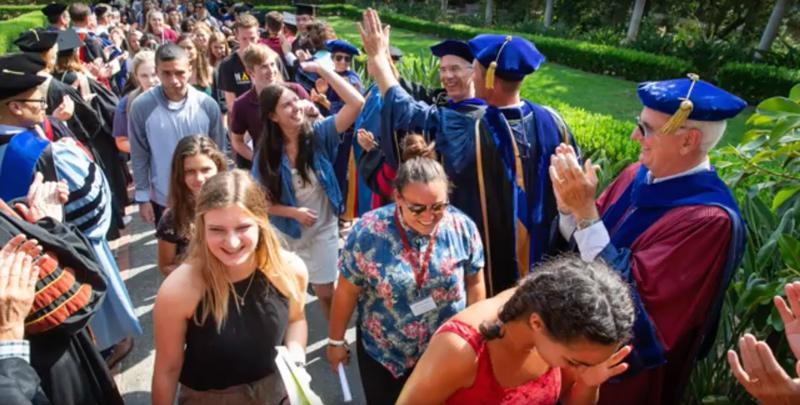 New Year, New Students: Get the Facts about the Class of 2022
We're excited to welcome our new class of students, one of the most diverse in Westmont history. They represent eight countries and 31 U.S. states. Thirty-seven percent are students of color with 14 percent identifying themselves as multiracial with two or more races. Thirty-eight percent are men and 62 percent are women. The top five majors include economics and business (14 percent), kinesiology (12 percent), biology (11 percent), psychology (9 percent), and chemistry (8 percent). Five percent come from Santa Barbara County. Nine of our incoming students are international, missionary or Third Culture kids. Eleven percent have not yet declared a possible major. Nearly 18 percent identify as the first in their family to attend college
Most of the first-year students were born in 2000, the first class to be born in the 21st century! That year, George W. Bush beat Al Gore for the presidency after a contested recount in Florida, the dot-com bubble burst, the calendar changed to 2000 without widespread computer failure despite warnings about Y2K, the first season of "Survivor" aired, and a gallon of gas cost just $1.26.

Learn the Latest About Westmont
Check the Westmont home page often to read the latest news about the college. You can also follow Westmont on Facebook, Twitter, Instagram and YouTube. You may also connect with us on LinkedIn, download the Westmont iPhone app and subscribe to our news feed.

Trailhead Offers Programs to High School Students
Westmont's Gaede Institute for the Liberal Arts offers two pre-college programs for high school students this summer: Trailhead: Seeking God's Call, a seminar for students interested in exploring the concept and content of vocation.
Read more

A Look Back at the Thomas Fire
This slideshow by Westmont photographer Brad Elliot provides a unique perspective.
Read more

We Celebrate Commencement May 4
Westmont Trustee Tom Nguyen speaks at Westmont's Commencement Saturday, May 4, at 9:30 a.m. on Carr Field. President Gayle D. Beebe presents the Westmont Medal to Sherriff Bill Brown and the KEYT local news team for their exemplary work during the Thomas Fire and debris flow in Montecito.
Read more

Grand Funds Second Phase of Whittier Science Building Renovation
The Fletcher Jones Foundation has awarded a $750,000 grant to Westmont for the second phase of renovation of Whittier Science Building, including classroom, laboratory and storage spaces. The next phase of work will take place during the summer, so Whittier will be completely renovated by fall 2018.
Read more

Respected General to Speak at Westmont's President's Breakfast
General Michael Hayden, an expert on cybersecurity and a retired director of the Central Intelligence Agency and National Security Agency will speak at the 13th annual Westmont's President's Breakfast on Friday, February 9, at Fess Parker's Doubletree Resort.
Read more