Degrees & Programs Psychology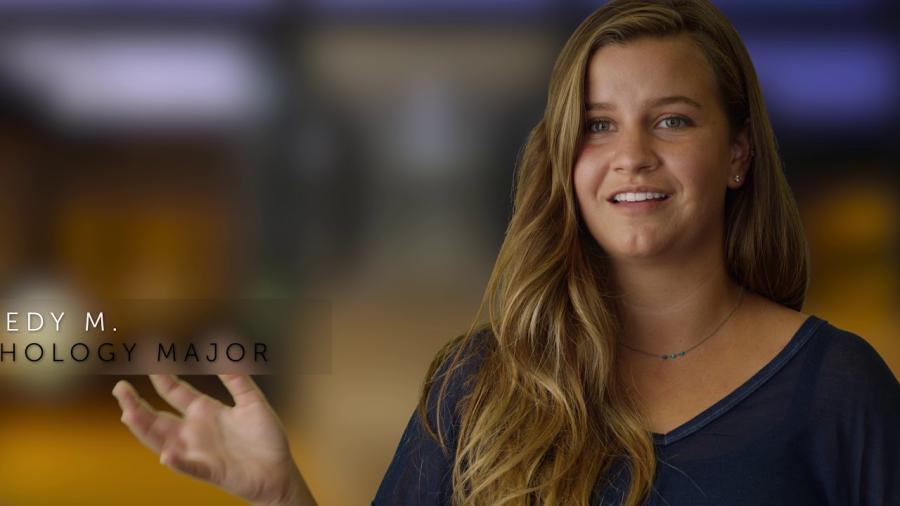 Gain a thorough grounding in the scientific discipline of psychology.
Discover how psychological knowledge informs your faith—and how your faith informs your understanding of psychology. Apply your knowledge through research with professors and present your work at academic conferences. Participate in local internships to investigate possible careers. Rugg's Recommendations on the Colleges gives our psychology program its highest rating. Psychology alumni attend nationally-known graduate schools, and local employers recruit them. Graduates have received honors such as a clinical post-doctoral internship at Harvard Medical School and a Ford Foundation Pre-doctoral Minority Fellowship. In 2015, Best Psychology Degrees named our program one of the top 10 Up-and-Coming Undergraduate Psychology Programs in the West.
Psychology Faculty Highlights
Judy Williams, Administrative Assistant
Anna VandeBunte, Laboratory Coordinator
Career Paths
Our graduates hold a wide variety of positions in the field of psychology. Many work in clinical or counseling, school, health, rehabilitation, and educational psychology. Some serve in industrial/organizational settings, marketing, and neuropsychology. Still others specialize in social, media, military, or forensic psychology. Our department works hard to ensure the success of our graduates.
Information from the American Psychological Association can help you decide whether you want to pursue a career in psychology and what kind of education you need to attain your goals.
The 56 Divisions of the American Psychological Association
Exploring these divisions will give you a sense of the breadth of psychology and the many areas in which you can specialize.
2018 Summer Research
Three students in the psychology department have received summer research fellowships:  Connor Gibbs and Anna Senft are working with Dr. Carmel Saad in social psychology, and Margaret Zielinski is working with Dr. Ronald See exploring the relationship between fluctuating levels of cortisol and electrodermal activity.
Learn More
Stress-induced self-control depletion and implicit bias
Professor Carmel Saad gave a presentation, "Stress-induced self-control depletion and implicit bias" at the annual convention of the Society for Personality and Social Psychology in San Diego. She also presented a paper, "The calming effect of cultural cues: Identity harmony moderates biculturals' affective responses to cultural cues," at the annual convention for the Association for Psychological Science in Chicago. Two of her students also presented their collaborative work with Carmel in Chicago. Anna VandeBunte joined Carmel for a presentation on "Biculturalism and Abstract Thinking," and Kirsti Stangeland presented with her on "Bicultural Identity Harmony as a Function of Social Context."
Brain Research
Professor Ronald See was the featured guest speaker for Brain Awareness Week (March 12-16, 2018) at the Faculty of Medicine, University of Ljubljana, Slovenia.  He presented several different lectures on a variety of neuroscience topics, including drug addiction, mental disorders, and sleep function.  He also conducted training for the communication of neuroscience topics to the public, and provided scientific consultation to the Institute of Pathophysiology.
Psychology Alumni
Megan Anders Taylor '11 graduated from Westmont with honors as a recipient of the Outstanding Senior Award in Psychology. She became a Licensed Marriage and Family Therapist (LMFT #97282) after finishing her Master of Marriage and Family Therapy at the University of Southern California in 2014. After graduate school, she completed her clinical internship at La Ventana Treatment Programs in Santa Barbara, working as therapist and transitional housing manager for its eating disorder program. Megan then served as therapist and clinical coordinator at Community Solutions for Children, Families and Individuals, acting as the primary 5150 hospitalization evaluator for adolescents in South Santa Clara County. She currently works as a cognitive therapist at Palo Alto Therapy, where she has a full-time caseload of Silicon Valley clientele. She is also developing a specialty in TEAM-CBT, focusing on treatment of anxiety and obsessive-compulsive disorders.
Hector De Los Santos '12 graduated from Westmont with a degree in psychology and worked as a residential coordinator for the YMCA in Santa Barbara for a year before attending Purdue University to pursue a doctorate in clinical philosophy. He serves as a teacher's assistant at Purdue.
Carissa Balderas '08 graduated from Westmont with a degree in psychology, earned a master's degree in couples and family therapy at the University of Oregon, and completed a doctorate in counseling psychology at the University of Georgia. She finished a doctoral internship at Emory University and serves as a postdoctoral psychology fellow in private practice and as Freedom University's mental health coordinator to ensure that undocumented students have access to affordable mental health care. A volunteer driver for Freedom University students, she ensures they have safe transportation to and from classes. Her research and clinical interests include Latinx psychology and mental health for immigrant and minority communities living within the United States.
Will Hochberger '11 graduated from Westmont with a degree in psychology and earned a Master of Science and a doctorate in clinical psychology at Rosalind Franklin University of Medicine and Science. He worked on research projects examining neurocognition in psychosis using statistical data analysis, computer-based experimental paradigm development, neuropsychological assessment administration and scoring, EEG-based task development and implementation for six years before he became a clinical research fellow at the UC San Diego Department of Psychiatry. He conducts neuropsychological research, trying to improve the long-term functional outcome of patients with chronic psychotic disorders, as well as performing cognitive and psych diagnostic assessments on inpatient and outpatients within the VA's neurocognitive screening clinic.
Resources for Current Students
Research participation, awards and honors, policies, and more.