Gayle D. Beebe, Ph.D.
Gayle D. Beebe became Westmont's eighth president in 2007 after serving as president of Spring Arbor University in Michigan for seven years. His inauguration in 2008 featured speeches by Steve Forbes, chief executive officer of Forbes, and Steve Sample, former president of the University of Southern California. Read more about the President.
A New Beginning and a Time to Commence

On May 4, we celebrate the graduation of 290 seniors from the class of 2019. Commencement is always one of my most favorite events of the year. It's such a joy for me to congratulate them and see the excitement in their eyes as they walk across the stage to receive their diploma. I look forward to shaking the hand of every senior and recognizing their significant achievements. I'm delighted that Walter Hansen, a Westmont trustee retiring after 17 years of service, will speak at the ceremony. I'll present the Westmont Medal to the Reverend Doctor Katherine Wiebe and alumnus Lindsay Parton '75 and his wife, Laurie. The class includes four veterans who served in the military before attending Westmont, and the first three Augustinian Scholars to graduate. We livestream the graduation service and invite you to watch it, beginning at 9:30 a.m. Read more about Commencement.
A Record 57 Students Present Their Research
One of Westmont's greatest advantages available to undergraduate students is the opportunity to work directly with professors on research and scholarly projects, which encourages them to experience the life of a scholar. This month, we recognized and celebrated the work of 57 students who presented the results of their research on 44 research projects in a variety of majors at our annual Research Symposium.  Their topics included identifying alligator lizards, the Danish rescue of Jews during the Holocaust, effects of perceived masculine sex role attitudes, and using machine learning to predict future donor giving. I encourage you to read more about the Research Symposium to engage with these impressive projects.
A Show for Seniors
Eight graduating art majors exhibit their capstone art projects, which include a variety of media—oil painting, photography, serigraphy, sculpture, assemblages and digital painting— at "OPEN/CLOSE: Westmont Graduate Exhibition" this month at the Westmont Ridley-Tree Museum of Art. The investigate themes of identity, self, friendship and the purely formal qualities of art. "They are a tenacious and inspiring group of seniors," says art professor Meagan Sterling.
The Westmont Choir Sets Out for the East Coast
The Westmont College Choir and Chamber Singers embark on their first tour of the East Coast May 5-14. The singers will perform a wide variety of music, including works by Ola Gjeilo, Eric Whitacre, Randall Thompson and Carly Simon, visiting Washington, D.C., Philadelphia, New York, Connecticut and Boston among other cities. The repertoire features themes such as stewardship of the Earth and grace and mercy. If you're in the area of their scheduled tour, we hope you'll attend a performance.
Magical Music by Mozart
"The Magic Flute" united the creative powers of our music and theater arts departments in an exciting new production of Mozart's comic opera the first week of March at the New Vic Theater. Professor John Blondell directed the production with Professor Michael Shasberger overseeing the music. Their successful collaborations include "The Pirates of Penzance," "Dido and Aeneas" and "Die Fledermaus." "Few small colleges tackle these productions," John says. Sold-out crowds exuberantly expressed their appreciation for the production. Charles Donelan, executive arts editor at the Santa Barbara Independent, wrote, "Using the stage at the New Vic as a blank canvas, the team responsible for Westmont's production of The Magic Flute painted a vivid and memorable moving picture full of delightful details and striking images." He concluded, "The Westmont Theater program, with the invaluable collaboration of maestro Michael Shasberger and his musicians, has discovered a bright new vein of creative inquiry in these opera productions at the New Vic. Here's hoping this fabulous and fun annual event becomes a tradition."
Westmont on the Road
I've enjoyed meeting a number of you at special receptions for alumni, parents and friends, where I've discussed exciting new college programs. This spring, we've hosted events in five cities, and Reed Sheard, vice president for advancement and CIO, Teri Bradford Rouse, executive director of alumni and parent relations, and representatives from the Admissions Office have joined me. In Santa Barbara January 10, we heard inspiring music from Christian singer-songwriter Steve Bell. On February 5, political science professor Tom Knecht spoke about "Civility and Public Discourse" in Washington, D.C. We held a reception in Tempe, Arizona, February 16 before hearing the Westmont Orchestra perform at King of Glory Lutheran Church. Professor Greg Spencer discussed his latest book, "Reframing the Soul:
How Words Transform Our Faith," in the Bay Area March 23. Steve Bell joined us again for the final event in Seattle April 26. We'll announce our schedule for next year in the fall, and I hope to see many of you at these events.
Spring Sing: Live from the Santa Barbara Bowl
Each year, students create hilarious musical skits for Spring Sing, our oldest tradition. With thetheme, Don't Try This at Home, the 58th annual event introduced a new element: all the skits were co-ed. A fewer number of entries allowed more time for entertaining side acts featuring professors, staff members and students. History professor Alister Chapman and George Mathen '20 served as emcees for the evening. Off-Campus students won the competition, with Van Kampen finishing second and Clark third. Not only do students make new friends during practices, but they enjoy the fun of performing at the Santa Barbara Bowl. For the first time, Admissions hosted a preview day around Spring Sing and many students said it solidified their decision to attend Westmont!
Parents Visit for the Weekend
Hundreds of parents traveled to Santa Barbara March 29-30 for Parents Weekend and Spring Sing. On Friday, they could attend class with their student and hear from Campus Pastor Scott Lisea. I spoke to them Saturday morning and answered questions. Two of our religious studies professors gave bite-sized lectures. Sandra Richter, Robert Gundry professor of biblical studies and an Old Testament scholar, addressed the concept of redemption and how it emerges from the tribal culture of ancient Israel. Telford Work, professor of theology, spoke on "How Christ's Threefold Office Heals Broken Relationships."
Seeking Answers About Student Anxiety
Why are student anxiety and performance pressures so prevalent at colleges and high schools? The Gaede Institute tackled this worrisome national issue at the 18th annual Conversation on the Liberal Arts, "High Anxiety: Liberal Arts and the Race to Success," in March. More than 70 scholars and administrators from 20 colleges and universities throughout the country participated in the discussion. We also hosted "The Rising Tide of Student Anxiety," a day-long workshop sponsored by the college and the Association for Christians in Student Development (ACSD). A pre-conference session for the Gaede Conversation, it drew about 60 officials from 14 different institutions. Read more about the Conversation on the Liberal Arts.
Spring Break Spent Serving Others
About 230 Westmont students spent spring break in March volunteering for various service projects in Los Angeles, San Francisco, Santa Barbara, Salt Lake City and Mexico. About 170 students traveled from Westmont to Ensenada for Potter's Clay, one of Westmont's longest-running traditions now in its 42nd year. Participants on the student-led service trip built homes, cut hair, prepared meals, led prayer and worship and provided medical and dental care for Ensenada-area residents. Other students worked with local organizations that minister directly to under-served populations in Santa Barbara, Los Angeles and San Francisco. About two dozen students went to Salt Lake City to participate in interfaith dialogue and reconciliation. Students initiate and lead these projects and raise all the funds needed.
Celebrating Women's History Month
During Women's History Month in March, we honored Ruth Kerr. Along with Wallace L. Emerson, the college's first president, she conceived the vision for Westmont that still applies today, and she served as a trustee and the college's chief benefactor for 30 years.
Paul Bradford, director of the Westmont Office of Career Development and Calling, commissioned Jacob Grant '18 to create an artistic piece featuring her. Jacob designed "Great Was Her Faithfulness," a large mosaic that hangs in the lobby of the Kerr Student Center incorporating many small photos of Westmont students throughout the years into an image of Kerr. We also hosted the fourth annual Westmont Women's Leadership Luncheon March 29 to encourage and inspire young women and recruit business owners, entrepreneurs and community leaders as mentors for our students. Megan Alexander '02, a Westmont alumna and Inside Edition correspondent, spoke on "A Seat at the Table: Why Women Must Pursue Careers of Influence."
Three Warrior Teams Win GSAC Championships
A Winning Season for Westmont Basketball For the fourth year in a row, the women's basketball team (24-7) won the Golden State Athletic Conference Tournament, the first time a GSAC team has won four straight years. The 10th ranked Warriors defeated No. 5 The Master's (26-6) 60-50 in the championship game. They competed in the NAIA National Tournament, where they lost in the first round. The men's team received an at-large berth at the NAIA National Tournament, where they lost in the first round to the No. 1 seed. 
Women's Tennis Wins GSAC Championships The No. 12 Westmont women's tennis team (19-5) defeated No. 16 San Diego Christian (16-3) 5-1 to win the Golden State Athletic Conference Tournament championship April 18 and also claimed the regular season championship. They've earned an automatic berth at the NAIA National Championship May 14-18. Men's tennis finished 8-12 and will enter several players in the upcoming Ojai Tournament.
Baseball Season in the Final Innings The No. 22 Westmont baseball team (34-13, 20-12 GSAC) has split its first two games of the five team, double-elimination Golden State Athletic Conference Tournament in Irvine. The Warriors beat The Master's 16-15 on a bases-loaded walk in the 12 inning of the first game. They lost to top-seeded William Jessup 11-2 in their following game. Earlier this month, Westmont honored 15 graduating seniors and completed a four-game sweep of then No. 23 The Master's April 12-13. Bryce Morison was named both the NAIA and Golden State Athletic Conference Baseball Player of the Week. In the last four-game series of the season, Westmont split two doubleheaders at Arizona Christian. Rob Ruiz became the winningest coach in program history, surpassing legendary coach John Kirkgard, who had collected 281 wins in 13 seasons (1984-1996). The National Championship Opening Round begins May 13-16, concluding May 24-31 in Idaho.
Track and Field Runs All Over Its Competition In the only dual meet of the year, the Westmont track and field team defeated Biola April 13, the men 134 to 29 and the women 88 to 75 on. Seven students automatically qualified for the NAIA Outdoor Championships: the men's 4 x 100 meter team (James Rincon, Pieter Top, Pedro Perez Espino, Jarad Harper; 41.45 seconds, the fastest run by a Warrior team since 1972); Toby Dunlap (men's shot put, 15.95 meters/52-4, placing him in the top-five Warrior shot putters); Sydney Marr (women's hammer, 54.24 meters/177-11, the third best throw in Westmont history, just shy of the school record she set the previous weekend, 54.92 meters/180-2); and Chena Underhill (women's pole vault, 3.65 meters/11-11 3/4). All the qualifiers won their event at the meet. The Warriors compete in the Golden State Athletic Conference Championships at Westmont April 26-27 and will send a large contingent to the Outdoor National Championships May 23-25.
Underhill Honored as SBART Scholar-Athlete Junior Chena Underhill of River Forest, Illinois was named the Santa Barbara Athletic Roundtable Scholar-Athlete of the Year from Westmont College. She has a 3.98 GPA as a political science and data analytics major and is a three-time NAIA Women's Track and Field All-American in the pole vault.  
 

The Earth is the Lord's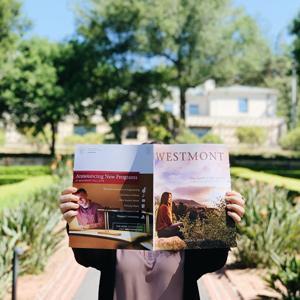 The spring issue of the Westmont Magazine has likely arrived in your mailbox. The feature story presents a biblical view of environmental stewardship by Sandra Richter, Robert Gundry professor of biblical studies. Paul Willis, professor of English, provides a beautiful narrative from his recent book, "To Build a Trail." I encourage you to read the magazine and pass it on to someone you know who would benefit from this publication and a connection with Westmont.
---
As the academic year comes to a close, I reflect on a year full of great momentum and growth. I can't imagine a more fulfilling role than serving the college and engaging with our dynamic and talented students and our dedicated and outstanding faculty and staff.
Blessings,
Gayle D. Beebe, Ph.D.
President