Winter 2022 President's Briefing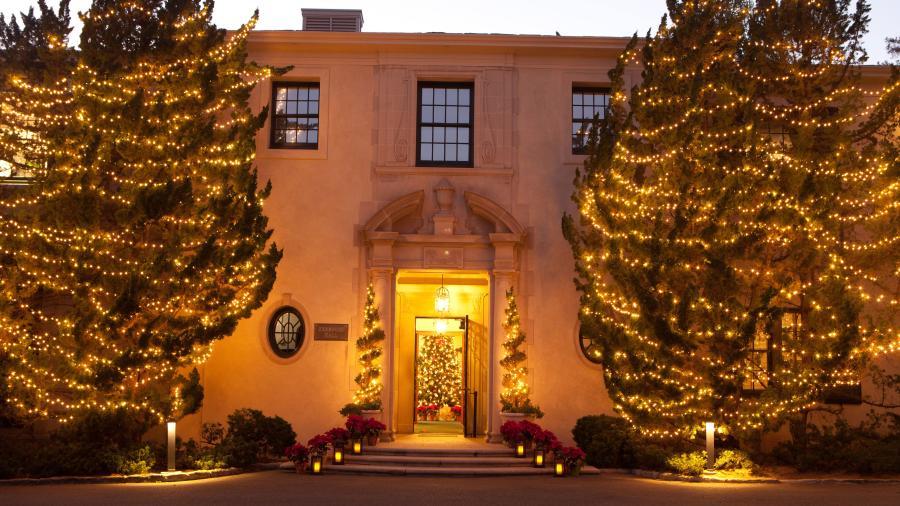 ---
Gayle D. Beebe, Ph.D.
Gayle D. Beebe became Westmont's eighth president in 2007 after serving as president of Spring Arbor University in Michigan for seven years. His inauguration in 2008 featured speeches by Steve Forbes, chief executive officer of Forbes, and Steve Sample, former president of the University of Southern California. Read more about the President.
---
Our 85th anniversary year officially kicked off with a packed ballroom on October 15 at the Santa Barbara Hilton Beachfront Resort. We honored 85 alums, professors, staff members and friends for their contributions to their communities, their professions and society. Hearing about the many ways they lead and serve throughout the world inspired us. Many alums shared how their experience at Westmont has guided and shaped their lives.
The evening included my remarks focused on "The Architecture of Excellence." One of the great responsibilities facing each new generation involves balancing the responsibilities to appropriately honor the past, effectively manage the present, and strategically map the future. We do this best when we commit ourselves to the habitual pursuit of faithfulness, the relentless drive for effectiveness, and the unending quest to make an ultimate contribution that outlives us, which all lie at the heart of our DNA as a college.
Various efforts now underway articulate our unique approach to education. Our history overflows with people animated by their faith, motivated by their intellect and willing to embrace deeply held commitments that inspire a lifetime of learning, leadership and service. Cultivating this commitment through the partnership of our educational program and student life activities outside the classroom has given us a unique and enduring role in preparing generations of alums who now lead and serve in every sphere of society.
Westmont ABSN Nursing Dedication
Part of our Homecoming activities included the dedication of our Accelerated Bachelor of Science in Nursing (ABSN) at 26 W. Anapamu. In October, we joyfully dedicated the building housing our nursing program at 26 W. Anapamu, naming it Westmont Downtown | Grotenhuis Nursing. David Grotenhuis '63, who graduated from Westmont, and his wife, Anna, responded generously when Lady Leslie Ridley-Tree encouraged them to support the program. Applications are open for fall 2023 so please refer students and help us recruit the next cohort.
Exciting Updates to New Downtown, Engineering Buildings
This past year, we purchased 29 W. Anapamu, giving us 30,000 square feet in two buildings directly opposite each other. We join with the Santa Barbara community to pursue programs and purposes that matter in the downtown area. We'll make new programs available at this site, including an initiative to provide a one-year program in theological leadership for pastors and lay people on the south Central Coast. Look for more information that will be released on the website soon.
The engineering program will move into its new facility on lower campus by the end of the year to get ready for the spring semester. ABC NewsChannel 3-12 featured their annual remote-control-car race and awards ceremony on local news.
Relaunching Study Abroad Programs
Westmont successfully resumed several overseas programs that shut down during the pandemic. Off-Campus Programs happily relaunched a cohort of 21 students to Westmont in Mexico with professor Mary Docter, and 18 students studied with professors Chris and Cheri Larsen Hoeckley during England Semester. A dozen students attended affiliate programs in eight countries: France, Uganda, Spain, Austria, Italy, South Africa, the United Kingdom and New Zealand.
Faith. Climate. Action. A Workshop on Christian Climate Advocacy
We're pleased to announce that Westmont will host Faith. Climate. Action: A Workshop on Christian Climate Advocacy that will attract about 40 students and faculty from the Council for Christian Colleges and Universities and 10 InterVarsity student leaders this summer. Co-chairs Amanda Sparkman and Marianne Robins have thoughtfully organized the event and secured a nearly $500,000 grant from the Arthur Vining Davis Foundation. We hope these efforts will make Westmont a flagship campus for sustainability.
MLK Scholar Shares Insights at Luncheon
It was great to welcome Dr. Clayborne Carson to campus to speak on the shared legacy of Martin Luther King Jr. and his wife, Coretta Scott King, at a Mosher Center luncheon in November. A world-renowned and acclaimed Martin Luther King Jr. scholar, Carson brought a greater depth of appreciation for and clarity to King's life. Read more about his visit to campus here.
New Director Supports Martin Institute
We've welcomed Steve L. Porter to Westmont as the new senior research fellow and executive director of the Martin Institute for Christianity and Culture. A longtime professor of spiritual formation, theology and philosophy, Steve is developing new programs and initiatives to extend the reach and influence of the Martin Institute in ways consistent with its mission. Follow the Advent series on the Martin Institute website.
Festival Ushers in Christmas
We celebrated the Christmas season at the glorious 18th Annual Westmont Christmas Festival, "The Prince of Peace," at the Granada Theatre. It was especially gratifying to see this wonderful tradition continue as a gateway to the Christmas season. Special thanks to Zig Reichwald, Ruth Lin and Daniel Gee and all the amazing musicians who brought this program to life.
Warriors Reach New Heights
Warrior teams have dominated this fall with the women's soccer and volleyball teams competing deep into their national tournaments. Men's basketball recently knocked off the top-ranked team in the NAIA, and women's basketball has earned a No. 2 ranking in the nation. Zola Sokhela captured his 13th career NAIA All-American honor at the NAIA Cross Country National Championships. Westmont golfers made history during the fall. First-year student Mallory Hopper became the first Warrior golfer to win an event. Weeks later, the women's team continued to make headlines, winning the Danish Classic. In September, the men won both the GSAC Battle at El Dorado and the Shootout at Rustic Canyon.
Women's swimming continues to break records and qualify swimmers for nationals. Bailey Lemmon won two individual events and improved her school record in the 50-yard butterfly. Ella Chaisson set a new Warrior record in the 100-yard individual medley. The Warriors have won the overall Golden State Athletic Conference All Sports Award nine straight years and hope to secure a 10th before transitioning to NCAA Division II.
Westmont's 2023 President's Breakfast and Lead Where You Stand Conference
World-renowned presidential historian and Pulitzer Prize-winning author Doris Kearns Goodwin returns to speak at the 18th Annual President's Breakfast on March 10, 2023, at the Hilton Santa Barbara Beachfront Resort. Tickets go on sale February 10. The first President's Breakfast speaker we've invited to return, she offers engaging and profound insights into the lives of American presidents. We hope you'll join us for what will surely be another memorable event. Look for registration information soon on the website.
Save the dates for next summer's Lead Where You Stand Conference with New York Times Columnist David Brooks on May 31-June 2, 2023, in the Global Leadership Center. The three-day event will offer insights on effective and purposeful leadership. Look for an announcement about other keynote speakers in the next few months.
Remembering Lady Leslie Ridley-Tree
I had the privilege of speaking at the memorial service for Lady Leslie Ridley-Tree, who passed away peacefully October 3. Her life made a profound impact on me and her generosity has meant so much to the work and forward momentum of the college. She touched the lives of so many people and organizations in the Santa Barbara community, and we're grateful. There's a beautiful video capturing her reflections about Westmont here.
Forward in Faithfulness
At the 85th Gala, we announced the launch of the largest fundraising campaign in the college's history, Forward in Faithfulness. Through generous gifts from alums, parents, foundations and friends — including the two largest gifts in the college's history — the campaign has already raised more than $197.1 million of the $250 million goal. Leading priorities include: Christian leadership programs; educational affordability and access; athletics and the college's transition to NCAA Division II; new academic programs, centers and institutes; and global programs. 
The campaign focuses on giving our lives to purposes that will outlive us by honoring God and contributing to the betterment of society. 
Each new generation of Westmonters lives with the expectation that they'll honor the legacy of our founders by pursuing the greater good and investing their lives in purposes that matter.
Westmont's 85th Anniversary Magazine
The anniversary issue of Westmont magazine should arrive in your mailbox soon. The stories and features highlight 85 years of the college's growth and progress. I trust you'll keep this commemorative issue and pass it on to a friend or a prospective student.
We've enjoyed a fall season filled with activities at Westmont! Our students, staff and faculty look forward to the forward to the Christmas break to spend time with family and friends. From our family to yours, Pam and I wish you God's blessings as you celebrate Christmas and the birth of our Lord Jesus Christ.
God's blessings,
Gayle D. Beebe, Ph.D.
President