President About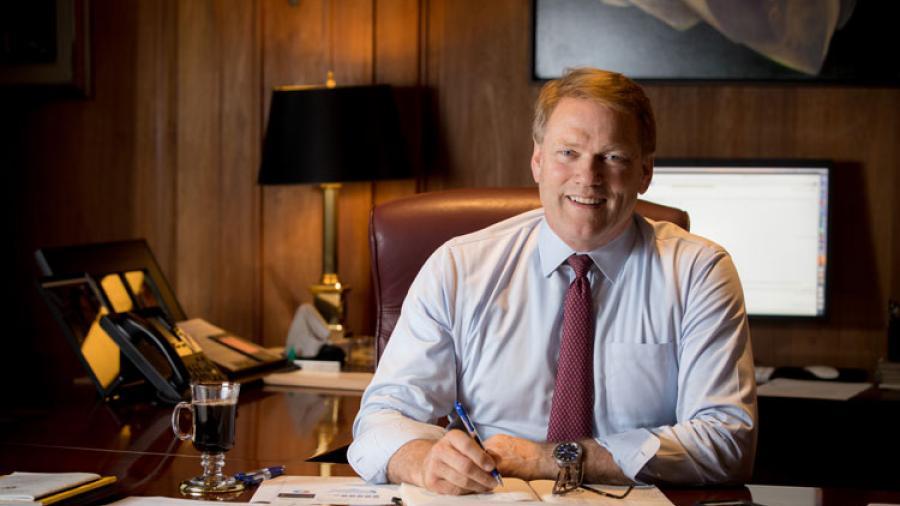 When Gayle D. Beebe became president of Westmont in 2007, he quickly launched a strategic planning process that has helped produce significant results in many areas: establishing a strong financial base for the college; completing the campus master plan; building essential new facilities and renovating existing structures; creating exciting new academic programs both on and off campus; and raising substantial funds to accomplish several ambitious goals.
Seeking to address the challenges facing private higher education in the 21 st century, the college has pursued a range of innovative initiatives that have extended Westmont's reach and influence. These include the creation of the Martin Institute for Christianity and Culture, the Dallas Willard Center for Spiritual Formation, the five centers associated with the Global Leadership Center (the Mosher Center for Moral and Ethical Leadership, the Hughes Center for Neuroscience and Leadership, the Goble Center for  Diversity and Global Learning, the Eaton Center for Entrepreneurship and Innovation, and the Montecito Institute for Executive Education), the expansion of Westmont's global programs, the development of Westmont Downtown and the purchase of the building at 26 W. Anapamu that houses our downtown programs, a new major in mechanical engineering, and an Accelerated Bachelor of Science in Nursing (ABSN) degree beginning in spring 2022, pending approval from the California Board of Registered Nursing.
Westmont's commitment to blending the liberal arts with deep Christian faith has inspired innovative approaches to engineering that incorporate excellent technical and scientific training, creative design and collaboration, and moral imagination. Similarly, Westmont's proposed ABSN program, the only accelerated nursing program in the region, focuses on a ministry of health and wellness with an emphasis on compassionate care. The college approaches both engineering and nursing from the perspective of the liberal arts and the development of the whole person.
During this time, the college has raised more than $250 million for Westmont through efforts such as the Bright Hope for Tomorrow capital campaign, the Strength for Today capital campaign, and the Campaign for Westmont (now underway). Together, these efforts have helped fund the construction of Adams Center for the Visual Arts, Winter Hall for Science and Mathematics, an observatory and renovated athletic facilities, the Global Leadership Center and other smaller projects adding 81,300 square feet to campus and five programmatic institutes and centers. The current campaign has helped fund many programs and projects, including the Augustinian Scholars Program and several new academic majors and minors. The Westmont Ridley-Tree Museum of Art received its first substantial donation to the permanent collection in 2012: 11 paintings by Jean-Baptiste-Camille Corot. In addition, the college has renovated 44,565 square feet in nine buildings.
In addition, the college has faced and survived a variety of serious crises in recent years, including: the 2008 Tea Fire that destroyed eight college buildings, 14 faculty homes in Las Barrancas, and about a third of the vegetation on campus; the 2017 Thomas Fire that forced the college to evacuate for weeks; the deadly 2018 mudflow in Montecito that forced additional evacuations; and the COVID-19 pandemic.
An active scholar, Beebe has published numerous articles and edited several publications. His latest book is "The Shaping of an Effective Leader: Eight Formative Principles of Leadership" (InterVarsity Press, 2011). He co-authored "Longing for God: Seven Paths of Christian Devotion" with Richard Foster (InterVarsity Press, 2009), and he spent five years working with Foster, Dallas Willard, Lynda Graybeal and Thomas Oden to produce the acclaimed Life with God Bible.
Beebe attended Westmont for a semester in 1980 while earning his bachelor's degree at George Fox University in Oregon. He received master's degrees in divinity from Princeton Theological Seminary, in philosophy of religion and theology from Claremont Graduate University, and in business administration in strategic management from the Peter F. Drucker School at Claremont Graduate University. He completed a Doctor of Philosophy in the philosophy of religion and theology at Claremont Graduate University in 1997. Prior to becoming president of Spring Arbor University, he served as dean of the school of theology at Azusa Pacific University. U.S. News & World Report named Spring Arbor a top-tier university during Beebe's tenure as president there.
Beebe serves on a variety of boards, including the National Association of Independent Colleges and Universities. He and his wife, Pam, have three children who all graduated from Westmont: Anna '15, Elizabeth '17 and Ricky '21.