Degrees & Programs Biology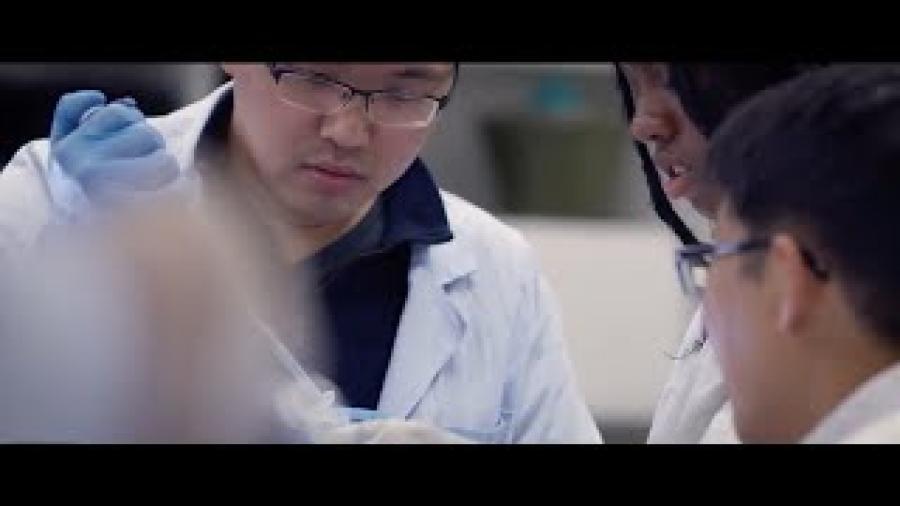 Dig deeper into the natural world as you explore living systems and human life in the lab and the field.
Work closely with Christian professors who introduce you to creative and rigorous scientific investigation in a classroom that includes the mountains, the coast and the Channel Islands. Through coursework and independent research, you learn laboratory techniques and field methods. You may even conduct advanced research with faculty and fellow students. Professors integrate biology and faith and discuss issues related to science, ethics and culture. Rigorous study combined with personal attention prepares you for rewarding and challenging work in the lab and the environmental, biotech and health fields.
Biology Tracks & Requirements
Biology Faculty Highlights
Amanda Sparkman, Ph.D., Department Chair
She studies the evolutionary ecology of reptiles
Beth Horvath, M.S.
She is an invertebrate zoologist working with Eastern Pacific gorgonian corals who loves spending time exploring tide pools up and down the west coast
Steve Julio, Ph.D.
His research explores a newly-discovered infection strategy used by the bacteria that cause whooping cough
Yi-Fan Lu, Ph.D.
He uses multi-electrode arrays (MEAs) to model human neurological disorders in the laboratory
Eileen McMahon McQuade, Ph.D.
Arthritic mice help her study autoimmune disorders
Jeff Schloss, Ph.D.
He's an internationally known expert on biology, love and religious belief
Westmont hosted southern California herpetologist meeting
This spring, Westmont was pleased to host "HerpFest 2020." 
HerpFest is a regional gathering of professional herpetologists and students who meet annually to present their work and create a network of support for research on reptiles and amphibians in southern California. 
Professor publishes monograph on Gorgonian Corals
Beth Horvath has now seen the publication of her large monograph on Gorgonian corals. It was published by ZooKeys as a Special Issue, #860, comprised of three separate articles in the one issue, and went public and on-line on July 4th—a unique form of Independence Day! As a result of this work, Beth will also be listed as a co-author on the 2019 revised NOAA West Coast Deep-Sea species list, which should be out sometime this spring.
Motion-detector cameras reveal campus wildlife
Lab Coordinator Nick Taylor has been testing out motion-detector trail cameras on campus to collect preliminary data that will be useful for independent student research projects.  So far he's captured a number of mammals on film, including striped skunk, raccoon, possum, gray foxes, and California ground squirrel.  One camera even caught an owl in flight--most likely a great horned owl, which are commonly heard on campus at night.
Biology students co-author research papers
In 2018, Dr. Amanda Sparkman published three papers featuring a total of eight student authors who made major contributions to the research while working in her lab.  These papers focus on the evolution of small body sizes in Channel Island reptiles, developmental phenology of wild Sierra Nevada garter snakes as revealed by field-portable ultrasound, and changes in western fence lizards living on college campuses (including Westmont).  For more details, go here.
Talks Focus on Science and Faith
Jeff Schloss spoke on "Cooperation and Survival in Evolutionary Biology" for Faraday Institute of Science and Religion at Cambridge University. He gave the opening and closing plenary lectures on "Evolutionary Explanations of Morality: Implications for Moral Realism" and "Red in Tooth and Claw?: Evolution and the Problem of Natural Evil" for national meetings of the Wesleyan Theological Society at Point Loma University. Jeff also led a seminar on "Beyond the 'Or Wars': Epistemological Conflict in the Battles Over Evolution" for the James Barrett Lecture Series in Humanistic Anthropology and the Public Discourse Project at the Humanities Institute of the University of Connecticut.
Professor Receives National Science Foundation Grant
Amanda Sparkman collaborates with biologists from Iowa State University and Penn State on an NSF grant, "Integrated Physiological, Genetic, and Demographic Responses to Long-Term Habitat Change." They study garter snake populations in the Sierra Nevada Mountains, and the grant includes summer research fellowships for two Westmont students every year through 2020.
Career Paths
Teaching (primary, secondary and college)
Health sciences (M.D., P.A., nurse practitioner, D.O., dentist, chiropractor, pharmacist)
Public health (epidemiology, policy, education, research)
Forensics
Museum sciences
Wildlife biologist
Park ranger
Ecology and conservation biology
Biotechnology
Genetic counseling
Environmental policy and law
Sustainable development
Veterinary medicine
Pharmaceutical industry
Agriculture
Environmental consulting
Environmental education
Intellectual property/technology law (J.D., L.L.M.)
See career paths for graduates who majored or minored in biology at Westmont.
Biology Alumni
Aaron Barnes '12 has graduated from Dartmouth Medical School and will stay at the school for his residency in vascular surgery.
Brothers Ben '15 and Jake West '14 are both medical students at Loma Linda University.
Aaron Wilk '16 graduated with a triple major in chemistry, biology and music. An outstanding concert pianist, he conducted scientific research with Westmont professors. Currently, he is in an M.D./Ph.D. program at Stanford University. The eight-year program will prepare him for a career as a physician/scientist.
A specialist in the narrow field of radiation oncology, David Bush '86 treats cancer patients from around the country. He works as a physician and professor at Loma Linda University Medical Center in Loma Linda, Calif., which has pioneered the promising technology of proton radiation therapy. He contributes valuable research about this form of treatment, seeking ways to help heal people with cancer.
Katie West '18 is getting her masters degree in physician assistant studies at Idaho State University Physician Assistant School.
Mary Elizabeth Heard '18 is working on a social enterprise, working with women, that she started in a small southern village in India.  She is also researching different sustainable agricultural methods that have been used to create job opportunities for village people there.  She has spent time in Dehradun where an organization is doing research on how sustainable farming can alleviate poverty.  She plans to intern with this organization in 2019.
Macy Gipson '19 is enrolled in pharmacy school at USC to earn her doctorate in Pharmacology over the next four years.   She is concurrently working on her Ph.D. in pharmacogenetics, which will take an additional three years, so she can practice as both a pharmacist and a scientist.