Degrees & Programs Biology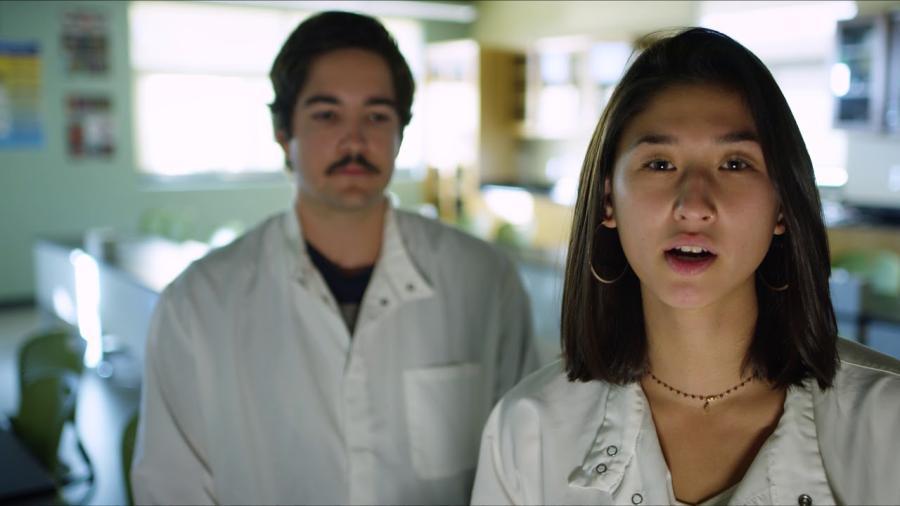 Dig deeper into the natural world as you explore living systems and human life in the lab and the field.
Work closely with Christian professors who introduce you to creative and rigorous scientific investigation in a classroom that includes the mountains, the coast and the Channel Islands. Through coursework and independent research, you learn laboratory techniques and field methods. You may even conduct advanced research with faculty and fellow students. Professors integrate biology and faith and discuss issues related to science, ethics and culture. Rigorous study combined with personal attention prepares you for rewarding and challenging work in the lab and the environmental, biotech and health fields.
The biology department offers three options leading to a bachelor of science degree in biology—a general track providing a comprehensive introduction to all areas of biology, a more specialized track emphasizing cellular and molecular biology and a track emphasizing environmental biology and natural history. Each track is comprised of lower-division courses in biology, mathematics, and physical sciences, plus a variety of required and elective upper-division courses.
General Biology Track

Cellular and molecular biology track

ecology, evolution, and natural history track
The bachelor of arts major in biology consists of lower- and upper-division course work in biology and supporting physical sciences and mathematics. The program is designed for students who wish to obtain a strong preparation in biology, while also obtaining a broader exposure to courses outside the major than is generally possible with a bachelor of science degree.
Biology Minor (20 Units)
BIO 5, 6 General Biology I, II (4,4)
Upper-division BIO Electives (12)
Biology Faculty Highlights
Marilyn Jenks
Administrative Assistant
Email: mjenks@westmont.edu
Tel: (805) 565-6151
Office: Whittier Hall 126
Career Paths
Teaching (secondary and college)
Health sciences (M.D., P.A., nurse practitioner, D.O., dentist, chiropractor)
Public health (epidemiology, policy, education, research)
Forensics
Museum sciences
National Park Service (park ranger, fish and wildlife biologist)
Ecology and conservation biology
Biotechnology
Genetic counseling
Environmental policy and law
Sustainable development
Veterinary medicine
Pharmaceutical industry
Agriculture
Entrepreneurism
Biology Students Conduct Summer Research
The two students in Steve Julio's lab, Rachel Maragliano and Coleman Schaefer, are investigating the role of a genetic control system in the whooping cough bacteria, Bordetella. Kenny Chism and Nicole Kabey are studying reptiles and wolves with Amanda Sparkman.
Professor Speaks at International Conference
Every three years, several hundred scientists—clinicians, epidemiologists, and basic researchers—meet to report on the bacteria that causes whooping cough. In April 2016, Steve Julio gave one of the plenary addresses at this event, the 11th International Bordetella Conference in Buenos Aires, Argentina. He spoke on "BvgAS activity in the lower respiratory tract requires the PlrSR two-component regulatory system."
Student and Professor Present Poster of Their Work
Eileen McMahon McQuade and her major honors student Tyler Paras co-presented a poster of his work, "The gut microbiome influences arthritis development in IIJ mice," at the American Association of Immunology (AAI) conference in Seattle in May 2016. Frank Percival assisted with the next-gen sequencing and analysis.
Professor Receives National Science Foundation Grant
Amanda Sparkman collaborates with biologists from Iowa State University and Penn State on an NSF grant, "Integrated Physiological, Genetic, and Demographic Responses to Long-Term Habitat Change." They study garter snake populations in the Sierra Nevada Mountains, and the grant includes summer research fellowships for two Westmont students every year for the next three years.
Talks Focus on Science and Faith
Jeff Schloss spoke on "Cooperation and Survival in Evolutionary Biology" for Faraday Institute of Science and Religion at Cambridge University. He gave the opening and closing plenary lectures on "Evolutionary Explanations of Morality: Implications for Moral Realism" and "Red in Tooth and Claw?: Evolution and the Problem of Natural Evil" for national meetings of the Wesleyan Theological Society at Point Loma University. Jeff also led a seminar on "Beyond the 'Or Wars': Epistemological Conflict in the Battles Over Evolution" for the James Barrett Lecture Series in Humanistic Anthropology and the Public Discourse Project at the Humanities Institute of the University of Connecticut.
Biology Alumni
Aaron Barnes '12 has graduated from Dartmouth Medical School and will stay at the school for his residency in vascular surgery.
Brothers Ben '15 and Jake West '14 are both medical students at Loma Linda University.
Aaron Wilk '16 graduated with a triple major in chemistry, biology and music. An outstanding concert pianist, he conducted scientific research with Westmont professors. Currently, he is in an M.D./Ph.D. program at Stanford University. The eight-year program will prepare him for a career as a physician/scientist.
A specialist in the narrow field of radiation oncology, David Bush '86 treats cancer patients from around the country. He works as a physician and professor at Loma Linda University Medical Center in Loma Linda, Calif., which has pioneered the promising technology of proton radiation therapy. He contributes valuable research about this form of treatment, seeking ways to help heal people with cancer.
Katie West '18 is getting her masters degree in physician assistant studies at Idaho State University Physician Assistant School.
Mary Elizabeth Heard '18 is working on a social enterprise, working with women, that she started in a small southern village in India.  She is also researching different sustainable agricultural methods that have been used to create job opportunities for village people there.  She has spent time in Dehradun where an organization is doing research on how sustainable farming can alleviate poverty.  She plans to intern with this organization in 2019.
Rob Ring '90 earned a doctorate in molecular neurobiology from the City of Hope in Duarte, Calif. He developed psychiatric medicines at Wyeth Research in Princeton, N.J., before becoming senior director and head of the autism research unit at Pfizer Worldwide Research and Development in Groton, Conn. He led the first dedicated research group in industry focused on medicines for neurodevelopmental disorders, specifically autism. He joined Autism Speaks in 2011 as vice president of translation research; in 2013 he became chief science officer of this organization, which funds autism research.