Westmont's writing center Writers' Corner
Writers' Corner, Westmont's writing center, is a creative space where student writers can find friendly "test readers" as they develop projects for professors, employers, and others. Tutors coach and collaborate with peers as they mature into more skillful and confident writers.  All tutorials are free of charge. Tutors are available 5 days a week (Sunday through Thursday), excluding the first week of classes, college holidays, and Finals Week.
In-person tutoring is available in the main writing center (Voskuyl Library 215).
Online tutoring is available by request. Online tutorials are hosted via our WCOnline website and include audio/video and text/chat tools.
Helpful Links
Spring 2023 Writers' Corner Schedule
Tutoring vs. Proofreading, or What Does it Mean that Tutors Don't Proofread?
Writers' Corner Policies and Procedures
Westmont College Academic Integrity Policy
For Faculty: Assignment Adoption Request Form
Questions? Contact the writing center director.
Our tutors are skilled writers who are nominated and trained by faculty. They are happy to assist peers with a range of writing concerns:
Genres of writing (understanding assignment prompts)
Invention (getting started)
Arrangement (getting organized)
Thesis statements
Paragraph development and structure 
Integrating sources
Common citation styles (MLA, APA, and Chicago/Turabian
Sentence style (grammar, mechanics, etc.)
Tutors are pursuing majors and minors in the following areas:
| | |
| --- | --- |
| Rebekah Aldea-Cruz | Kristiana Phillips: English, Philosophy |
| Gabe Farhadian: Economics & Business, Writing | Jacob Siaki: Philosophy, Psychology |
| Rebecca Huff: Liberal Studies, Music | Maddy Simonsen: Philosophy, Religious Studies |
| Hannah Landrigan: Communication Studies | Sarah Yamaichi: Political Science, Spanish |
| Rebecca Li: English (pre-law), Music |   |
|   |   |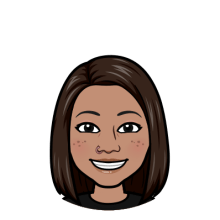 Rebekah Aldea-Cruz
Coming to Westmont, as an English major, was a scary step in the life of Rebekah Aldea-Cruz. As a non-traditional student 10 years past her high school graduation date, returning to college meant leaving behind her 700-book personal library and career in nonprofit administration, and the predictable. However, she has never enjoyed a book where the protagonist didn't leave on some timely adventure, battle the unknown, and have to fight for her future. She promises to fight bravely by your side to defeat writer's block and nurture the words that hide in the shadows. The first step is always scary, but she knows each of you is brave enough to take it. 
Areas of Study: English, Philosophy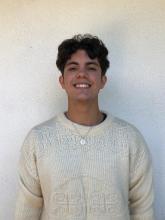 Gabe Farhadian
Gabe Farhadian is an Economics and Business major who periodically vacates the world of corporate models and Excel sheets for the abstractions of his Writing minor. Having traveled to places like India, China, Indonesia, and South Korea, Gabe finds that his experiences abroad and at home fuel his enjoyment of playing guitar, writing, and producing music. Gabe enjoys crossing sensory boundaries and employing contradictive elements to articulate visceral experiences: like attempting to produce melodies that sound like how a certain landscape looks. As a result of this pursuit, his prose may contain a made-up word or two—or three.
Areas of study: Economics & Business, Writing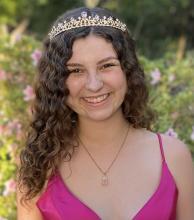 Becky Huff
Hailing from Chino Hills, California, Becky Huff is a Liberal Studies major with a concentration in Music. Having lived in SoCal her entire life, Becky enjoys long walks on the beach, dance parties, and, of course, anything Disney. Her hobbies include staring at sunsets saying "LOOK AT THE SKY!", sighing dramatically, daydreaming about things that will never happen, and singing Disney princess songs hoping it will get her prince to come (or at least encourage the Westmont birds and squirrels to help her clean her dorm). Having trouble getting started on your paper? She does, too! But she would love to stare at a blank screen with you and, after a few minutes, attempt to write something on it. Becky heavily endorses the reward system for those papers that just refuse to write themselves. She regularly uses cookies as a motivation for herself and because of that, will have cookies or other tasty treats ready to go should extra motivation be needed.
Areas of study: Liberal Studies, Music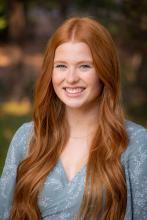 Hannah Landrigan
To know Hannah Landrigan is to hear her. From laughing at her constant Dad jokes to giving you the longest day recap you've ever heard (and no, it was not that interesting), it should come as no surprise to hear that she's a fourth-year Communication Studies major. As a native Washingtonian, she loves finding herself at Butterfly Beach for sunsets and far-too-often commenting on how the marine layer you're complaining about has nothing on the Pacific Northwest's constant cloud cover. Through endless readings and papers, she has learned to appreciate the art of silence, and the difficult task of capturing her rambling speech into concise and thought-provoking prose that still sounds like her. Not only does she want her writing to make readers feel as if they're sitting in her living room chatting with her over interesting topics, but also she wants you to feel that way when you stop by her tutoring hours. So bring on your drafts, outlines, and straight-up confusion and we'll chat, and eventually write, our way out of that writer's block you've been distracting yourself from with coffee runs and beach days. 
Area of Study: Communication Studies, Writing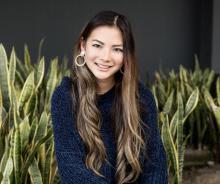 Rebecca Li
Rebecca Li firmly believes that life as we know it is woven from the tenacious fabric of words and music. For this reason, she is majoring in English and minoring in Music. Rebecca grew up in the traffic-swamped region that is Orange County, CA. Consequently, she has absorbed an abnormal amount of albums in their entirety while sipping boba and waiting at red lights. 
 
Areas of Study: English (pre-law), Music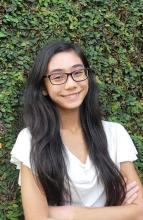 Kristiana Phillips
As an English major, Kristiana Phillips relishes wordplay. She'll admit, unabashedly, that she often has her head in the clouds (literally as well as figuratively): watching the sky shift with colors and wandering deeply into thought. Her propensity to ponder, complemented by an addiction to alliteration and a deep love of words, has made her a passionate poet—though she enjoys prose nearly as much. While her imagination is easily excited by creatures like the horned marten described in the Inkheart book series, she delights equally in reality (you may, for example, occasionally catch her stalking squirrels between classes). As an American citizen who grew up in Southeast Asia, Kristi has used writing to explore and process her sense of identity and belonging. She believes firmly in the power of words and would like to see herself as a Merlin-like figure in the lives of many Arthurs: scheming to help others draw the weapon of their own words from whatever stiff, metaphorical stone encases them.
Areas of study: English, Philosophy
Lillian Robinson
Lillian Robinson is a Biology major and Writing minor with a penchant for tree climbing, a troubling dependency on caffeine, and a deep and undying regret that she wasn't born 'cross the pond, where her random impulses to use a British accent would seem less out of place. Today, Lillian strives to live by Bill Watterson's timeless words of wisdom: "if your knees aren't green by the end of the day, you ought to seriously reexamine your life." What else should you know about her? She supposes little bios like this usually include where the subject is from. She decides to be a slave to convention and inform the reader that she was born in San Diego, California, but she spent the bulk of her childhood abroad. There, she discovered that for all her love of California landscapes, the topography she most appreciates is typeset. To her, home feels like the undulating hills and bibliosmia-scented valleys between book covers. She has only recently acquired her dual citizenship, but now enjoys traveling freely between countries both real and imagined. (Though she has more than once had to deal with the hassle of accidentally setting off the detector alarm at the Library customs.) Anything else? Oh yes, she talks in the third person even when not restricted by a "bio" format.
Areas of Study: Biology, Writing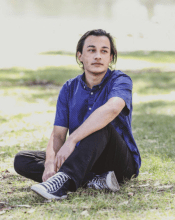 Jacob Siaki
Jacob Siaki is a Philosophy and Psychology double major whose interest in written words goes back to when he memorized, "Goodnight, Moon" at about two years old, and would "read" it out loud while turning the pages at appropriate times. Not only does he write papers for classes, he also writes on his own time, creatively--and sometimes even enjoys it. Some other pastimes of his include long romantic walks from his room to the library, and forgetting he poured a cup of tea until it's too cold to drink. His father comes from Middle Earth (people call it New Zealand, and having been there, Jacob knows that dragons are real), and Jacob is following in both his parents' footsteps as a Westmont student. Jacob's writing experience ranges from a story about a detective named Andrew Beneral when he was seven, to a research paper last spring about nuclear radiation in the South Pacific. He hopes he can at least provide a helpful set of eyes to look over someone else's writing, and at most help them win a PROSE award. He looks forward to working with other Westmont students on their academic projects!

Areas of study: Philosophy, Psychology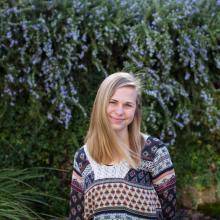 Maddy Simonsen
As a religious studies and philosophy double major, Maddy Simonsen enjoys thinking about the historical context of the early church in one moment and contemplating Immanuel Kant's epistemological theory in the next. When she is at home, she can be found watching TV shows with her siblings, reading children's novels, or playing soccer with her Afghan neighbors. She adores finding cute and meaningful stickers for her ever-growing Nalgene collection and appreciates the sweet, crisp flavor of jicama. In her free time, Maddy loves taking portraits that capture the essence of the individual and welcomes any opportunity to engage in a variety of outdoor activities. 
Areas of study: Religious Studies, Philosophy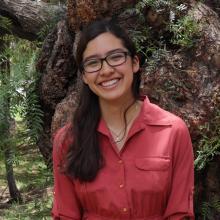 Kelly Vivanco
Kelly Vivanco is delighted to be a Liberal Studies (Elementary Education) major. Before she knew the alphabet, she would frequently borrow her older siblings' schoolbooks and pretend to read them, all the while making up stories based on the covers. A beginner poet at age six and aspiring author at age seven, she remains a dedicated lover and writer of poetry and historical fiction, especially when combined with mystery or romance. She has a deep-rooted love for children, music, and the summer rains of her homeland—and she would be remiss if she didn't admit dark chocolate was on the list, as well. Born and raised in southern Mexico, she is the middle child of five bilingual, homeschooled siblings and the daughter of an American mother and Mexican father—all this to say, she is a practiced interpreter and peacemaker.
Area of Study: Liberal Studies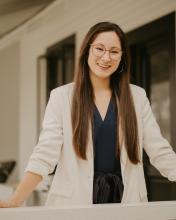 Sarah Yamaichi
Sarah Yamaichi is a California native hailing from the quaint little town of Orcutt, a mere forty-five minute drive north from Santa Barbara. A Political Science major with a Spanish minor, Sarah has an unapologetic fascination with learning new words, regardless of the language. That may be why she hasn't been able to say supercalifragilisticexpialidocious backwards for as long as she can remember. Though undoubtedly more useful skills do exist, such an utterance proves quite handy when one is at a loss for words. An avid fitness enthusiast, Sarah relishes both intense CrossFit workouts and discussions regarding the alarmingly drastic differences in taste between various brands of water (no, all water is not created equal). With an appetite for mystery and suspense, Sarah loves nothing more than journeying alongside detectives as they work to identify and capture a criminal...or crook...or culprit...or convict...or basically any other synonym for a villain. 
Areas of study: Political Science, Spanish