Music Choir Press Kit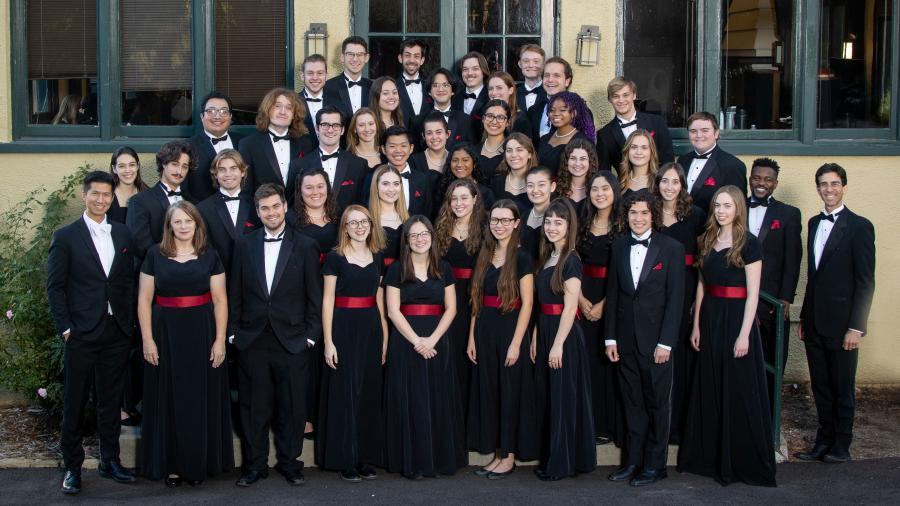 The Westmont College Choir
The Westmont Choir is comprised of about 45-60 undergraduate musicians directed by Dr. Daniel Gee. The ensemble studies and performs a wide range of literature including the classic repertoire of the past five centuries, along with spirituals, folk-song arrangements and music of other cultures. Many choir members are working toward a first degree in music and will go on to study and perform at the highest levels, while others study music in addition to pursuing degrees in science or humanities. In recent years, the choir has toured in New England, Italy, Austria, Germany, Slovakia, Lithuania, Russia, Costa Rica, Guatemala, England, Scotland, the Pacific Northwest, and Southern California.
The Westmont Chamber Singers
The Westmont Chamber Singers is a select ensemble drawn from the Westmont College Choir. Now under the direction of Dr. Daniel Gee, the ensemble specializes in a cappella literature including madrigals and motets of the Renaissance, contemporary sacred and secular music, folk-song arrangements, spirituals, and vocal jazz.
Tour Videos

The Choral Directors
Daniel Gee is a conductor, composer and educator based in southern California where he is currently pursuing his Doctor of Musical Arts at the University of Southern California.  Experienced as a conductor for both orchestral and choral ensembles, Daniel currently serves as Assistant Conductor for the Long Beach Symphony and Assistant Conductor of Choral Arts Initiative.  As a graduate student at USC, Daniel gained a wide range of choral experience serving as Associate Conductor of the USC Apollo Chorus (tenor/bass ensemble), USC University Chorus, and the USC Oriana Choir (treble ensemble) , during which he commissioned and premiered a new choral work for treble voices and piano by composer Emma Lou Diemer. Daniel's conducting mentors have included Jo-Michael Scheibe, Larry Livingston, Eckart Preu and Michael Shasberger. As a composer, he has fulfilled commissions for ensembles in the Santa Barbara and Los Angeles music communities, including the Santa Barbara Quire of Voyces, the Westmont Orchestra and College Choir, and the Westridge School Chamber Orchestra. His choral music has been published by Colla Voce Music on the Jo-Michael Scheibe Choral Series.  For more information or to contact Daniel, visit danielgee.co.