Music The Guild Scholarships: Awards of Distinction

Applications for the Guild Scholarship Competition are currently OPEN for Spring 2020
See below for last years finalists!
NEWS FLASH! 
The distinguished Credo Summer Music Festival is offering a full tuition scholarship valued at $2,000 to a selected string finalist of the 2019 Westmont College Music Guild Competition! One string finalist will be chosen by the Credo program to receive this award on the evening of March 2 at the close of the Music Guild competition. Music Guild finalists are chosen by preliminary audition and application. Information on the Music Guild Competition and scholarship program may be found here. Finalists are being considered now and the competition selection will likely close on or before February 1.
For more information on Credo Summer Music click here!
---
Westmont is delighted to announce a change in the Music Guild Scholarship program for 2019. This year will feature two competitions, one in voice and one for instrumentalists. Both competitions offer a first prize of up to $10,000 per year for up to four years of study at Westmont College along with extensive additional music scholarship support from the regular music scholarship program for all finalists. Additionally, the vocal competition will award $2,000 in cash prizes to selected finalists!

Applications for the annual Guild Scholarship competition are currently OPEN for Spring 2020. Applicants must complete their music scholarship application including a pre-screening audition (live or via recording) and be academically admitted to Westmont for the fall of 2020. Applications and auditions are reviewed in the order received and the competitions are open until filled. It is highly recommended that applicants complete both their academic and music scholarship applications by December 1 for optimal consideration. There is no special application for the Music Guild Scholarship program. The regular online Westmont music scholarship application should simply include the request to be considered.
The Finalists for last year's competition are listed below. Please join us for next year's competition! The Vocal Guild Competition will be held on Sunday, February 23, 2020 at 3:00 P.M. and the Instrumental Guild Competition will be held on Saturday, February 29, 2020 at 7:00 P.M. in Deane Chapel on the Westmont campus. Admission is free! More information about prior winners, and the scholarship may also be found below.
What is the Guild Scholarship?
The Guild Scholarship is a highly prestigious music scholarship for exceptional young musicians in the amount of up to $10,000 per year for music studies at Westmont. The competition is funded by The Guild for Music at Westmont and judged by our faculty members Grey Brothers, professor of music, Steve Butler, professor of music, Steve Hodson, professor of music, Han Soo Kim, assistant professor of music, Michael Shasberger, music department chair and Adams professor of music and worship and others. For information about becoming a Guild member, please contact the Westmont Music Department at (805) 565-6040.
First Annual Vocal Guild Competition Results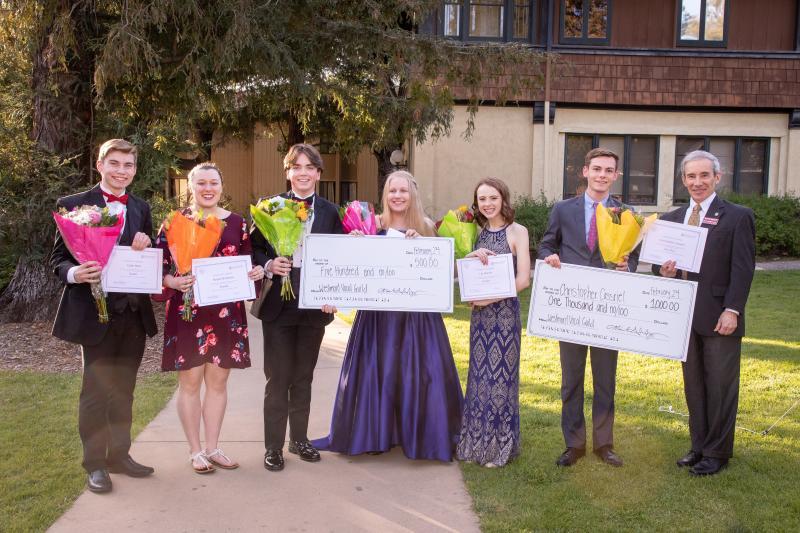 (From Left to right: Caleb Marll, Baritone; Abigail Bradshaw, Soprano; Andrew Genge, Tenor; Elizabeth Simmons, Soprano; Lily Warren, Soprano; Chris Cassriel, Tenor)
SEVENTH Annual Guild Competition Results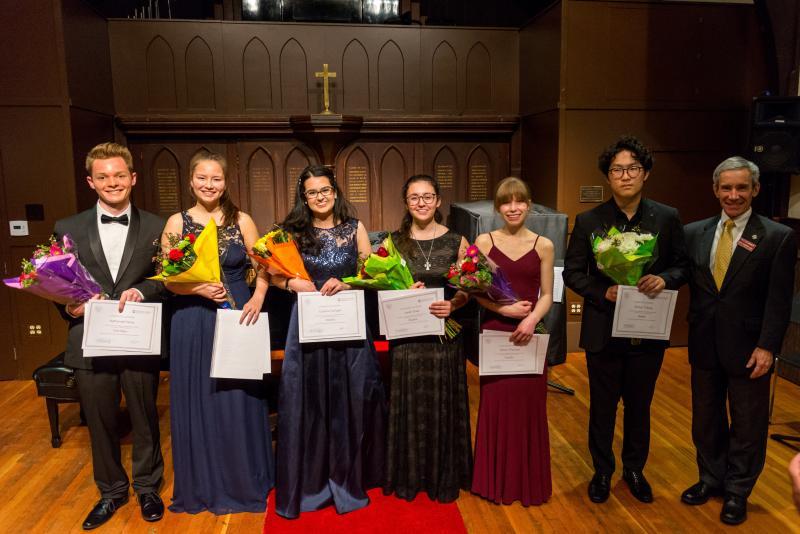 (From Left to right: Nathanael Nims, Piano; Alyssa Stegall, Violin; Carissa Corrigan, Oboe; Sarah Soza, Violin; Alison Thomas, Viola; Sam Chung, Violin)
The First Annual Vocal Guild Competition was held on February 24th and the 7th Annual Westmont Music Guild competition was held on Saturday evening, March 2nd. Competition finalists performed splendidly for the enthusiastic audience of family, friends, former Guild finalists, community members, faculty and students.
2019 Vocal Guild Competition Finalists
Competing on Sunday, February 24th
Abigail Bradshaw, Soprano
Abigail Bradshaw has been singing in choir for most of her life and has been studying classical music privately for six years. She currently studies under Ms. Michelle Areyzaga and performs frequently with her high school's chamber choir, both as a member of the choir and as a soloist. She also enjoys singing musical theater and opera. Abigail is honored to be a finalist in Westmont's Vocal Guild competition and would like to thank her voice instructor, choir teachers, and family for all their love and support! 2 Corinthians 12:9 
Chris Cassriel, Tenor
Chris Cassriel, a senior at San Marcos High in Santa Barbara, started singing, playing guitar, and piano when he was 10, but wasn't exposed to classical singing until high school. He is currently in the Madrigal and Royal Knights Choirs at San Marcos, and plays on two worship teams at his church. Recently, he opened for JOHNNYSWIM and Ben Rector at the annual Kids Helping Kids Gala at the Granada Theatre. Chris has been studying voice under Stacie Anthes for five years, exploring a range of styles from Jazz, to Pop, to Classical. This year, he is looking forward to performing at the Worldstrides Heritage Festival of Gold in Long Beach with the Madrigals. Outside of music, Chris enjoys photography and surfing. 
Andrew Genge, Tenor
Andrew Genge is a senior at Orcutt Academy High School in Orcutt, California.  He sang lead tenor in the school's award-winning barbershop quartet, "The Crescendudes," and with its award-winning choir.  An actor as well as a singer, Andrew has appeared in a variety of leading roles including Dr. John Watson in SHERLOCK HOLMES, Danny Zuko in GREASE, and Prince Charming in SNOW WHITE.   He has also had the privilege of serving as news anchor on Orcutt Academy's video team for the last three years.  Andrew studies voice with Nichole Dechaine. He is honored to participate in Westmont's first Music Guild Vocal Scholarship Competition.
Caleb Marll, Baritone
Caleb Marll is a senior at Mt. Spokane High School in Spokane, Washington. Music has always been one of his greatest passions in life. Caleb's music "career" began when he was in fifth grade and decided to join school choir on a whim. Since, he has been involved in many choral groups. Caleb is also a pianist and self-taught guitarist. He serves on his church's worship team, and last year, he had the opportunity to star in a musical theatre production. Besides music, Caleb enjoys doing anything outdoors, studying history, and watching baseball (Go Mariners!). Caleb is honored to be at Westmont for this opportunity!
Elizabeth Simmons, Soprano
A native of Arizona, Elizabeth Simmons is currently a senior at Arizona Conservatory for Arts and Academics in Phoenix. Her choral experience began in sixth grade when she first joined the All Saints' Episcopal Church Senior Choir. As a sophomore, she joined the All Saints' Chamber Choir as a Choral Scholar, and has been Head Chorister of the All Saints' R.S.C.M Community Chorister Program since its inception in February, 2018. She was selected to participate in the 2018 Arizona North Central All-Region Honor Choir under the direction of Dr. Edith Copley, and the 2018 Arizona All-State Choir led by Dr. Sandra Snow of Michigan State University. In July, 2018, she participated in the St. Thomas Girls' Chorister Course in New York City, working with Daniel Hyde, King's College, Cambridge. This summer she will be traveling with the Choir of St. Philip's in the Hills for a week long Residency at Ely Cathedral in Cambridgeshire, England. In her free time, she likes to read books, play piano, and go sailing with her family.
Lily Warren, Soprano
Lily Warren is a performer and vocalist from Littleton, Colorado.  She has enjoyed active participation in musical theater since she was eleven years old, training in dance and acting in addition to vocal performance.  She has studied voice for the past six years under various teachers including Bob Downard and Jennifer Timmons.  Some of her favorite performances include Denver Thescon (2017), the Denver Center for the Performing Arts Intensive Theater Showcase (2017), and Broadway to Africa (2011-2018: an annual Broadway revue benefitting Young Life ministry in Africa).  In her free time, Lily enjoys playing her guitar and singing as an expression of worship.  Additionally, Lily is a business owner and entrepreneurial activist who hopes to encourage and empower other youth to embrace an entrepreneurial mindset.  She is so grateful for the opportunity to participate in the Vocal Guild Competition.
2019 Instrumental Guild Competition Finalists
Competing on Saturday, March 2nd
Sam Chung, Violin
Sam Chung is currently a senior at Chadwick School. He has played violin for eight years, currently studying under Chan Ho Yun at the Colburn School and has studied conducting for three years under Maxim Eshkenazy, also at Colburn. He has held principal second and concertmaster positions in the Colburn Youth Orchestra and is currently serving as the conducting intern at the Los Angeles Youth Orchestra. As a conductor, Sam has also formed and conducted the Magari Ensemble, most recently in Copland's Appalachian Spring and was also a conducting student in the Montecito International Music Festival, during which he conducted Arnold Schoenberg's Waltzes for String Orchestra for Lawrence Schoenberg. Other than music, Sam's interests lie in literature and philosophy.
Carissa Corrigan, oboe
Carissa Corrigan is the Principal English Horn player and Principal Second Oboist for the Youth Symphony of the Southwest. She began playing oboe at the age of 11, although she began her musical journey on piano at the age of six. She has participated in various honor ensembles, such as the Arizona Music Educators Association Honor Festival of Performance for High School Musicians. She plays oboe for the Gilbert Classical Academy Wind Ensemble and Symphony Orchestra and sings Alto in the Gilbert Classical Academy Chorale. She is the first runner up for Oboe and English Horn for the 2019 Honors Performance Series at Carnegie Hall and the Sydney Opera House. Carissa plays several instruments including the saxophone and guitar, and performs frequently with various community ensembles, such as Desert Bells International where she rings handbells. Carissa has studied oboe for six years and intends on pursuing music in college. Aside from her musical interests, Carissa has lettered in Speech and Debate and holds many leadership roles at her school, including President of Music Council. Carissa also gives back to the community by socializing service dogs and making blankets for cancer patients. She loves expressing her creativity through baking cookies for others and creating cards for our troops and hospital patients. She is so grateful to her parents for their continual support and to God for His blessing of music.
Nathanael Nims, Piano
Nathanael's musical journey began as an 11 year old self-taught pianist during the four years his family traveled full-time in an RV. Using the internet as a teacher, his love for playing piano grew. While this nomadic lifestyle allowed for a unique education, his family realized that it was time to seek out the kind of opportunities that come with putting down roots. Nathanael and his family moved to Colorado Springs when he was 15 and he began classical training with Dr. Angelina Gadeliya. At the recommendation of Dr. Gadeliya, he was accepted and offered a full scholarship to attend the Colorado Springs Conservatory. Nathanael performs regularly in a variety of venues and styles, including jazz. In addition, he has built a private student base and held numerous volunteer piano teaching positions. His three and a half years of classical studies have rooted a deep love for piano and his two favorite composers, which you will hear tonight: Beethoven and Chopin. He is grateful for the love and support from his family and community, and to God for the gift of music. 
Sarah Soza, violin
Sarah Soza is currently a senior at Saint Lucy's Priory High School. She has played the violin for twelve years, studying under Michael McLean at the Colburn School. Last year, Sarah took an interest in the viola and made the switch. She has performed with the Santa Monica College Orchestra and recently joined the Colburn Youth Orchestra. In addition to solo and orchestra performance, Sarah has interests in chamber music, theory, and music industry. Outside music, she likes to keep active by diving and playing tennis 
Alyssa Stegall, violin
Alyssa Stegall attends Robert Louis Stevenson School. She has been studying violin for thirteen years through the Associated Board of Royal Schools Music (ABRSM) under the instruction of Mrs. Rose Marie Dunsford. She passed the ABRSM Grade 8 violin exam with distinction and is currently studying for a teaching certification (DipABRSM). Alyssa is a first violinist in the San Jose Youth Symphony (SJYS) Philharmonic Orchestra, which she has also served as Associate Concertmaster. She toured internationally with the SJYS Philharmonic Orchestra in 2017 to Croatia, Austria, and Hungary. This summer, she will be touring with the group to Argentina and Uruguay. Alyssa has also been Assistant Concertmaster of the SJYS Chamber Orchestra and Concertmaster of the SJYS Concert Orchestra and was featured soloist with both orchestras. Alyssa has also participated in the California Orchestra Directors Association (CODA) All-State High School Honors Symphony and has had the opportunity to be a part of the California All-State Music Education Conference's (CASMEC) All-State High School Orchestra twice, selected from over 2,000 applicants. Aside from music, Alyssa is a second degree black belt in Taekwondo, and is passionate about the Liberty in North Korea Club she founded at her school. Academically, Alyssa enjoys studying English, Music Theory, and Chinese.
Alison Thomas, Viola
Alison Thomas, a senior at Oregon Episcopal School, has played viola for 10 years and currently studies with Martha Warrington, an Oregon Symphony violist. Alison is in her 8th year as a member of the Portland Youth Philharmonic (PYP) organization and 4th season as a violist in PYP's Philharmonic Orchestra. In addition to PYP, she has been involved in her school orchestra and various chamber ensembles. Two highlights from her musical experience include participating in a chamber music master class with Ida Kavafian and playing the national anthem with her quintet at a Portland Trail Blazers game. Alison has greatly valued the experience music has provided and is looking forward to honoring God through her continued musical study in college. Beyond her love of music, Alison enjoys running for her school's cross-country team, working with children in her community, and conducting scientific research. In the future, she hopes to pursue a behavioral neuroscience degree and use her education to help reduce the impact of learning disabilities on a child's ability to succeed in school. Alison wants to thank Westmont for such an incredible opportunity as well as her family, teachers, and mentors for their continued support. Alison is looking forward to performing and hearing all of the talented musicians during the Music Guild Concert.
Previous Guild Competition Winners
Nathanael Nims '23, Piano
Guild competition winner and pianist, from Colorado Springs. Nathanael is an incoming Freshman at Westmont College.
William Ellzey '20, Cello
Guild competition winner and cellist, from Culver City, California. William is currently a Senior at Westmont College and a member of the Westmont Orchestra. He studies cello with Trevor Handy.
Jonathan Wong '18, Violin
Guild competition winner and violinist, from Carlsbad, California and a 2018 Westmont College graduate.
Tim Beccue '18, Cello
Guild competition winner and cellist, from Thousand Oaks, California and a 2018 Westmont College graduate.
Lalia Mangione '16, Violin
Guild competition winner and violinist, from Grand Rapids, Michigan and a 2016 Westmont College graduate.
How do I qualify for the Guild Scholarship?
1) Only entering prospective students (first-year and transfer) are eligible for consideration. The next Music Guild Scholarship Competitions will be February 24, 2019 for voice and March 2nd, 2019 for instrumentalists.
2) Students interested in being considered for the Guild competition must check the box on the music scholarship application form when they submit it indicating their availability to participate in the event (see exception for international students below). Invitations will typically be extended within two weeks of the completion of the academic admissions process and a formal music audition (either live or via recording).
3) Applicants must have submitted their completed Westmont Admissions Application to the Office of Admissions, and performed or submitted a qualifying audition prior to February 1, 2018. Only students who are deemed qualified for an academic merit scholarship will be eligible as finalists. Invitations to the competition are extended as qualifying students are identified. The competition will be considered closed when a full program is confirmed. Early submission of all materials is highly recommended.
4) All applicants must appear live on the final competition with the exception of international students who have submitted a formal performance recording for the finals evening. If those individuals choose to appear via recording, these recordings will be played in their absence at the final competition.
5) All finalists must submit the information requested within 1 week of their invitation, or sooner if the invitation is extended late in February. Finalists will be invited as soon as they are deemed to be qualified to give them as much time to arrange for travel as possible. Finalists who do not provide information in a timely way may be disqualified at the discretion of the faculty.
There is no additional application process or form for this competition beyond the regular scholarship application. Finalists will be notified if their audition and admission status merits an invitation to the Guild Scholarship Competition. Winners of the competition will have until May 1st to confirm their acceptance of the Guild Scholarship or any other Westmont merit based award.