Music The Guild Scholarships: Awards of Distinction

Applications for the Guild Scholarship Competition are currently OPEN for Spring 2021
See below for last years finalists!
---
The Music Guild Scholarship program for 2021 features two competitions, one in voice and one for instrumentalists. Both competitions offer a first prize of up to $10,000 per year for up to four years of study at Westmont College along with extensive additional music scholarship support from the regular music scholarship program for all finalists. Additionally, the vocal competition will award $2,000 in cash prizes to selected finalists!

Applications for the annual Guild Scholarship competition are currently OPEN for Spring 2021. Applicants must complete their music scholarship application including a pre-screening audition (live or via recording) and be academically admitted to Westmont for the fall of 2020. Applications and auditions are reviewed in the order received and the competitions are open until filled. It is highly recommended that applicants complete both their academic and music scholarship applications by December 1 for optimal consideration. There is no special application for the Music Guild Scholarship program. The regular online Westmont music scholarship application should simply include the request to be considered.
The Finalists for last year's competition are listed below. Please join us for next year's competition! The Vocal Guild Competition will be held on Saturday, February 27, 2021 at 7:00 P.M. and the Instrumental Guild Competition will be held on Sunday, February 28, 2021 at 3:00 P.M. in Deane Chapel on the Westmont campus. Admission is free! More information about prior winners, and the scholarship may also be found below.
What is the Guild Scholarship?
The Guild Scholarship is a highly prestigious music scholarship for exceptional young musicians in the amount of up to $10,000 per year for music studies at Westmont. The competition is funded by The Guild for Music at Westmont and judged by our faculty members Daniel Gee, professor of music, Steve Butler, professor of music, Steve Hodson, professor of music, Han Soo Kim, associate professor of music, Michael Shasberger, music department chair and Adams professor of music and worship and others. For information about becoming a Guild member, please contact the Westmont Music Department at (805) 565-6040.
Second Annual Vocal Guild Competition Results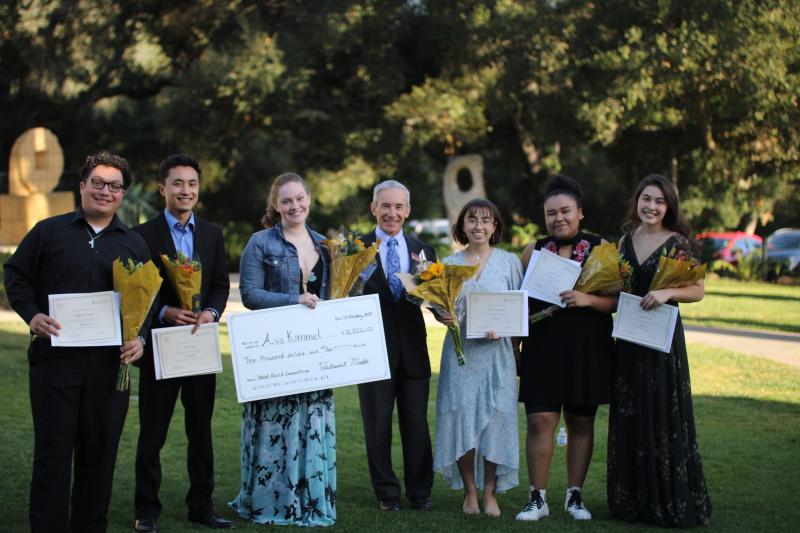 (From Left to right: Nathan Carlin, Baritone; Evan Wu, Baritone; Ava Kimmel, Soprano; Olivia Godinez, Mezzo-Soprano; Solay Lewis, Alto; Sarah Duff, Soprano)
eighth Annual Guild Competition Results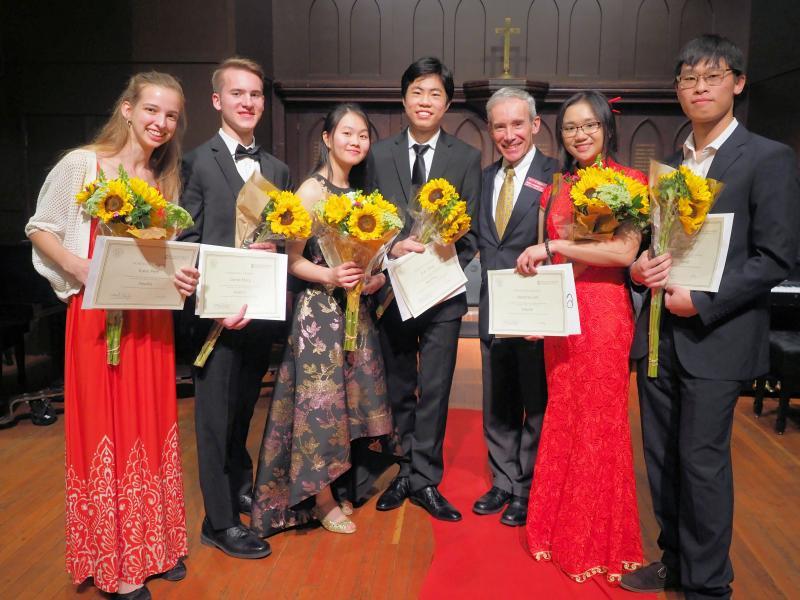 (From Left to right: Katie Peel, French Horn; Daniel Macy, Violin; Emma Wu, Piano; Evan Zhou, Violin; Natasha Loh, Bassoon; Sean Tran, Piano)
The Second Annual Vocal Guild Competition was held on Sunday afternoon, February 23rd and the Eighth Annual Westmont Music Guild competition was held on Saturday evening, February 29th. Competition finalists performed splendidly for the enthusiastic audience of family, friends, former Guild finalists, community members, faculty and students.
2020 Vocal Guild Competition Finalists
Competing on Sunday, February 23rd
Nathan Carlin, Baritone
Nathan Carlin is a high school senior at Cathedral City High School. Nathan has always had a passion for music. He started singing in a choir in the 6th grade and from there his passion for music grew. Since then he has been wanting to go to school for Music performance and composition so that he may grow to become to be a professional Opera singer.
Sarah Duff, Soprano
Sarah Duff is a senior at Dublin Coffman High School in Dublin, Ohio. Music has shaped her life since childhood, as she grew up playing the cello and singing. Sarah has sung in her school's choir and the Columbus International Children's Choir. She both participated in and directed her school's A Cappella Club. One of Sarah's greatest joys in music is blessing others through her musical passion; she has participated in her church's Worship Academy, served as a member of the worship band at church, and performed concerts at local retirement homes since she was thirteen years old. She hopes to continue sharing her love of music with others and is incredibly honored for the opportunity to participate in Westmont's Guild Competition.
Olivia Godinez, Mezzo-Soprano
Olivia Godinez grew up in Fairfield CA, a small city located near the Bay Area. Olivia found a love for performing, though not in traditional ways. With a lack of opportunities for young performers in her area, she performed any way she could including traditional hispanic folklorico dancing, acting in self-written plays, and singing songs in front of her 5th grade classroom. Towards the end of her eighth grade year, however, her life changed forever when Olivia's Grandfather, hearing her potential, began to pay for her vocal lessons with vocal instrucor, Johnathan Burton. At her school, she performed for Buckingham Charter Magnet High School. Four years with the Mixed Choir, and Regional Honor Choir, two years with the California State Summer School for the Arts, three years with the Advanced Choir, one year in a Women's Choir, and playing lead roles in school plays such as "Little Shop of Horrors", "Hairspray", and "The Addams Family Musical", Olivia hopes to attain a B.M. in Music with a concentration in classical vocal performance. While she has dreams of performing in other genres of music besides classical she has an immense appreciation for classical music and the foundation of techniques that can be applied universally. She is incredibly appreciative of the opportunities God has given her throughout her life.
Ava Kimmel, Soprano
Ava Kimmel is a senior at Bellevue Christian School in Seattle, Washington. She fell in love with music at a young age and has been singing ever since. Ava started taking voice lessons at age 11 and has had the opportunity to sing in musicals, recitals, and state and national competitions. She enjoys singing in her school's audition choirs and studies privately under Cherry Van Overstraeten. In her free time, Ava loves to play her piano and ukulele, hike, and write. She is so grateful for this amazing opportunity and is honored to be participating.
Solay Lewis, Alto
Solay Lewis was born in Los Angeles, California. Although singing has always been a big part of her life, she did not take any classes or lessons until Sophomore year. Solay has been a part of the Cathedral City High School Chamber Choir and has also been a part of all of her high school's musicals. Outside of school, Solay has participated in the Palm Springs Opera Guild's OPERAtunity program. With this program she was given the chance to study under Amy Shoremount-Obra, Ben Lowe, and Erin Gonzalez. Solay wants to improve on her songwriting and performance abilities in hopes of helping people through her words and storytelling.
Evan Wu, Baritone
Evan Wu was born and raised in the San Fernando Valley of California. He is currently a music student at Santa Barbara City College hoping to transfer to Westmont College as a Vocal Performance Major. Evan has only been studying voice for about a year under the guidance of the accomplished Dr. Nichole Dechaine, and joined his first ever choir last Spring. Prior to this, Evan's singing rarely left the confines of his room or car. Deep down he always knew singing was his true passion, but it wasn't until he went through a possibly terminal diagnosis with cancer that he realized what he wanted to dedicate his life to and finally had the courage to pursue it. While Evan hasn't been studying voice for long, within a year he's managed to gain entrance into SBCC's Applied Music Program, be a part of SBCC's College Choir and Chamber Singers where he was chosen to sing every male solo in the most recent Winter concert, sings with the Santa Barbara Symphony Orchestra, and be accepted into the semi-professional Quire of Voyces who are also sponsoring him to perform with them across the Baltic States this Summer!
2020 Instrumental Guild Competition Finalists
Competing on Saturday, February 29th
Natasha Loh, Bassoon
Natasha Loh was born and raised in Honolulu, Hawaii, and she is currently a high school senior at Hawaii Baptist Academy. Natasha began playing the Bassoon in the summer of her 6th grade year at Kawananakoa Middle School. After transferring to Hawaii Baptist Academy in her 7th grade year, she has studied under Richard Hotoke and Brad Shimizu. Since the beginning of her high school career, she has played with Hawaii Youth Symphony's Concert Orchestra and Youth Symphony II and has competed in the Oahu Band Directors Association's (OBDA) Solo & Ensemble for three consecutive years, winning two red metals and one blue metal. Natasha participated in the 2018 New York "Sounds of Spring" International Music Festival at Carnegie Hall with the Hawaii Baptist Academy Symphonic Wind Ensemble. Natasha plans to continue her music career after graduating from HBA as she pursues her interests in studying Biomedical Engineering and Bassoon Performance.
Daniel Macy, Violin
Daniel Macy's love of the violin began at the age of three as he listened to Bach during quiet time. Due to financial reasons, he was unable to begin lessons till he had saved enough to purchase an instrument. After five years of saving Christmas and birthday money along with winnings from various art competitions, he was finally able to purchase his first violin. In the ten years following, Daniel has taken private lessons with Patricia Graham, and has had the privilege of performing with the West Coast Classical Orchestras in various principle positions including concertmaster and with the Millennial Choirs and Orchestra OC. He also has experienced performing in concert halls such as Disney Hall, Segerstrom, Carnegie, and Dvorak Hall in Prague. Daniel takes great joy in teaching his private students, and conducting the West Coast Classical Prelude String Orchestra. Outside of music, he delights in literature, history, a good debate on pretty much any subject, and in working on one of the countless odd projects he has in process. He is very grateful for the opportunities God has given him and is excited to participate in this year's Guild Competition.
Roxana Montané, Violin
Roxana Montané was born and raised in La Habana, Cuba. She began playing the violin when she was 8 years old in Guillermo Tomas Conservatory under the tutelage of Maria Verdecia. In 2014 she began attending the Amadeo Roldan Conservatory where she studied under Luis A. Marino, William Roblejo, Hansel Perez and Alfredo Muñoz. Roxana has participated in many concerts and festivals, as both a soloist and as part of different ensembles and orchestras. She performed  as a soloist in  a presentation of Mozart's The Magic Flute in La Habana, in 2014, the Mozart-Habana Festivals in 2014, 2015, 2016 and 2017; and the Habana-Clasica Festival in 2019, where she played under the conducting of Luis Rafael Salomon. Roxana received magistral classes from violinist as Rolando Prusak, Mauricio Fuks and Salvatore Accardo when they visited Cuba.
Katie Peel, French Horn
Katie Peel, from Brea, CA, is honored to be participating in Westmont's Music Guild Competition Concert. Enjoying a love of music since early childhood, she has played French horn since she was 10 years old. She began private horn instruction as a freshman in high school with Katie Faraudo, MM USC, and studio musician (you may have heard her in the soundtracks for Rogue One, Cars 3, the Incredibles, and more!). Currently a senior in high school at Anaheim Magnolia Christian School, Katie has played horn with the Symphonic Winds of Cal Poly University, Pomona for the past two years. She has also been in the Wind Symphony and Wind Ensemble at Idyllwild School of the Arts Summer Program for two summers. Last summer saw her in Montecito Music festival's inaugural year of their brass ensemble. Katie also plays the guitar and enjoys singing. She has sung with her church choir a number of years and sings in a small acapella choir called "GWACA". In addition to her love of music, Katie's other passions include reading, cooking, childcare, and everything in nature. Katie has been involved in competitive speech with Stoa Speech and Debate for four years, and a finalist in expository speech. She has also volunteered with Guide Dogs of America as a puppy raiser, training and socializing two pups. In addition to continuing in French horn in college, Katie plans to pursue a major in either animal sciences or child development and hopes use her education toserve people in the unique ways that animals can help change people's lives.
Sean Tran, Piano
Sean Tran has been playing  piano since age six. He attended Ho Chi Minh City Conservatory of Music starting in fifth grade. After graduating from high school, he moved to the U.S. to pursue future goals. He moved to Santa Barbara in 2018 and was lucky enough to be accepted into the Applied Music Program at Santa Barbara City College where he has studied with Dr. Erin Bonski-Evans. The most remarkable moment in his  musical journey was playing the Mozart Piano Concerto No.23 with the Youth Orchestra of Ho Chi Minh Conservatory of Music upon his graduation in 2016. Another significant moment was when he had the chance to watch the XVI International Tchaikovsky Competition 2019 in Saint Petersburg and Moscow, Russia. This was an eye-opening experience that motivates Sean to continue studying diligently and strive to be a better player. As Dr. Bonski often says, "focus on the music",  Sean beleives that when he focuses his love toward music, the music will guide him to a magical place that he never thought could exist.
Emma Wu, Piano
Emma Wu is 17 years old, and lives in Glendale, California. She began studying piano at the age of 12 years old, and is currently a student of Nobuyo Nishizaka. In 2015, Emma took 4th place in the Qualified Chopin Category of 2015 Southwestern Youth Music Festival and also took 3rd place in a Complete Works category in the same festival the following year. More recently, Emma won 1st place in SYMF concerto category, as well as making it to the Bach Finals. She also took 2nd place at MTAC 2018 Scholarship Competition, and 1st place the next year. She has studied with Paul Roberts, Mark Richman and T.J. Lymenstull. Emma has also won Music Teachers Association of California Contemporary Festival for three consecutive years, namely, 2016, 2017, 2018. In addition to playing classical piano, Emma also takes pleasure in jazz improvisation, and is currently in a jazz combo at the Pasadena Conservatory of Music, performing in annual art nights.. Emma has also played in many benefit concerts, including the annual Lutheran World Relief Charity concert. She was also the president of Tuesday Musicale Juniors for a year. Emma also is a violinist and has performed numerous concerts with an advanced string ensemble and the Korean American Youth Symphony Orchestra. Emma has attended Montecito International Music Festival where she participated in chamber and orchestral ensembles. In her spare time, Emma enjoys writing poetry, listening to random genres of music, and curling up on the couch with a classic book.
Evan Zhou, Violin
Evan Zhou is 17 years old and began his violin journey at the age of four. He has been studying the violin with Hernan Constantino for seven years and has received numerous awards in the string competitions. He attained 1st place at the regional VOCE solo competition from 2015 to 2018. In 2019 and 2020, he earned 2nd place in the senior division of the competition. He is now concertmaster of the Mainly Mozart Youth Orchestra, which he has been a member of since 2013. Evan is an active chamber music player. He played with Equinox Quartet for three years and now 1st violin of the String Bean Quartet. Both groups won state-wide competition in the past three years. Beyond competitions, Evan is also active in the local San Diego community and abroad. With chamber groups, he performs around the city in retirement homes and special events. Further, he participates in sensory-friendly concert, a special event designed for children on the autism spectrum, serving as a representative of the orchestra to introduce string instruments to autistic kids at the Jacobs Center for Neighborhood Innovation. During the last summer, he participated in the National Symphony Orchestra: Summer Music Institute on a full scholarship and the Tanglewood Violin Workshop, where he had a masterclass with Emanuel Borok. Moreover, the Mainly Mozart Youth Orchestra is one of the few binational orchestras in the country and plays with musicians from the Centro de Artes Musicales program in Tijuana, Mexico. At school, he actively participates in the debate team and enjoys the company of his friends.
Previous Guild Competition Winners
Nathanael Nims '23, Piano
Guild competition winner and pianist, from Colorado Springs. Nathanael is an incoming Freshman at Westmont College.
William Ellzey '20, Cello
Guild competition winner and cellist, from Culver City, California. William is currently a Senior at Westmont College and a member of the Westmont Orchestra. He studies cello with Trevor Handy.
Jonathan Wong '18, Violin
Guild competition winner and violinist, from Carlsbad, California and a 2018 Westmont College graduate.
Tim Beccue '18, Cello
Guild competition winner and cellist, from Thousand Oaks, California and a 2018 Westmont College graduate.
Lalia Mangione '16, Violin
Guild competition winner and violinist, from Grand Rapids, Michigan and a 2016 Westmont College graduate.
How do I qualify for the Guild Scholarship?
1) Only entering prospective students (first-year and transfer) are eligible for consideration. The next Music Guild Scholarship Competitions will be February 23, 2020 for voice and February 29, 2020 for instrumentalists.
2) Students interested in being considered for the Guild competition must check the box on the music scholarship application form when they submit it indicating their availability to participate in the event (see exception for international students below). Invitations will typically be extended within two weeks of the completion of the academic admissions process and a formal music audition (either live or via recording).
3) Applicants must have submitted their completed Westmont Admissions Application to the Office of Admissions, and performed or submitted a qualifying audition prior to February 1, 2020. Only students who are deemed qualified for an academic merit scholarship will be eligible as finalists. Invitations to the competition are extended as qualifying students are identified. The competition will be considered closed when a full program is confirmed. Early submission of all materials is highly recommended.
4) All applicants must appear live on the final competition with the exception of international students who have submitted a formal performance recording for the finals evening. If those individuals choose to appear via recording, these recordings will be played in their absence at the final competition.
5) All finalists must submit the information requested within 1 week of their invitation, or sooner if the invitation is extended late in February. Finalists will be invited as soon as they are deemed to be qualified to give them as much time to arrange for travel as possible. Finalists who do not provide information in a timely way may be disqualified at the discretion of the faculty.
There is no additional application process or form for this competition beyond the regular scholarship application. Finalists will be notified if their audition and admission status merits an invitation to the Guild Scholarship Competition. Winners of the competition will have until May 1st to confirm their acceptance of the Guild Scholarship or any other Westmont merit based award.